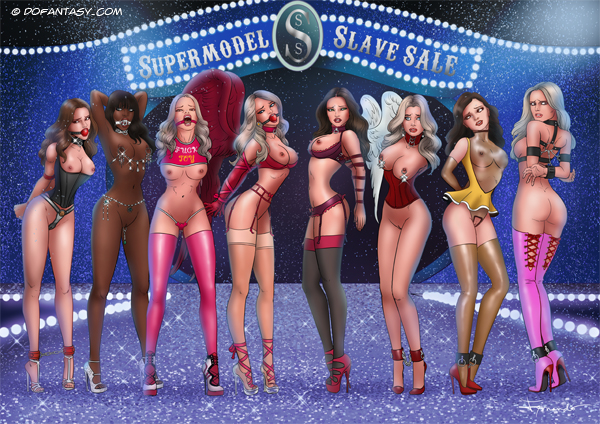 Fernando does not disappoint in this enormous, digital art book full of some of the hottest and sexiest stuff he has ever done! Through a series of pin-up art, he tells short tales featuring characters from some of his famous comics. Each illustration is high resolution, poster-quality art with meticulous details and vivid color. If one ever needed a reason to buy a new, large computer screen this would be it. Puny tablets and their small displays need not apply. Special interactive features allow the reader to hide the overlaid text to have an unobstructed view of the gorgeous art.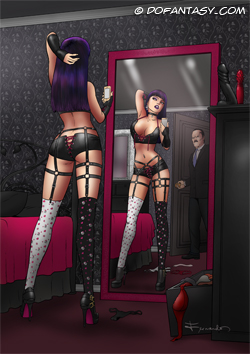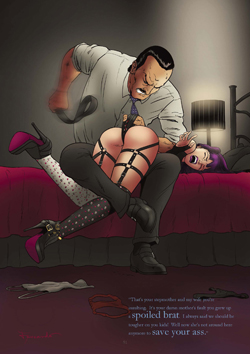 Clara and Colonel Dan Murphy in "A Lesson for Clara"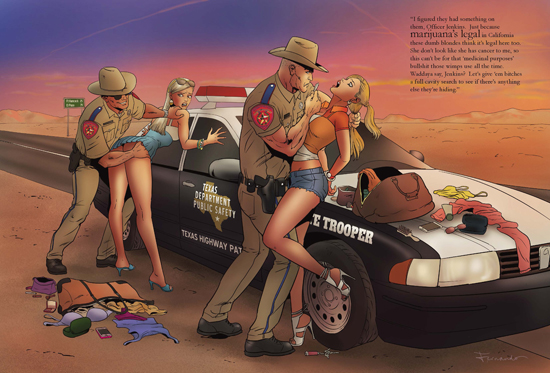 Jody and Amanda from "South of the Border", being manhandled by a pair of rouge state troopers.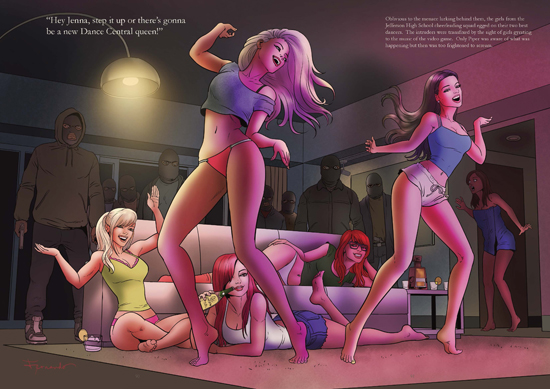 A group of nubile women oblivious to the danger lurking behind them in "Extreme Dark Vengeance".
With special sections including Dark Vengeance and Clara from the Confiscated Twins series, you will be privy to behind-the-scenes descriptions, sketches, previously unseen cover designs, and unpublished comic pages cut from the official release.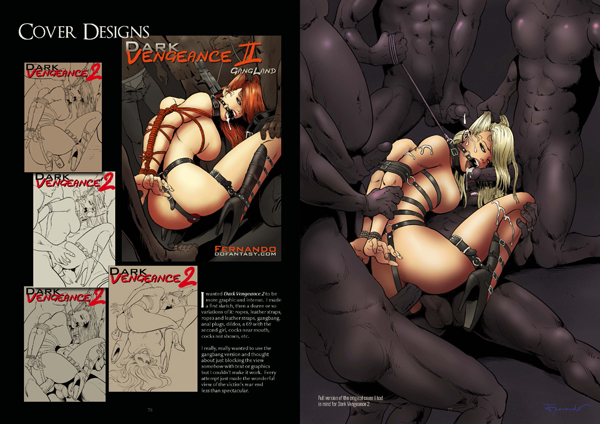 Sketches for the Dark Vengeance II cover, including the original version that was too racy to use on the cover.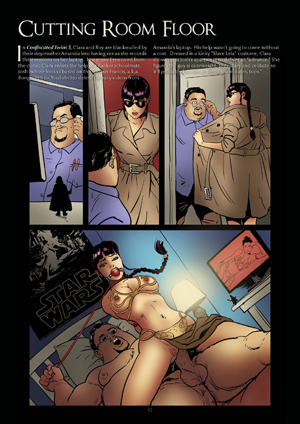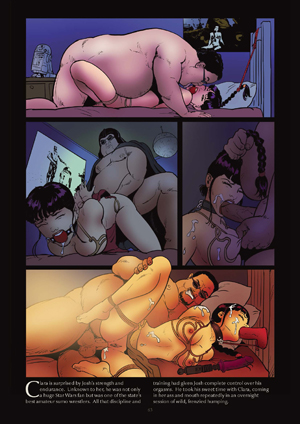 Pages cut from Confiscated Twins 5.

Free from the limits and demands of comic art, the artist experiments with various drawing styles combining old and new, including traditional pencils combined with the embellishments only possible on digital media.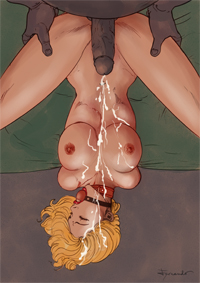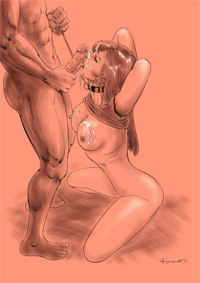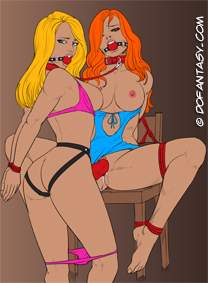 Fernando lets you in on his hidden world in this amazing, breathtaking and truly intriguing art book. Showcasing erotic drawings from his high school, college, and non-professional artist years, Fernando presents the evolution of his art in remarkable detail and candor. He describes the influences and inspiration for his early erotic and bondage art as influenced by Playboy magazines, pop culture, fashion magazines, supermodels, and later, Internet porn: "My earliest sex art drew a lot of inspiration from Playboy Magazine. Where else could you go before the Internet?"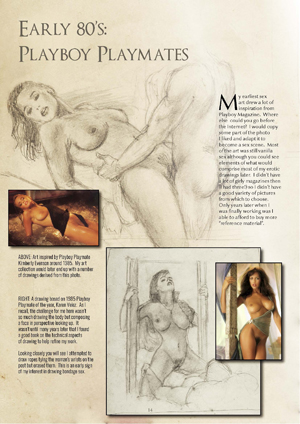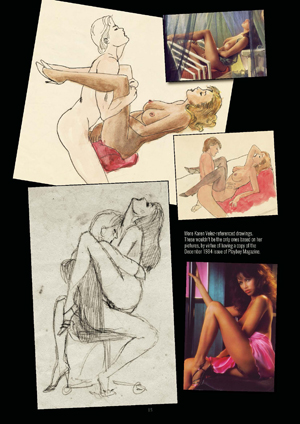 Some of Fernando's earliest artwork, inspired by Playboy Playmates.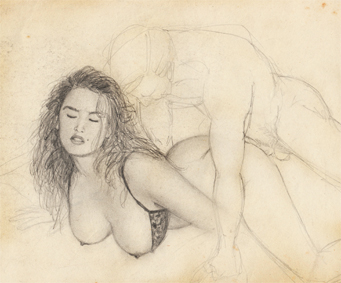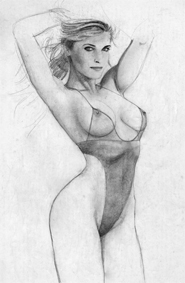 Supermodels from the 80's and 90's appearing in Fernando's early art.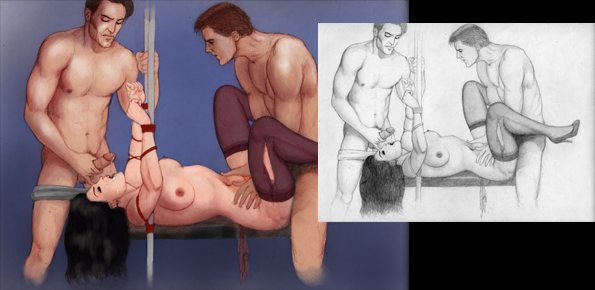 Interactive features: Colored in 2015, the vintage, black and white pencil artwork can be viewed by hovering the mouse over the image.
The book comes with a brief yet complete survey of the types of erotic art he's made over the last fourteen years for several websites including hard BDSM illustrations, sexy catfights, and comics depicting sex between sexy babes and scary monsters. As an added treat, we see for the first time excerpts from the very first comic he made for Dofantasy back in 2003 but was never published, called "Father Knows Best".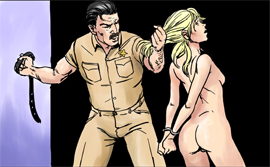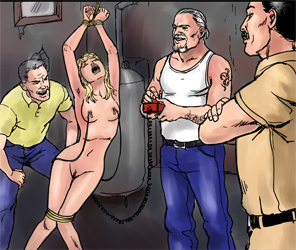 Rounding out this exceptional art collection, Fernando presents sample illustrations from his partnership with famous BDSM filmmaker Ernest Greene, in his novel "The Illustrated Master of O". A behind-the-scenes look at the collaboration of the writer and artist gives a rare glimpse of the process of creating the over forty illustrations featured in the limited edition book.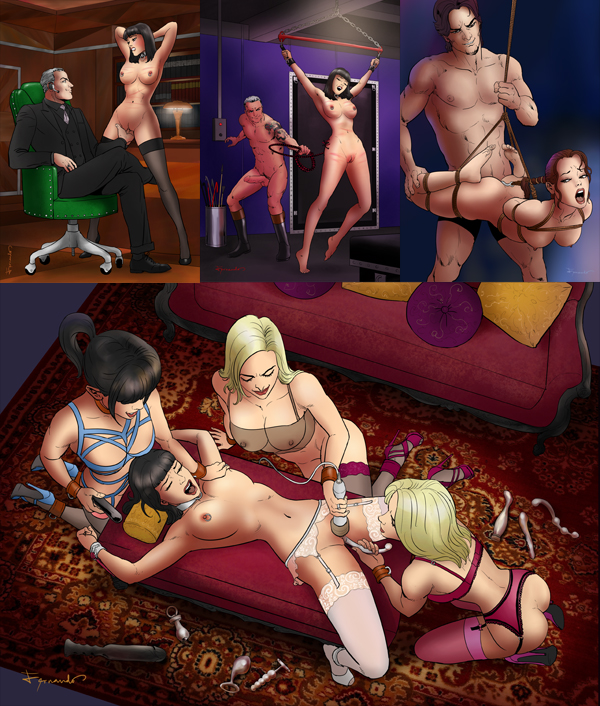 FERNANDO IS ONE OF THE BEST BONDAGE ARTISTS AROUND, AND HE NEVER FAILS TO ASTONISH! THIS IS ONE OF HIS MOST AMAZING AND IN-DEPTH EXPLORATIONS INTO THE METHODS OF THE MAN HIMSELF BROUGHT TOGETHER IN THIS LAVISHLY ILLUSTRATED ART BOOK AND NARRATED BY FERNANDO HIMSELF!
IF YOU'RE A FAN OF FERNANDO AND WANT TO SEE MORE, MORE, MORE... YOU HAVE TO CHECK OUT THIS LATEST MASTERPIECE FROM THE MASTER... FERNANDO! BROUGHT TO YOU HERE, EXCLUSIVELY AT DOFANTASY.COM!