Use our On-Line 100% Secure Encrypted Shopping Cart Ordering System. Simply browse
our site and Click the ADD TO SHOPPING CART buttons to place items in your Shopping Cart
[ HOME ] [ COMICS ] [ MOVIES ] [ NOVELS ] [ CD-ROM ] [ Order info ] [ Help ] [ ARTIST SITES ] [ SEARCH ]
[ Disclaimer ] [ CATALOGUE ] [ Copyright ]
FANSADOX ALBUM 16
COLLEGE GIRLS EXPLOITED! - BENEDIKT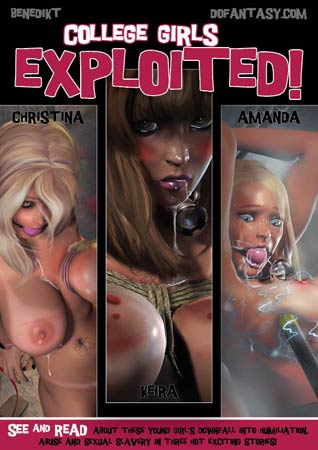 NEW IN PDF ELECTRONIC VERSION!
Adult Comic Album by BENEDIKT.
HIGH RESOLUTION PDF deluxe edition
27 incredible illustrations with hot text!
-COMPLETE, UNABRIDGED VERSION-
IN THESE "WHOLESOME" TRIPLE TALES OF THREE TARTS TRAINED TO TAKE COCK, YOU'LL LOVE, YOU'LL LAUGH, AND YOU'LL EXPLODE!
THIS EXCITING AND ACTION PACKED EXTRAVAGANZA IS FULL OF ONLY THE MOST PERVERTED, SICK, AND RAUNCHY BONDAGE AND SLUT SHAMING EVER!

IMPORTANT NOTICE - DISCLAIMER
All characters are 18 years old or older.
This is an entirely fictional work based on
cartoon characters for adult entertainment.
It shows no real people or events.
The characters are shown participating in
CONSENSUAL role-play for their own
personal satisfaction, simulating activities
which involve sexual dominance and
submission. No actual toons were harmed
in the making of this comic.
In this comic, told in text and accentuated by lovingly detailed images of sadistic sex and bondage, sexual slavery, you get not one but three tales of heartache, pain, pleasure, and shame! These college-age, co-ed cuties think they're above the law and the rules, but when a hard reality comes down on each one of them in turn, each girl finds herself trapped in her own private hell, caught by cruel captors who show neither mercy nor compassion. This monster issue, packed with only the filthiest and sickest images of broken babes and gang bang orgies, is a great buy because you get three absolutely dirty, humiliating, and shameful stories in one!

Pretty, brunette Keira was a hot piece of action that was caught in the club with a doozy of a cocktail. When she wakes up, she finds herself naked, chained, gagged, and enslaved in the club's basement! She's quickly brought to heel and hell when the big, black bouncers come in to break in their newest, brunette bitch! What happens next will leave you stunned…

Blonde bombshell Amanda was high off of high-school, cheerleader, senior squad success, but when the team's coach Terry finally corners her, he'll teach the little cockteaser what happens to naughty little sluts when they flaunt all the goods! Unfortunately for tempting, teen queen Amanda, team coach Terry isn't the only one that wanted a piece of her… as she'll soon find out when she's made to serve and service… or else!

In the final episode, Christina was a cunt of a cutie who loved going clubbing while her hard-working, nurse mother slaved away on long hours and long nights without a single word of thanks from her stuck up daughter. Unfortunately for Christina, her mom's new partner, crooked cop Gary, wants to teach his stepdaughter a few lessons in the real world. Christina dreamed of going to art school, but she's going to get a different kind of lesson… in sexual slavery!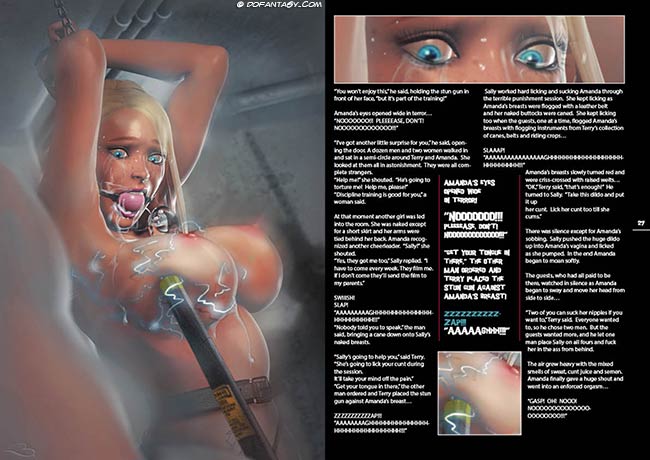 BENEDIKT IS BACK WITH A BABE BUSTING BOMBSHELL TRIO OF TALES! THE TEXT IS HOT AND HEAVY WITH HARD HITTING ACTION AND INCREDIBLE, SLUT SLAVING TALES AND BROUGHT TO LIFE WITH THE DIRTIEST, FILTHIEST, AND MOST TWISTED IMAGES AROUND! THESE TANTALIZING, TATTOOED TARTS ARE BROUGHT OFF THEIR HIGH HORSE AND FORCED FACE DOWN INTO THE DIRTY SHEETS OF CUM ENCRUSTED MATRESSESES WHERE THEY BELONG! BENEDIKT BLOWS IT OUT OF THE WATER WITH THIS FANTASTIC FANTASY OF THREE GIRLS BROUGHT LOW! YOU DON'T WANT TO MISS THIS SPECTACULAR, COMIC EXTRAVAGANZA, BROUGHT TO YOU HERE EXCLUSIVELY AT DOFANTASY.COM!