Use our On-Line 100% Secure Encrypted Shopping Cart Ordering System. Simply browse
our site and Click the ADD TO SHOPPING CART buttons to place items in your Shopping Cart
[ HOME ] [ COMICS ] [ MOVIES ] [ NOVELS ] [ CD-ROM ] [ Order info ] [ Help ] [ ARTIST SITES ] [ SEARCH ]
[ Disclaimer ] [ CATALOGUE ] [ Copyright ]
FANSADOX ALBUM 20:
THE HOUSE OF TEARS part 2 by TED OWEN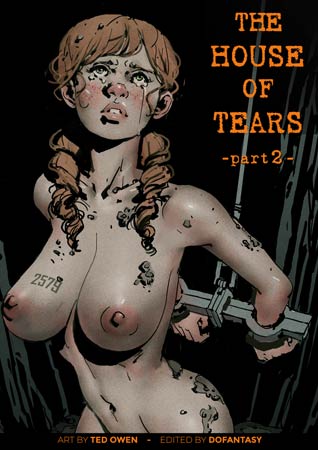 NEW IN PDF ELECTRONIC VERSION!

Adult ALBUM by TED OWEN

HIGH RESOLUTION PDF deluxe edition.

15 great illustrations with nice hot texts!!!
-COMPLETE, UNABRIDGED VERSION-

TED OWEN RETURNS IN THIS AMAZING ARTISTIC ENDEAVOR FILLED WITH A LOVINGLY DETAILED, SWEAT SOAKED SLAVE SLUT!

EMMA'S TROUBLES HAVE JUST BEGUN! HER FAMILY WAS FOUND PROTESTING AGAINST THE GOVERNMENT, SO EMMA HAS BEEN SENT SERVE HER SENTENCE OF HARD LABOR… ON HER BACK WITH HER LEGS SPREAD!

IMPORTANT NOTICE - DISCLAIMER
All characters are 18 years old or older. This is an entirely fictional work based on cartoon characters for adult entertainment. It shows no real people or events. The characters are shown participating in CONSENSUAL role-play for their own personal satisfaction, simulating activities which involve sexual dominance and submission. No actual toons were harmed in the making of this comic.

Emma's father was found protesting the government in this totalitarian dictatorship. The family had a choice: either they could all be sent to the labor camps to work and starve to their deaths, or Emma could volunteer herself in order to save her family. In the end, it wasn't a hard choice to make. Emma didn't want her mother or father or sisters to suffer, so she would do her duty and pay for her father's misdeeds.

Little did Emma know just what her punishment entailed. This was no mere slap on the wrist but instead a lifetime sentence in servitude as a sweaty sex slave! Emma had better do a good job… Emma had better be an obedient slave girl… if she doesn't perform perfectly, her family may end up in hard labor after all!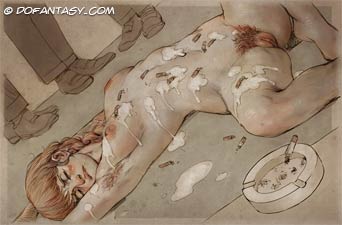 Watch as Emma goes through only the deepest and most profound humiliation and suffering in service to the state as a slutty sex slave! Her trainers are cruel and merciless with their new, female prize as they train her to serve and submit to her masters! Emma will descend from a decent human being into only the lowest of the low, a set of warm, obedient holes for another man's pleasure. It's the end for Emma, the worst end imaginable…

TED OWEN HAS CREATED A TRUE MASTERPIECE OF DEPRAVITY AND PAIN! THIS EXCITING ISSUE IS FILLED WITH SOME SERIOUSLY SICK STUFF! EMMA IS PIERCED, TRAINED, AND BRAINWASHED TO TURN INTO THE PERFECT SEX SLAVE TO BETTER SERVE THE STATE! THIS DISGUSTING DOLL WILL SHOCK HER FAMILY WHEN THEY SEE WHAT SHE'S BEEN TURNED INTO… AND YOU'LL BE SHOCKED TOO… IF YOU DARE TO PEEK INTO THIS TITILLATING THRILLER, BROUGHT TO YOU HERE ONLY AT DOFANTASY.COM!!

THE BEST TED OWEN!