Use our On-Line 100% Secure Encrypted Shopping Cart Ordering System. Simply browse
our site and Click the ADD TO SHOPPING CART buttons to place items in your Shopping Cart
[ HOME ] [ COMICS ] [ MOVIES ] [ NOVELS ] [ CD-ROM ] [ Order info ] [ Help ] [ ARTIST SITES ] [ SEARCH ]
[ Disclaimer ] [ CATALOGUE ] [ Copyright ]
FANSADOX ALBUM 25
FOREIGN GIRL STUDENTS TRAPPED! part 1 - BENEDIKT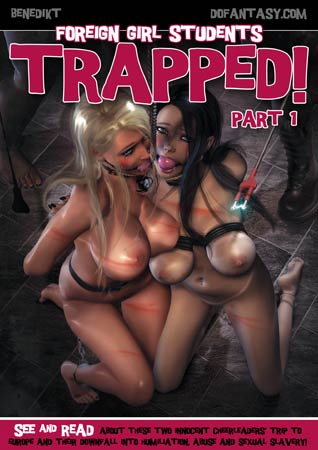 NEW IN PDF ELECTRONIC VERSION!
Adult Comic Album by BENEDIKT.
HIGH RESOLUTION PDF deluxe edition
20 incredible illustrations with hot text!
-COMPLETE, UNABRIDGED VERSION-
PREPARE TO BE CAPTIVATED AND ENTHRALLED BY THIS EXTRAORDINARY COMIC, A MASTERPIECE THAT DELVES INTO THE RIVETING REALM OF DOMINATION FEATURING TWO BUSTY BEAUTIES HELD CAPTIVE IN A BASEMENT.
THIS INTENSE SAGA IS OVERFLOWING WITH THE MOST SENSUAL, SADISTIC, SORDID SEX. THAT WOULD LEAVE YOU THROBBING FROM START TO FINISH!


IMPORTANT NOTICE - DISCLAIMER
All characters are 18 years old or older.
This is an entirely fictional work based on
cartoon characters for adult entertainment.
It shows no real people or events.
The characters are shown participating in
CONSENSUAL role-play for their own
personal satisfaction, simulating activities
which involve sexual dominance and
submission. No actual toons were harmed
in the making of this comic.
In this comic, vividly brought to life through evocative text and meticulously crafted, sexy images, be prepared to embark on a rollercoaster of perversion, cruelty, and depravity! Two tanned tourists, Emily and Alicia, are determined to tour Europe. However, their journey takes an unexpected turn when they stumble upon a group of despicable slave traders in Prague, who swiftly capture and condemn them to a life of sexual servitude. From that point onwards, their lives take a nightmarish twist as they are coerced to fulfill the twisted desires of their captors, under the threat of severe and agonizing consequences. Featuring utterly repulsive, humiliating, shameful stories about the domination of two college girls, this issue is a terrific deal! It's filled with only the filthiest and most perverted images of shattered sluts and drawn-out orgies.

Enticing Emily and the alluring Alicia are stranded in the basement of a group of brutal slave masters. Emily is forced to listen as Alicia is fucked in every hole conceivable by these slave traders while being recorded on video, which would be sold on the dark web. Soon after, Emily is faced with an even worse ordeal as she is violently ravaged and humiliated by not one but six! tall, muscular, stinky construction workers. Weeks go by, and every day in that hell seems worse than the last as the women are starved, electrocuted, pierced, trampled on, and plugged with large dildoes. These men are willing to test their limits by taking their depravity to the highest level!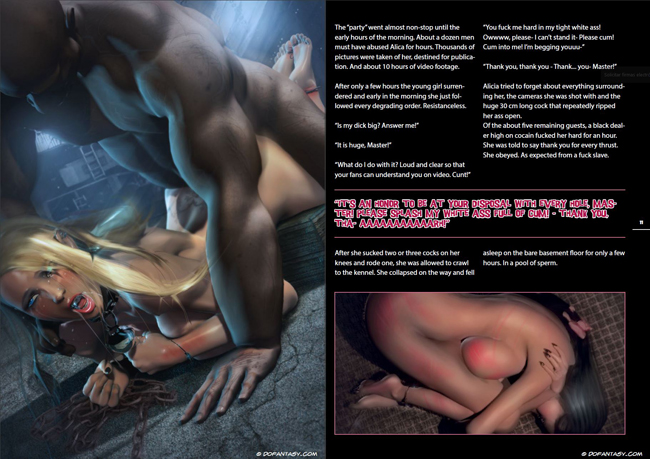 BENEDIKT, A BEACON OF BRILLIANCE, RETURNS WITH A BEGUILING TALE OF BREAST BONDAGE AND BABE BREAKING LIKE NEVER BEFORE! THE TEXT IS TEEMING WITH PULSE-POUNDING AND MAGNIFICENT TALES OF SUFFERING, PAIN, AND BONDAGE WHICH ARE EMPHASIZED BY THE MOST INTENSE LUCID IMAGES EVER TO EXIST! THESE SUNTANNED SLUTS ARE COMPELLED TO LICK BOOTS AND EAT DOG FOOD! BENEDIKT KNOCKS IT OUT OF THE PARK WITH AN AMAZING FANTASY THAT SURPASSES ALL EXPECTATIONS. GET READY TO BE CAPTIVATED AND SATISFIED, AS EVERY PAGE GUARANTEES INCREDIBLE VALUE FOR YOUR MONEY. SECURE YOUR COPY NOW AND DIVE INTO AN EXTRAORDINARY, EXCITING WORLD WITH THIS EXCLUSIVE COMIC. ONLY AVAILABLE AT DOFANTASY.COM!