Use our On-Line 100% Secure Encrypted Shopping Cart Ordering System. Simply browse
our site and Click the ADD TO SHOPPING CART buttons to place items in your Shopping Cart
[ HOME ] [ COMICS ] [ MOVIES ] [ NOVELS ] [ CD-ROM ] [ Order info ] [ Help ] [ ARTIST SITES ] [ SEARCH ]
[ Disclaimer ] [ CATALOGUE ] [ Copyright ]
FANSADOX COLLECTION 100
HIDEAWAY ISLAND - FERNANDO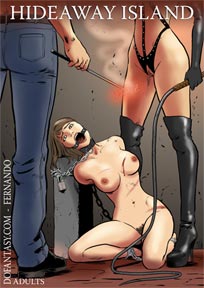 NEW IN PDF ELECTRONIC VERSION!
Adult Comic Album by FERNANDO
HIGH RESOLUTION PDF deluxe edition
46 full color comic pages by FERNANDO
-COMPLETE, UNABRIDGED VERSION-
A beautiful American girl works as intern for a corrupt Russian company...
IMPORTANT NOTICE:
All characters are 18 years old or older.
All action is simulated and no
actual people are involved in it.
The authors/publishers do not condone
any kind of violence.
These comics are completely fiction
and for adult entertainment.
Ms Christine Turner, a clever young American girl, decides to take a post as intern in a Russian oil company in spite of her friends' warnings about taking the job.
Moscow is not paradise and the company has a doubtful reputation!
Christine mistrusts her superiors and colleagues from the beginning. She's suspicious about everything, like the contents of the boxes that go up and down the corporation corridors. Is the company into animal testing, she wonders?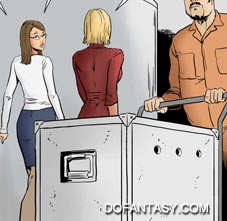 But all her reservations disappear when Mrs Kurnikova, the chairman's PA, tells her she has an appointment with Mr Ivanov to discuss a new project for her.
The meeting is short... After a quick assessment of the girl's physical attributes, Mr Ivanov, a middle-aged Russian gangster, decides to add her to his bunch of exquisite hand-picked slave girls. The girl is utterly horrified. She just can't believe her ears!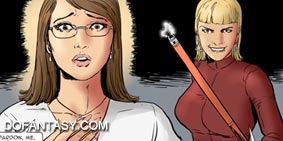 But an image is worth a thousand words and Mr Ivanov introduces Sucky, one of his fuck-toys, to the horrified girl...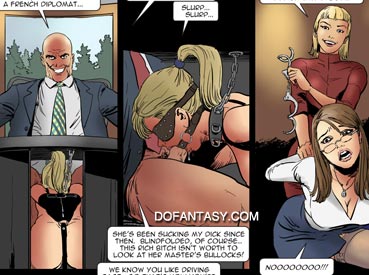 "Meet Sucky, the pampered daughter of a French diplomat! She's been my sucking-pump for the last 2 years."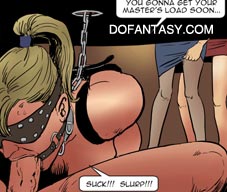 Soon Christine knows more about her new life as one of the twenty sex slaves of the corrupt Russian tycoon. She's sent to a paradise island in the Indian Ocean, to Ivanov's harem. A heaven of pleasure, for some…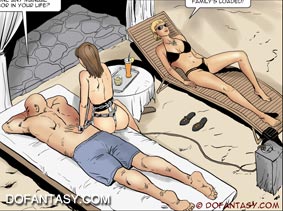 ...and a hell of sexual exploitation, humiliation and pain for the 20 serving slavegirls.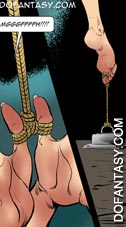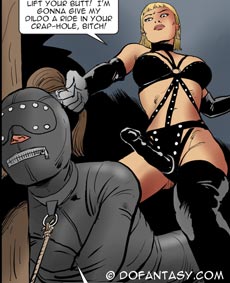 Upon arrival, Christine, now just Slave Twenty, is introduced to her new duties. The girl can't believe that such a place could exist, much less what she's being forced to withstand and perform...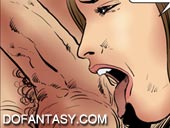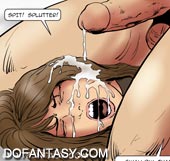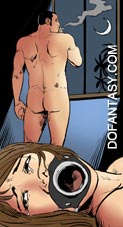 She's offered to her Master's business partners. She has no choice but to submit to their every whim…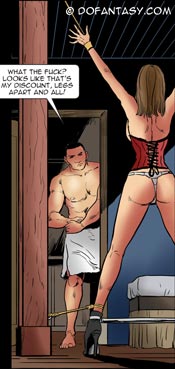 Life is hell. The Island is a dream refuge for psychos, demented perverts and violent sadists...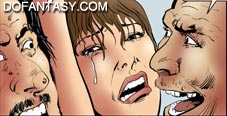 ...and there is no escape from that hell...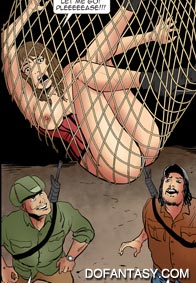 CORRUPT CORPORATE BUSINESS, WHITE SLAVERY,
LOTS OF HUMILIATION AND SEXPLOITATION
WITH THE ALWAYS STUNNING, FINE ART OF FERNANDO
ONE OF THE CRUDEST FERNANDO'S SO FAR.
VISIT FERNANDO SITE FOR A COMPLETE LIST OF
FERNANDO COMICS AND OFFERS
[ HOME ]