Use our On-Line 100% Secure Encrypted Shopping Cart Ordering System. Simply browse
our site and Click the ADD TO SHOPPING CART buttons to place items in your Shopping Cart
[ HOME ] [ COMICS ] [ MOVIES ] [ NOVELS ] [ CD-ROM ] [ Order info ] [ Help ] [ ARTIST SITES ] [ SEARCH ]
[ Disclaimer ] [ CATALOGUE ] [ Copyright ]
FANSADOX COLLECTION 109
WHITE SLAVERY RING - FERNANDO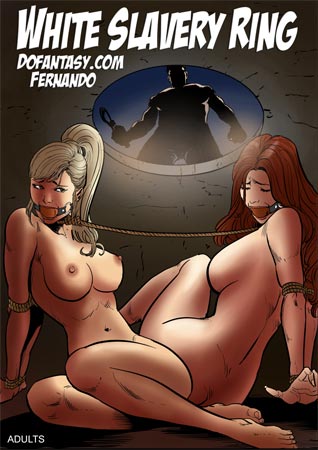 NEW IN PDF ELECTRONIC VERSION!
Adult Comic Album by
FERNANDO
HIGH RESOLUTION PDF deluxe edition
45 full comic pages by FERNANDO
-COMPLETE, UNABRIDGED VERSION-
Two stunningly beautiful young
American girls, not yet 20, are
captured in the South Pacific by a
Russian white slavery ring and end
up in a creepy Manila Bordello!
45 FULL-COLOR,
ACTION-PACKED PAGES
IMPORTANT NOTICE:
All characters are 18 years old or older.
All action is simulated and no
actual people are involved in it.
The authors/publishers do not condone
any kind of violence.
These comics are completely fiction
and for adult entertainment.
Two stunningly sexy young American girls, not yet 20, are on vacation in what was designed to be a tourist paradise, a south Pacific resort on a remote island.
But it turned out that after a few days the lovely scenery became rather boring. There was nothing to do in Paradise apart from hiding from the scorching sun and the perverse advances of Carlos, the resort owner.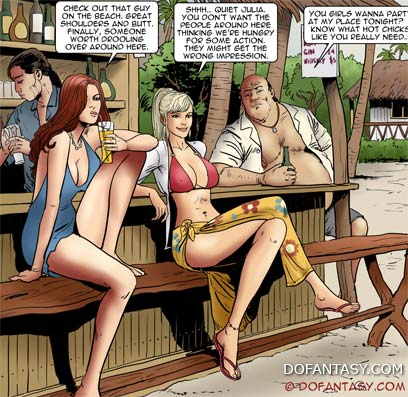 Suddenly the picture brightens in the muscular form of a blond young German who invites the girls to do some scuba-diving on his father's 80-foot yacht.
But events take a nasty turn when the yacht is attacked by local pirates. The man is killed and the girls are made prisoners.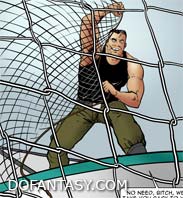 The two friends are taken to the bandits' hideaway, a remote island in the north of the archipelago.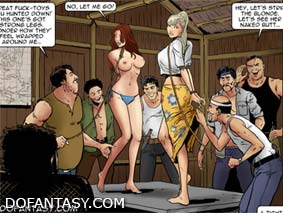 It is the beginning of Hell for the two young women…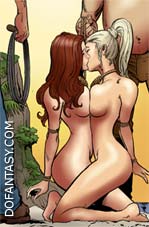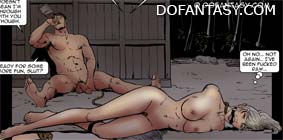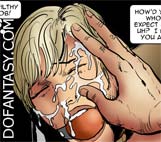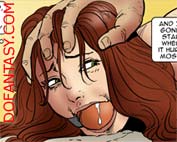 Knowing the value of their captures, the pirates contact a Russian slavery ring and sell them the two young Americans.
Locked up, chained and gagged in a dirty and completely dark container, the girls are sent to the continent...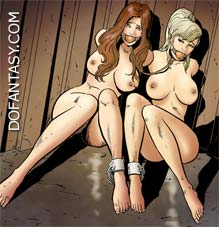 The trip is another hellish nightmare...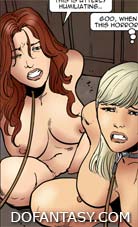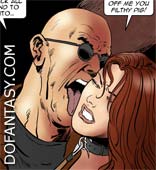 If the partying with the pirates was hell on earth, the sessions with the Captain of the Container Ship are Hell itself…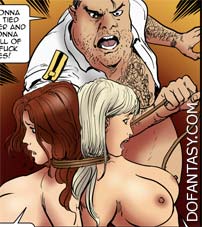 The journey ends a few miles off the coast of Manila, where an outboard takes the precious cargo ashore.
And a new life begins for the two young beauties. They have been bought by a very special and sinister bordello in the seediest part of the city…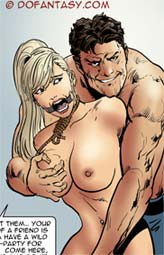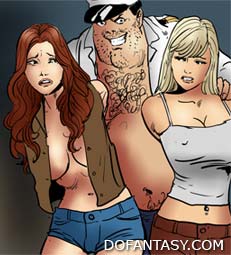 ENJOY THE SIGHT OF
THE MOST BEAUTIFUL
COMIC CHARACTERS
EVER DRAWN!!
Enjoy the slavegirl
fantasies that only
Fernando is able to portray
with such raw realism!

VISIT FERNANDO SITE FOR A COMPLETE LIST OF
FERNANDO COMICS AND OFFERS
[ HOME ]