Use our On-Line 100% Secure Encrypted Shopping Cart Ordering System. Simply browse
our site and Click the ADD TO SHOPPING CART buttons to place items in your Shopping Cart
[ HOME ] [ COMICS ] [ MOVIES ] [ NOVELS ] [ CD-ROM ] [ Order info ] [ Help ] [ ARTIST SITES ] [ SEARCH ]
[ Disclaimer ] [ CATALOGUE ] [ Copyright ]
FANSADOX COLLECTION 122
WEIRD FAMILY - FERNANDO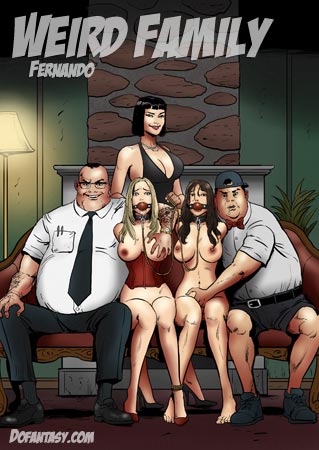 NEW IN PDF ELECTRONIC VERSION!
Adult Comic Album by
FERNANDO
HIGH RESOLUTION PDF deluxe edition
43 full comic pages by FERNANDO
-COMPLETE, UNABRIDGED VERSION-
A STUDENT AND A YOUNG MODEL
ARE THE CHAINED-UP GUESTS OF A
WEIRD FAMILY OF THREE:
MOM, DADDY AND THEIR
RETARDED SON.
IMPORTANT NOTICE - DISCLAIMER
All characters are 18 years old or older.
This is an entirely fictional work based on
cartoon characters for adult entertainment.
It shows no real people or events.
The characters are shown participating in
CONSENSUAL role-play for their own personal satisfaction, simulating activities which involve sexual dominance and submission.
No actual toons were harmed in the making
of this comic.
Mom, Daddy and their retarded son Bobby, alias Porky, form a weird and extremely dangerous family. Especially if you are a beautiful young girl...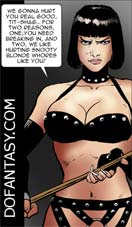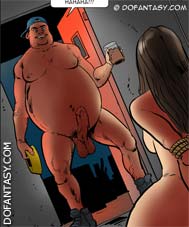 For two months now, our weird family has had a guest: Susan a lovely brunette who suddenly disappeared without trace...
All this time, Susan has been an important part of Porky's odd games...
Mom and Dad, two dangerous criminals with a long history of undiscovered crimes, don't want to interfere with their son's emotional life and they decide to leave the girl alone with the retarded bastard.
So the sinister couple decides to add a new member to the family: Sarah, a stunningly beautiful blonde that happens to stop at the couple's run-down hotel on her way to Las Vegas for a modeling audition.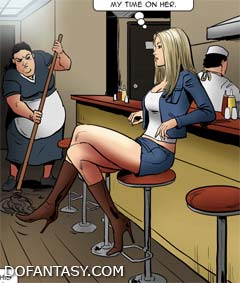 The lovely young guests are kept gagged and in chains, sometimes blindfolded too, in an old industrial fridge, where they wait for the frequent visits of the family members.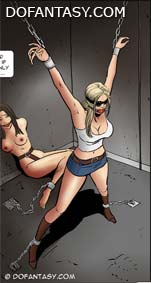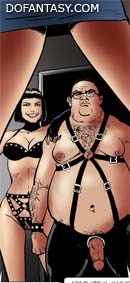 Once a day Maria and Raul, a vicious couple that work in the hotel, stop by to attend the girls' basic needs. They share a special resentment against young, beautiful girls.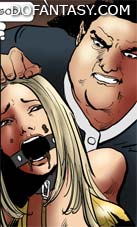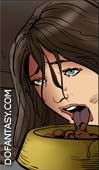 The visits are certainly not fun for the girls....
Mom and Daddy are enchanted with Sarah. The young model is a tigress, a fighter. They enjoy taming her strong personality by means of constant humiliation and pitiless physical restrain....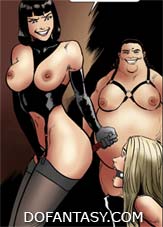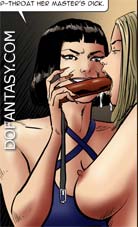 A SPINE CHILLING STORY
OF TWO BEAUTIFUL GIRLS
IN THE HANDS OF A MAD FAMILY

A STUDENT AND A YOUNG MODEL ARE THE CHAINED-UP GUESTS OF A
WEIRD FAMILY OF THREE: MOM, DADDY AND THEIR RETARDED SON

VISIT FERNANDO SITE FOR A COMPLETE LIST OF
FERNANDO COMICS AND OFFERS
[ HOME ]