Use our On-Line 100% Secure EncryptedShopping Cart Ordering System. Simply browse
our site and Click the ADD TO SHOPPING CART buttons to place items in your Shopping Cart
[ HOME ] [ COMICS ] [ MOVIES ] [ NOVELS ] [ CD-ROM ] [ Order info ] [ Help ] [ ARTIST SITES ] [ SEARCH ]
[ Disclaimer ] [ CATALOGUE ] [ Copyright ]
FANSADOX COLLECTION 123
SNATCHED MODEL - TEMPLETON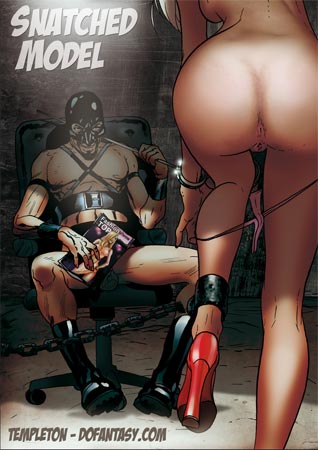 SNATCHED MODEL
NEW IN PDF ELECTRONIC VERSION!
Adult Comic Album by
TEMPLETON
HIGH RESOLUTION PDF deluxe edition
45 full color comic pages by
TEMPLETON
-COMPLETE, UNABRIDGED VERSION-
A TOP MODEL IS KEPT PRISONER
IN A DREADFUL DUNGEON BY
A DEMENTED FAN
IMPORTANT NOTICE - DISCLAIMER
All characters are 18 years old or older.
This is an entirely fictional work based on
cartoon characters for adult entertainment.
It shows no real people or events.
The characters are shown participating in
CONSENSUAL role-play for their own personal satisfaction, simulating activities which involve sexual dominance and submission.
No actual toons were harmed in the making
of this comic.
Sarah Mills is riding the wave. Just 19, she's the hottest new model everybody is lusting after. Her body is perfect and her face is hot and captivating. And she's clever. In spite of her youth, she's planned her path to the top and she's walking it...

Sarah Miles is the paradigm of success. She's on all the fashion covers and she'll be the next Hollywood star...
But someone is planning to put an end to Sarah's career... "Keep bouncing those tits while you can, bitch ... your cockteaser's career is gonna be over soon..."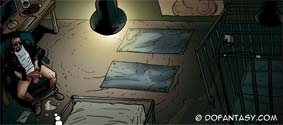 "Nobody is ever going to find you here... I've been over a year planning this, right down to the smallest detail..."
Soon, Sarah Mills disappears to wake up chained, severely gagged and caged in a horrifying place...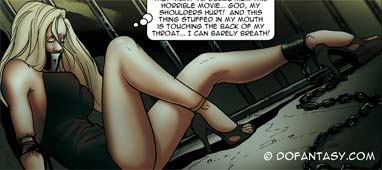 She's alone in a cage in complete darkness, her only company a terrifying video showing a screaming woman playing again and again...

After two interminable days she meets her kidnaper...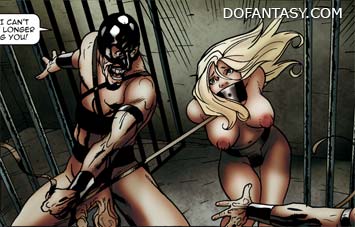 The mans wants to control the model's body and her mind too. The girl is a social winner and he's a loser, but in that damn dungeon he rules and the girl obeys no matter how crazy the order is or she gets punished...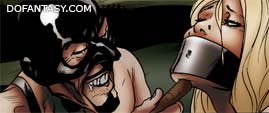 This is a story of a sick and complex relation between the predator and his defenseless victim...
A sick story of power and defeat as never told before...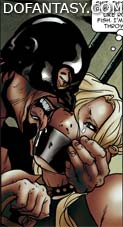 The bastard owns the model's body and soul. He managed to get her secret diary. She can keep no secrets from him...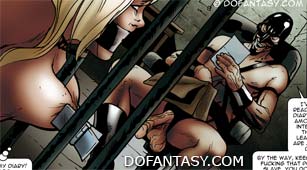 ...he knows everything about her: her feelings, her fears, her likes or dislikes... And he's determined to use this information to turn the girl's life into a living hell.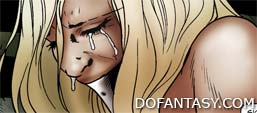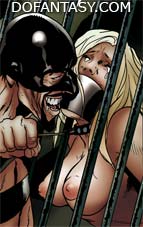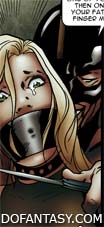 DON'T MISS THIS GREAT
NEW TEMPLETON!
A TOP MODEL AT THE MERCY OF
A DEMENTED ADMIRER

A NEW, HOT BDSM STORY!
DON'T MISS 'TOP MODEL'S HELL' THE SECOND PART OF THIS HAUNTING STORY!
VISIT TEMPLETON SITE FOR A COMPLETE LIST
OF TEMPLETON COMICS AND OFFERS