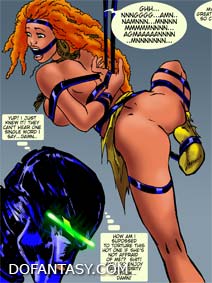 The spaceship Starfucker is patrolling the Galaxy in search of slaves. They are hunting shapely females from every terraformed colony to sell them to other ships.
The women will be traded for merchandise from other colonies.
Captain Morrison and his crew use advanced sophisticated systems and strategies in their hunt. Their success is close to 100% and they do not even need to land to capture women.
They keep their valuable preys in cryostasis, all of them healthy and beautiful. Some of the hunted are fugitives or criminals, others are genetically engineered specimens from who knows where and why...
Others are high in their social rank like Princesses or even Queens!
Now captain Morrison is approaching planet Green on a commission job: to capture 3 lovely slavegirls for the crew of a men-only cargoship.
Captain Morrison asks the spaceship computer to wake up number 7 and deliver her to his cabin. Number 7 is a recently-captured slavegirl still in cryostasis. She doesn't know where she is yet...