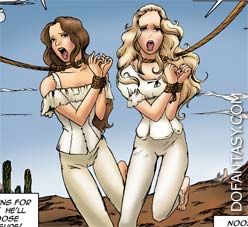 Vulture Creek is well off of the beaten track, deep into hostile Indian country. Its citizens are a bunch of settlers, all of them male, and mostly criminals escaping Justice. The only exception is old Harrison's two young and extremely beautiful daughters and some whore's caravan that from time to time passes through the place.
A new Sheriff arrives to the forgotten village and instead of fighting crime and bringing fugitives to Justice, he occupies his time courting the Harrison girls.
The girls plainly put down the advances of the rough, dirty man who now rules the place.
Spurned and angry, the man seeks revenge. And the best revenge is to fulfill his sick lust for the young sisters.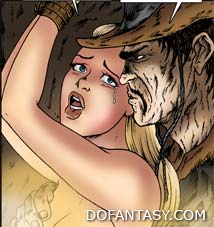 Under the excuse of a tax debt, he jails both girls after shooting their old father. The desperate sisters have no money to buy their freedom.
With a vicious grin on his face, the perverted sheriff explains to the girls what other sort of payment, other than money, a beautiful girl can use to settle a family debt.
The girls openly refuse.
The man explains they've given him no other option than to enforce the debt collection. To the horror of the girls, he explains that whores are cheap in Vulture Creek so they'll have to work extremely hard to settle what's due.
A nightmare of sexual abuse and humiliation starts for the defenseless girls. Taxes are a debt to the community, as the sheriff puts it, so everybody in the village has the right to collect his part.
The debt is impossibly high, and the payment impossible to settle, so the girls are doomed...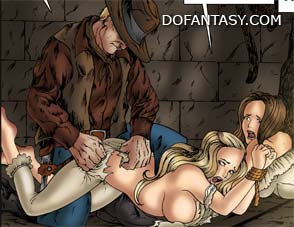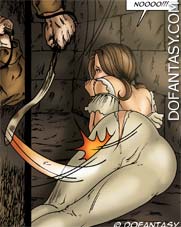 ...to endless suffering at the whim of whoever claims them next!