Use our On-Line 100% Secure EncryptedShopping Cart Ordering System. Simply browse
our site and Click the ADD TO SHOPPING CART buttons to place items in your Shopping Cart
[ HOME ] [ COMICS ] [ MOVIES ] [ NOVELS ] [ CD-ROM ] [ Order info ] [ Help ] [ ARTIST SITES ] [ SEARCH ]
[ Disclaimer ] [ CATALOGUE ] [ Copyright ]
FANSADOX COLLECTION 308
STILETTO HORROR DEN - MOFFETT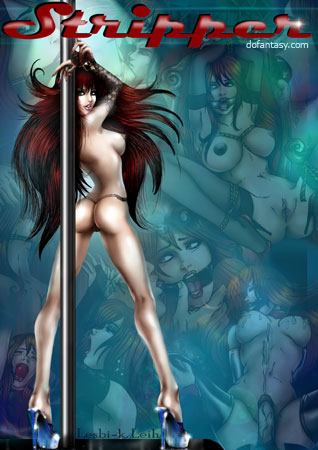 STRIPPER
NEW IN PDF ELECTRONIC VERSION!
Adult Comic Album by LESBI K LEIH
HIGH RESOLUTION PDF deluxe edition
47 full color comic pages
-COMPLETE, UNABRIDGED VERSION-
A BEAUTIFUL STRIPPER DANCING IN A
NIGHTCLUB REJECTS A CRUDE SEX
PROPOSAL MADE BY AN ARROGANT
YOUNG TYCOON.
SHE WILL DEEPLY REGRET IT...
IMPORTANT NOTICE - DISCLAIMER
All characters are 18 years old or older.
This is an entirely fictional work based on
cartoon characters for adult entertainment.
It shows no real people or events.
The characters are shown participating in
CONSENSUAL role-play for their own personal satisfaction, simulating activities which involve sexual dominance and submission.
No actual toons were harmed in the making
of this comic.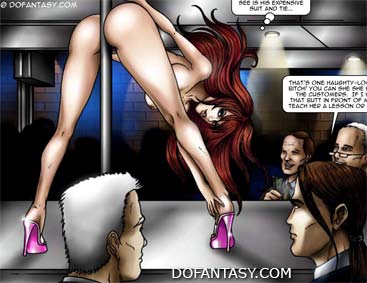 Heather dances as a stripper in a night club to pay for her studies.
She has received many offers from men, but she has never considered prostituting herself.
One of the customers tonight is an arrogant, good-looking tycoon, the kind who is used to having women crawling at his feet... He makes Heather a proposal: he'll pay a good price for a private session with her.
Heather accepts. She has a lot of experience with this kind of man, and she knows how to get the money without giving sex in return.
That same night, when she leaves the nightclub, someone is waiting for her in the parking lot.
She is taken to the spoiled tycoon's huge mansion where she is offered a job as his private strip dancer. But the job description goes well beyond dancing, and she has no option but to comply...
In the privacy of his luxurious basement, the man will crudely train his beautiful recruit in the obscene tasks she is required to perform on her new employer...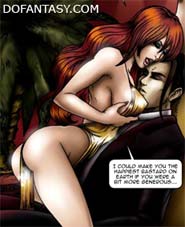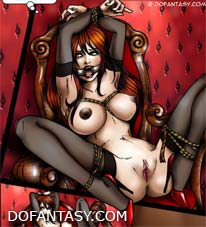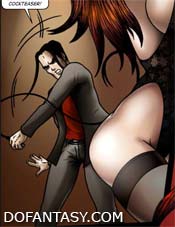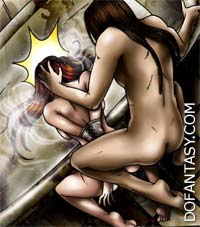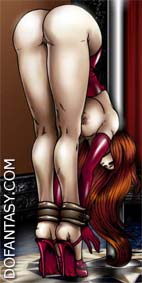 SHE TRIED TO RIP HIM OFF AND
IT WENT BADLY WRONG...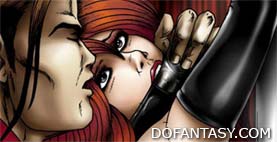 THE ANGRY TYCOON DECIDES
TO 'HIRE' THE GIRL IN HIS PRIVATE
NIGHTCLUB AND TO TRAIN HER IN
SOME VERY SPECIAL NUMBERS...
AN EXCITING STORY AND WONDERFULLY EXPLICIT ARTWORK BY LESBI K LEIH,
THE LEADING FEMALE ILLUSTRATOR IN BDSM