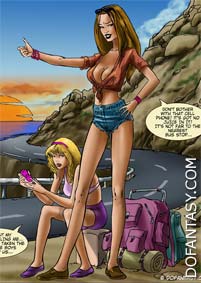 t's early Sunday morning and two friends hitchhike home after a night party on the coast. They are exhausted after all that dancing, flirting and petting and the bus stop seems to be too far away...
"Don't bother with that cell phone! It's got no juice in it! It's not far to the nearest bus stop..."
"Yeah...but my feet are killing me... We should've taken the ride those boys offered us..."
"Don't be so jumpy! It's perfectly safe on the coast to have parties and hitchhike home..."
"Not sure… nobody's around. It's so early!"
"Look, someone's stopping! Nice pink Cadillac! A cool car for such hot girls! We'll be at the bus stop in no time! And in two hours we'll be home! A perfect weekend, nothing to worry about!"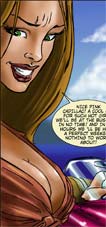 The guy on the Cadillac is a ruthless Mexican white slaver. His job consists on capturing young sexy girls north of the border and smuggling them to the south where hot chicks like Lea and Sue are much in demand...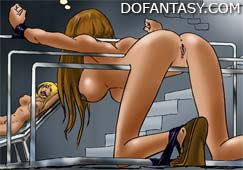 The man drugs the over confident girls and takes them to his hideaway, an isolated lighthouse far away of any paved road.
Delivery day is on Fridays and it's just Sunday morning...
There's plenty of time to check the goods... and to break them!
The girls wake up completely dizzy. They can't figure out where they are and what has happened to them. Soon they realize that they can't move and that their bodies are in pain. They are naked and shamefully tied to training frames!
Rafa, the bastard on the Cadillac, is leering at them. He's also naked... and rampant!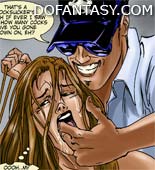 A blonde girl of about Lea's and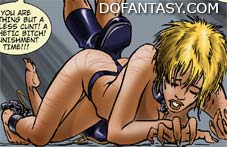 Sue's age is kneeling between his muscled legs and is giving him head. The girl is naked like them and a dog collar and a lash is locked around her slender neck!
Rafa explains the horrified girls their cruel fate. They can't believe what they're hearing. Slaves don't exist on the 21st century!
Again they couldn't be more wrong...
Rafa will spend a whole week showing them how wrong they are....