Use our On-Line 100% Secure Encrypted Shopping Cart Ordering System. Simply browse
our site and Click the ADD TO SHOPPING CART buttons to place items in your Shopping Cart
[ HOME ] [ COMICS ] [ MOVIES ] [ NOVELS ] [ CD-ROM ] [ Order info ] [ Help ] [ ARTIST SITES ] [ SEARCH ]
[ Disclaimer ] [ CATALOGUE ] [ Copyright ]
FANSADOX COLLECTION 252
GENTLEMEN'S CLUB - THE AUCTION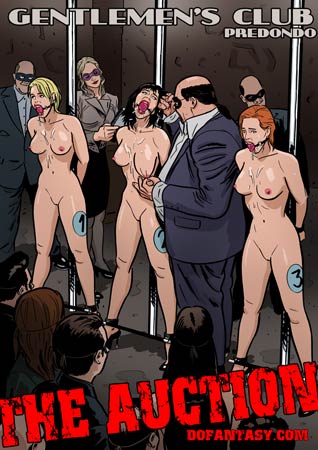 NEW IN PDF ELECTRONIC VERSION!
Adult Comic Album by PREDONDO
HIGH RESOLUTION PDF deluxe edition
46 full color comic pages!!!
-COMPLETE, UNABRIDGED VERSION-
A SHABBY WAREHOUSE SUDDENLY
BECOMES AN AUCTION HOUSE CATERING TO THE EXTREMELY WEALTHY AND DEPRAVED. YOUNG WOMEN ARE BOUGHT AND SOLD LIKE COMMODITIES TO THE CLUB MEMBERS
JENNY SHIVERS IN TERROR ON THE
CONCRETE FLOOR. IT IS HERE THAT HER
OLD LIFE ENDS, AND SHE STARTS A NEW
ONE AS THE PERSONAL PROPERTY OF A
MONSTER: MR. FAT BASTARD!
IMPORTANT NOTICE - DISCLAIMER
All characters are 18 years old or older.
This is an entirely fictional work based on
cartoon characters for adult entertainment.
It shows no real people or events.
The characters are shown participating in
CONSENSUAL role-play for their own
personal satisfaction, simulating activities
which involve sexual dominance and
submission. No actual toons were harmed
in the making of this comic.
There are two worlds which exist side by side. One world filled with normal, everyday people who go about their daily routine, day in and day out, year after year. The second world is only for the rich. In this world, all normal pleasures have long since lost their appeal, and only the most vulgar excesses can stimulate their base appetites.
Some people are born into this world of greed and power.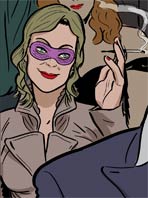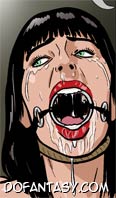 Some unlucky people find themselves thrust into its black heart, and are unable to find their way home again!
Jenny has always thought of herself as lucky, and not just because of her youthful good looks. She's popular at school and has a warm family who support her as she works towards her college degree. The future looks bright for her, but twists of fate have suddenly placed her at the mercy of perverted powerful men and women. People who see her only as entertainment for their lusts and desires. Jenny is trapped, but she has no idea how deadly the trap can be!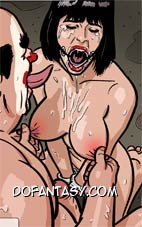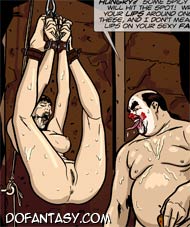 "Dance, bitch! You're getting so good I could enter you in a dog show! HAW!"
On the Auction block, Jenni is stripped of her clothes, her dignity and even her name! To the eager crowd she is just a number. A bauble to be bid on and another possession to be toyed with until it breaks… and once broken, discarded.
Her sexy figure and beauty are more of a curse than a blessing, as the young woman comes to the attention of Fat Bastard.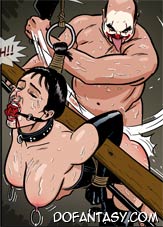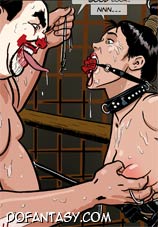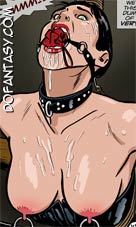 "Have you ever seen hooks like these before? Get a good look."
The stocky, repulsive beast of a man has loads of money and wields power like a spiked club. With his fortune, he can sneer at modern conventions like "empathy" and "respect".
As a leading figure in this powerful underground world, F.B. can unleash his inner demons. When he sees the shapely brunette trembling on the Auction block, he suddenly has a target for all his pent up desires… and aggressions!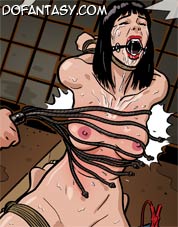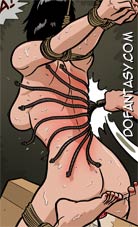 "Ten stripes for being stubborn, and another 10 for not showing enough
devotion to your Master. Let's just round it up to thirty!"
Jenny has no idea how cruel the world is, or how twisted the desires of the rich and powerful can be. All she knows is that she's a long way from the world she once knew!
Some clubs need a secret handshake to get past the door, others require strange oaths and large donations in cash. THIS club is difficult to get into, but impossible to leave if you are a hot, beautiful young woman!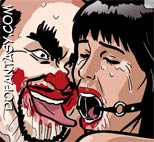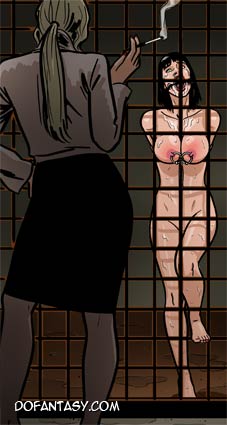 A shocking peek behind the curtain of the wealthy,
and the young women trapped in their web of power.
You may think you've seen villains before, but you've
never met one like Mr. Fat Bastard!
A blunt name for a deranged beast!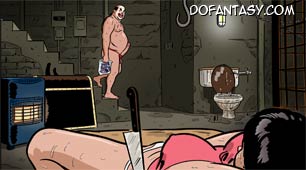 GENTLEMEN'S CLUB: THE AUCTION
sets the stage for a completely new story that will
play out before you eyes, page after page!
This is an all new storyline with characters never
seen before, all created by DoFantasy's fastest rising
star PREDENDO and TEMPLETON's team!
NEW ARTIST PREDONDO AND TEMPLETON'S TEAM JOIN TO
OFFER YOU THIS OUTSTANDING COMIC!
ONE OF DOFANTASY.COM HOTTEST COMICS EVER!!!


"Wake up, you lazy whore! Daddy's here to claim his property..."
[ PREDONDO SITE ] [ HOME ]