Use our On-Line 100% Secure Encrypted Shopping Cart Ordering System. Simply browse
our site and Click the ADD TO SHOPPING CART buttons to place items in your Shopping Cart
[ HOME ] [ COMICS ] [ MOVIES ] [ NOVELS ] [ CD-ROM ] [ Order info ] [ Help ] [ ARTIST SITES ] [ SEARCH ]
[ Disclaimer ] [ CATALOGUE ] [ Copyright ]
FANSADOX COLLECTION 266
CORPORATE HELL - HOSTILE TAKEOVER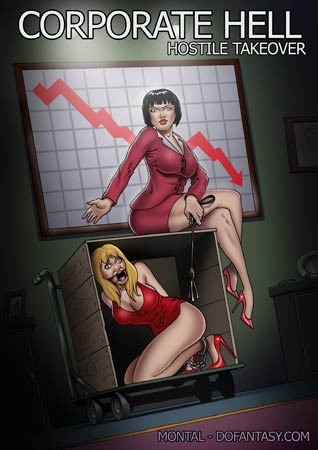 NEW IN PDF ELECTRONIC VERSION!
Adult Comic Album by MONTAL.
HIGH RESOLUTION PDF deluxe edition
42 full color comic pages!!!
-COMPLETE, UNABRIDGED VERSION-
A POWERFUL BUSINESSWOMAN COMES
FACE TO FACE WITH THE MEN SHE STEPPED
ON WHILE CLIMBING THE CORPORATE LADDER!
THE HIGHER YOU RISE IN THE BUSINESS
WORLD, THE FARTHER YOU CAN FALL.
AND IF YOU'VE CROSSED THE WRONG
PEOPLE ON YOUR WAY TO THE TOP,
PAYBACK IS A BITCH!
IMPORTANT NOTICE - DISCLAIMER
All characters are 18 years old or older.
This is an entirely fictional work based on
cartoon characters for adult entertainment.
It shows no real people or events.
The characters are shown participating in
CONSENSUAL role-play for their own
personal satisfaction, simulating activities
which involve sexual dominance and
submission. No actual toons were harmed
in the making of this comic.

"I can compress 5 years of business school into one sentence: shit always flows downhill.
I've got two Harvard business degrees, a law degree and recognition from Wall Street.
And the one thing I've learned is that it's better to shit on, than be shitted on."
Beverly Ross has the 9-5 job that everyone fantasizes of, as well as a salary which is the stuff of dreams. As a corporate lawyer working for one of New York 's most prestigious law firms, Beverly commands more than just a six figure income. She commands respect.
The sexy young executive has caught more than one or two people off guard. Most people when meeting the bright blonde for the first time wouldn't think that beneath her beach-bikini figure beats the heart of a woman who is all business, all of the time. Those who make the mistake of not taking her seriously quickly find themselves out on the street without a job or career.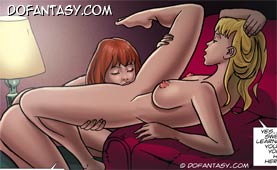 Beverly understands her power, and has used her position of authority to make sure her personal assistant is a beautiful redhead who will eagerly take on any extra duties, no matter how unusual! With the voluptuous Melissa working as her secretary during the day and off-duty lover at night, Beverly has established herself as a woman not to be crossed.
John is at the bottom of the corporate pecking order. He's a minimum wage janitor who is constantly battling with the degrading nature of his work, and the humiliating treatment he gets around the office. When Beverly decides to use the grizzled handy-man as the target of her razor wit, John can only smolder in anger.
"It's scary to think his kind is allowed to breed. Shouldn't they require an IQ
test or something first? ... Of course, first he'd have to find a wife who is
not only blind, but unable to smell! HA HA! I guess civilization is safe after all!"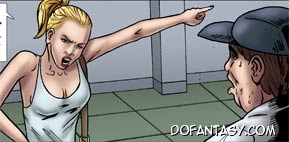 One complaint, and he'll be fired on the spot. He'll have to wait for the right time to get his revenge. Sometime when the office is closed and the shapely businesswoman is working late. Then he'll get payback for himself and all his friends too!
Beverly is shivering on the cold, concrete floor of the underground parking garage. Her nylons are ripped and the oily floor is staining her expensive business suit. A momentary jab of fear shoots through her, but is quickly drowned under a sea of rage. Someone is trying to embarrass her with a stupid prank, and they've ruined her $1,500 outfit in the process! She'll make whoever is behind this lose not only their paychecks, but their jobs! Beverly tries to open her mouth to shout, but a slippery wad of cotton is stuffed in her mouth. The gag has a foul odor….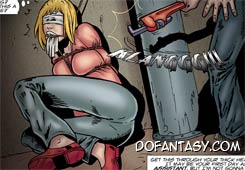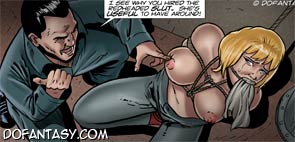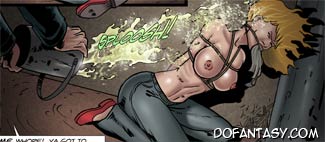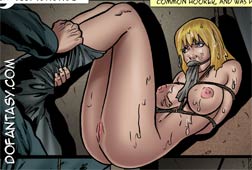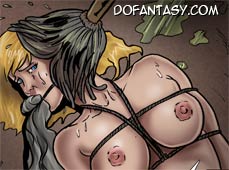 Melissa was willing to do anything to get ahead in the company, but suddenly finds herself on the wrong side of the bargaining table when she has to impress a janitor and security guard with her personal talents as his 'assistant' and as a woman.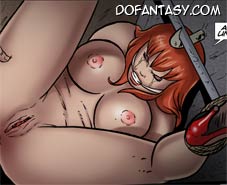 But the guys are not as untalented as Beverly thinks and close a good deal with the rival Corporation. The hot and brilliant top executive and her secretary are sold to the rival board for a million dollars.

The chains which are wrapped around her wrists and ankles show that these men mean business, and she now has to submit to the most humiliating interview imaginable!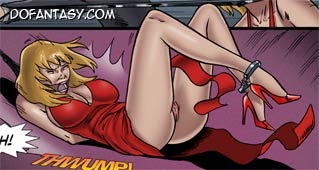 "I'm going to make you my bitch, Ms. Ross."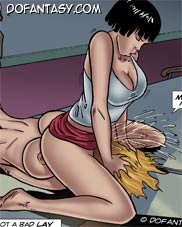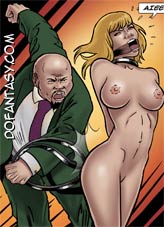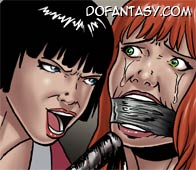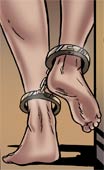 MONTAL'S BOLD STYLE WILL DRAW YOU INTO A TWISTED TALE OF THE BUSINESS WORLD
TURNED UPSIDE DOWN. WHEN THE TWO LOWEST PAID EMPLOYEES OF A MULTINATIONAL
COMPANY DECIDE TO TAKE CONTROL, IT'S THE BOSS WHO HAS TO PAY!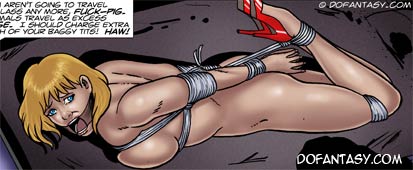 ONCE AGAIN, MONTAL PROVES WHY HE'S A FAVORITE BY PUTTING HIS UNIQUE EROTIC
SPIN ON CURRENT EVENTS AND CREATING AN AMAZING STORY OF CORPORATIONS
GONE OUT OF CONTROL!
CLEVER, EXCITING DIALOGS BY SANDOW!