In the distant reaches of a nearby galaxy lies Safari Planet. It was uninhabited when discovered, and is now exploited for commercial purposes by an organization trading under the name Wild Safari Ltd.
This organization has developed advanced hibernation technology to the point where beautiful young women can be captured on Earth, stored for as long as necessary and shipped to the planet.
Once on the planet the women can be hunted and used by anyone with the money to pay for it. Hunting is done with the help of beasts, half-ape and half reptile, which serve as tracker dogs.
The rules are simple but the price varies. The customer can choose his victim and also decide her fate. He can hunt her down and return her alive to the company's storage bay if he wishes. Or he can keep her and use her body in any way he chooses for his own sexual gratification. He can even kill her. There have been cases of customers hunting a woman down, cooking her and eating her in a gourmet banquet...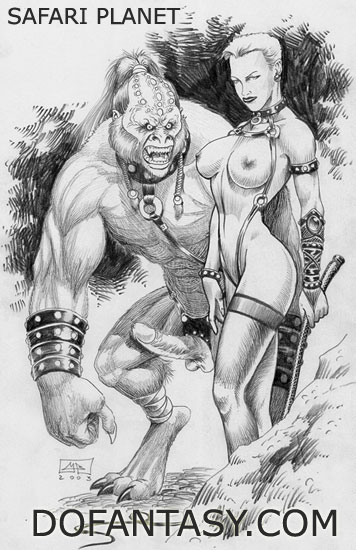 This is hunting party 1625. The hunters have just arrived. They are shown to their accommodation and introduced to a batch of women. All of the women are still in hibernation...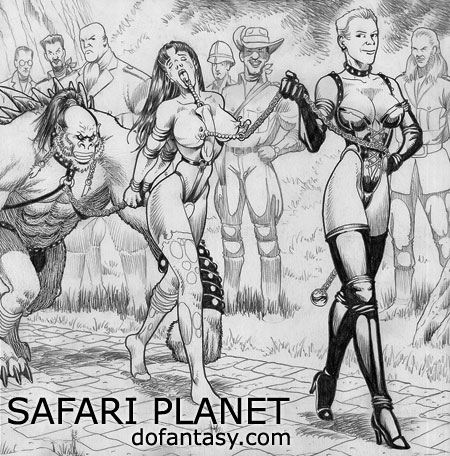 From a Wild Safari Ltd. brochure:
Live out your wildest fantasies! The most beautiful and desirable prey you can imagine is waiting for you! Professional guides. Spectacular scenery. Safari Planet: The biggest game reserve in the Galaxy!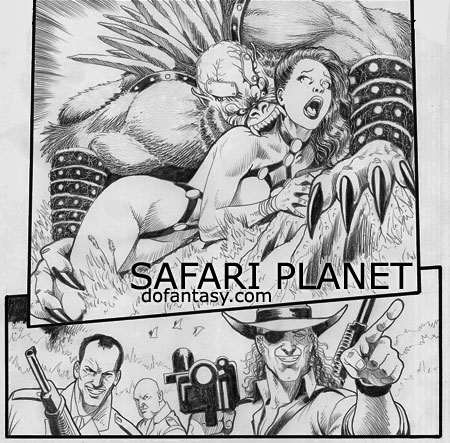 41 pages of wild action
SAFARI PLANET
Incredible set up
WONDERFUL ART