Use our On-Line 100% Secure Encrypted Shopping Cart Ordering System. Simply browse
our site and Click the ADD TO SHOPPING CART buttons to place items in your Shopping Cart
[ HOME ] [ COMICS ] [ MOVIES ] [ NOVELS ] [ CD-ROM ] [ Order info ] [ Help ] [ ARTIST SITES ] [ SEARCH ]
[ Disclaimer ] [ CATALOGUE ] [ Copyright ]
FANSADOX COLLECTION 310
HAREM HORROR HELL - RUTHLESS TRAINING - PREDONDO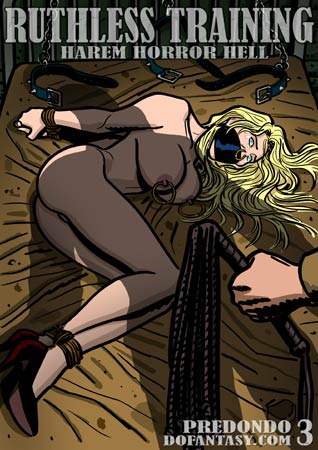 NEW IN PDF ELECTRONIC VERSION!
Adult Comic Album by PREDONDO.
HIGH RESOLUTION PDF deluxe edition
46 full color comic pages!
-COMPLETE, UNABRIDGED VERSION-
A SPURNED ROYAL PRINCE TAKES HIS
VENGEANCE ON OLIVIA, THE POPULAR
AMERICAN GIRL WHO SPURNED HIM...
SHE AND HER SEXY MOM LAND IN HIS HAREM
OF HELPLESS BOUND BEAUTIES.
SAYING "NO" TO THIS DEPRAVED
FOREIGN PRINCE IS THE WORST MISTAKE
A BUXOM BLOND CAN MAKE!
IMPORTANT NOTICE - DISCLAIMER
All characters are 18 years old or older.
This is an entirely fictional work based on
cartoon characters for adult entertainment.
It shows no real people or events.
The characters are shown participating in
CONSENSUAL role-play for their own
personal satisfaction, simulating activities
which involve sexual dominance and
submission. No actual toons were harmed
in the making of this comic.
IN THESE BACKWARD PALACES, THE ONLY THING WORSE THAN BEING A WOMAN
IS BEING A WOMAN SLAVE! THE ROYAL FAMILY SHOWS NO MERCY AS THEY BRING HELPLESS,
WHITE WOMEN TO THEIR BREAKING POINT!

Prince Ahmed and his sick family have sunk to new lows. New monsters arrive, and new toys are used to grind the poor harem girls into dust!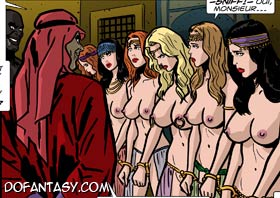 No matter how much these women plead, apologize, and submit, prince Ahmed and his family will not relent! Only more cruel punishment will come!
Abandoned by her father, Olivia Hamilton has no one she can turn to for help. The only person who knows what has happened to her is her mother, and she's just become the newest captive in the prince's growing harem of international sex slaves!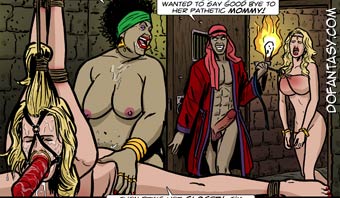 Ahmed's hunger for white women hasn't been satiated since we last saw him. If anything, it has only gotten worse. If there was ever a hell on Earth, these poor, helpless, captured girls would be caught in it!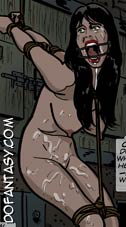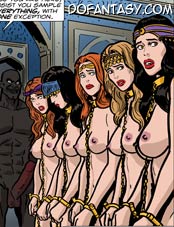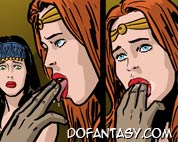 Prince Ahmed must return to the United States to continue his education. While there, he will most certainly find fresh, unsuspecting victims for his voracious, sick appetite.
But first, he needs to be sated before he takes the long plane trip across land and sea...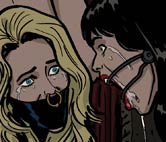 Ahmed eyes the girls, well-trained sluts that have been taught to serve and service him and his every filthy, disgusting, sickening desire. Even the most well-trained and submissive of his harem are given no mercy. They are treated just as sickeningly as the rest. If anything, they are treated worse. One wrong word in their carefully crafted script, and they are punished in the most devastating way imaginable! One poor girl finds this out, to her horror!
Olivia is the preferred personal pet-slave of the Prince. She has been kept in constant servitude. Never allowed to rest, sleep, or recover, she is continuously used and abused by Prince Ahmed! Worst of all, Prince Ahmed knows how to hold a grudge. Even after all the abuse that poor Olivia has suffered, it isn't enough to redeem herself in his eyes. He still remembers the humiliation he felt in the school cafeteria, and he will make sure she remembers it too for the rest of her miserable life!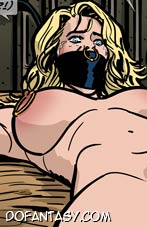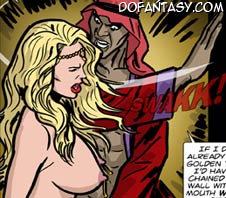 Not even Olivia's mother, Mrs. Hamilton, is spared by her own sick, twisted captor. Ahmed's mother is enjoying Mrs. Hamilton in her own, sick, lezzie way. Prince Ahmed learned his worst and most monstrous habits from the best: his own mother and father!
Ahmed's mother is satisfied with Mrs. Hamilton, as long as the white cow knows who's in charge. The Arabian queen "rewards" the beaten and broken Mrs. Hamilton in increasingly sickening and disgusting ways! There is no mercy for the once-frigid, white MILF! She is the perfect target for every ounce of sickening perversion that the Arabian queen wishes to dish out.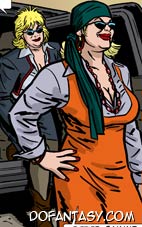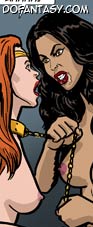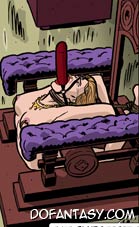 The Emir of Barafain also has his own toys to play with. There is a hot, delicious new black nigra that he is eager to use until she is completely used up! He has a taste for pretty, black girls... "bruises don't show up as easily!"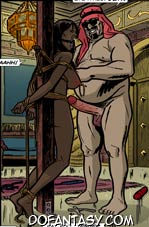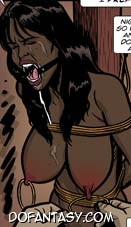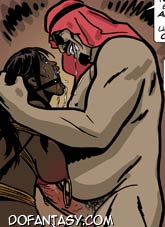 What will happen to poor Olivia? What will happen to poor Mrs. Hamilton?






DO YOU THINK LIFE IN A MIDDLE EAST HAREM IS ALL SILKEN PILLOWS AND PERFUMES?
JOIN PREDONDO AS HE TAKES YOU ON A JOURNEY TO A WORLD OF SADISTIC PLEASURES AND
SHOCKING HUMILIATIONS YOU'VE NEVER IMAGINED! THE MASTER ARTIST AND POWERHOUSE
TALENT BRINGS ALL HIS SKILL TO BEAR IN THIS LATEST COMIC FROM DOFANTASY!
THIS ONE IS NOT TO BE MISSED!
VISIT PREDONDO'S SITE FOR A COMPLETE LIST OF PREDONDO COMICS AND OFFERS