Use our On-Line 100% Secure EncryptedShopping Cart Ordering System. Simply browse
our site and Click the ADD TO SHOPPING CART buttons to place items in your Shopping Cart
[ HOME ] [ COMICS ] [ MOVIES ] [ NOVELS ] [ CD-ROM ] [ Order info ] [ Help ] [ ARTIST SITES ] [ SEARCH ]
[ Disclaimer ] [ CATALOGUE ] [ Copyright ]
FANSADOX COLLECTION 312
CHINESE SECRET AGENT - MAD SCIENTIST - FEATHER
NEW IN PDF ELECTRONIC VERSION!
Adult Comic Album by FEATHER.
Dialogs by NAJ
HIGH RESOLUTION PDF deluxe edition
50 full color comic pages!!!
-COMPLETE, UNABRIDGED VERSION-
AMBER, BLONDIE, AND AGENT KITTY
ALL THOUGHT THAT THEY WERE TRAPPED
IN A LIVING HELL, BUT THE WORST IS
YET TO COME!
THE 3 HOT S.L.U.T. AGENTS HAVE THE
WORST POSSIBLE END IN STORE FOR THEM.
MAD SCIENTIST DR. BONE WILL MAKE SURE
THAT THIS WILL BE THEIR FINAL PERFORMANCE,
AND HE'LL MAKE IT LAST AS LONG AS POSSIBLE!
IMPORTANT NOTICE - DISCLAIMER
All characters are 18 years old or older.
This is an entirely fictional work based on
cartoon characters for adult entertainment.
It shows no real people or events.
The characters are shown participating in
CONSENSUAL role-play for their own
personal satisfaction, simulating activities
which involve sexual dominance and
submission. No actual toons were harmed
in the making of this comic.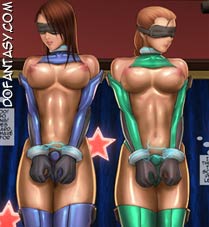 Dr. Horace Bone is a powerful man who receives top secret funding from some of the most powerful governments on the planet, but even he needs a way to pay the bills. For the most part, receiving money from the taxpayer will work, but he is an expensive man with expensive tastes, and with the global economy struggling, even mad scientists must find new revenue streams.
Fortunately for Dr. Horace Bone, he has a healthy supply of something that will never go out of style: sex slaves to satisfy the most disgusting, sinister cravings of the wealthiest, most influential, and most wicked men on the planet!
Tonight is a very special night, and his own secret club has a special show for his most esteemed guests.
CEOs, government officials, and drug kingpins have flown in from all over the world for this once in a lifetime event.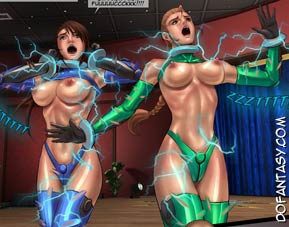 Their secret, shadow nemesis, the S.L.U.T. agency, will finally receive a shocking comeuppance.
Three of their most cunning, most skilled, and best trained agents will receive a savage and cruel punishment!
The men who arrive in the club have their own personal grudges and grievances against the entire S.L.U.T. agency. Millions have been lost, thousands of highly important people have been killed, and entire multi-million dollar plans have been ruined no thanks to these meddling women.
The men who come to Dr. Bone's private club have a score to settle with S.L.U.T., and agents Amber, Blondie, and Kitty will be their targets...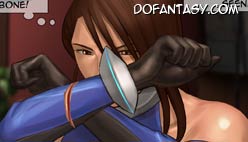 Agents Amber, Blondie, and Kitty will be fighting for their lives, all for the entertainment of these rich and powerful men. Unfortunately for them, they will not be fighting together, but against each other!
Agent Kitty has been thoroughly brainwashed and controlled by the malicious and malevolent Dr. Horace Bone. Her every desire is programmed into her mind, and the only desire she has is to crush agents Amber and Blondie for the pleasure of the mad and wild audience at the command of her master, Dr. Bone!
Agents Amber and Blondie fight with all their strength, skill, and cunning...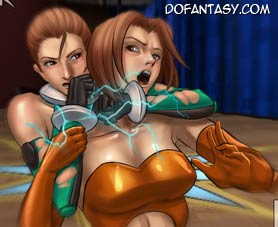 ...but there's a reason that Agent Kitty was considered the best agent they had...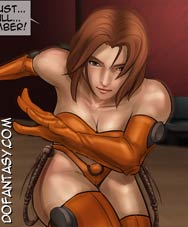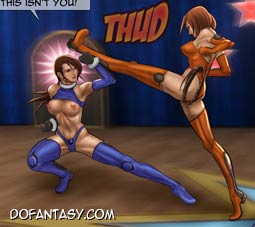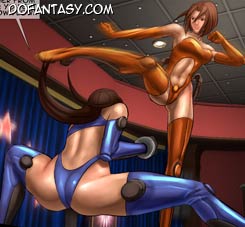 ...they are quickly taken down by the brainwashed S.L.U.T. agent who does not show them an ounce of mercy!

But beaten and battered women does not mean that the performance is over. Far from it! The old saying is still true, especially in this wicked den of sin and vice.
The show must go on! New challengers emerge to challenge the faltering strength and skill of Agents Amber and Blondie. These vicious wrestlers have been banned from every single sporting event known to man. They can only receive work in these underground circuits, but that suits them just fine. It is only in these vicious, no-holds-barred wrestling arenas that Black Atlas and Manly Man can unleash their full, merciless rage, fury, and sexual depravity!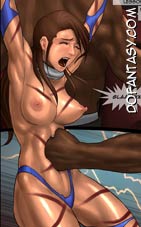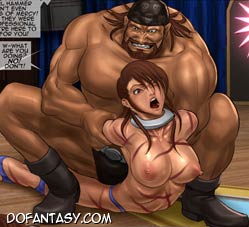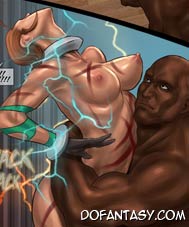 Agents Amber and Blondie don't stand a chance!
They are quickly taken down. Even their best plans fail!
And they are mercilessly tormented and humiliated! The crowd goes wild!
The hour grows late, and Dr. Horace Bone knows that the men in the audience will want their own piece of the action.
He chains up our poor, helpless heroines and unleashes the hounds! Chained and helpless, these women are now at the mercy of the men whose organizations they disrupted! These men hold long and hard grudges, and they will take every single business loss and dollar stolen our of the flesh of these women!

These men have only known power and obedience from everyone around them. Those who disobey are punished... or worse...
These men know no such thing as civilized restraint and they know what they want...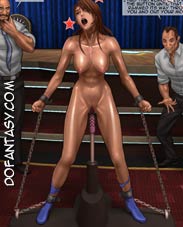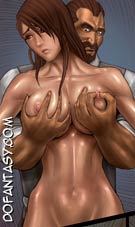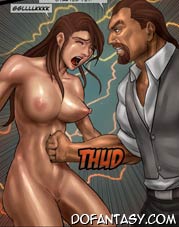 ...and what they want is revenge!
The final curtain call comes! Will Agents Amber, Blondie, and Kitty be ready for the last show of the night? Will they survive the constant harassment and scorn of the audience before them? Is escape and freedom still possible or is a gruesome, humiliating, and shocking end the only thing that they will see?
Things don't look good for our secret agents...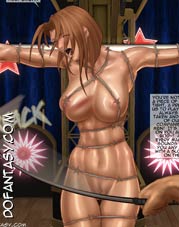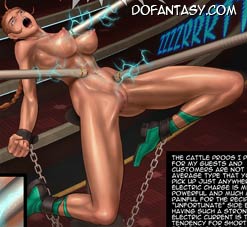 ...will they get out alive? Or will Dr. Horace Bone have the last laugh?
You can only find out within this comic!
_________________________________
FEATHER HAS PROVIDED ONLY THE BEST AND HIGHEST QUALITY MATERIAL FOR OUR LOYAL
VIEWERS AND SUBSCRIBERS, AND THIS IS EASILY HIS BEST ONE YET!
DR. HORACE BONE HAS ONLY THE MOST NASTY AND SINISTER PLAN FOR
THESE HELPLESS SECRET AGENTS, AND THE STORY THAT COMES FROM THESE PAGES
WILL LEAVE YOU ON THE EDGE OF YOUR SEAT!



THIS EXPLOSIVE CONCLUSION IS ONE OF THE GREATEST YET!
DON'T MISS THIS STORY BECAUSE THERE IS NO TURNING BACK!
______________________________________________
CHECK THE RIGHT COLUMN OF THIS PAGE FOR THE PREVIOUS PARTS OF THIS COMIC
"CHINESE SECRET AGENT - THE RESCUE" AND "CHINESE SECRET AGENT - DEFEATED"!