Use our On-Line 100% Secure Encrypted Shopping Cart Ordering System. Simply browse
our site and Click the ADD TO SHOPPING CART buttons to place items in your Shopping Cart
[ HOME ] [ COMICS ] [ MOVIES ] [ NOVELS ] [ CD-ROM ] [ Order info ] [ Help ] [ ARTIST SITES ] [ SEARCH ]
[ Disclaimer ] [ CATALOGUE ] [ Copyright ]
FANSADOX COLLECTION 318
PUNISHED IN PARADISE - PREDONDO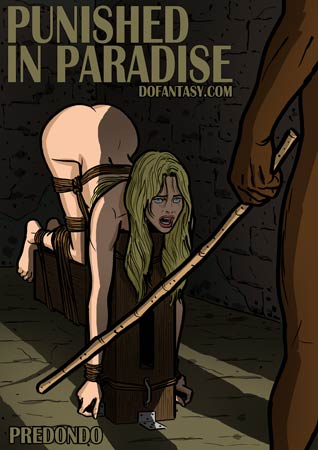 NEW IN PDF ELECTRONIC VERSION!
Adult Comic Album by PREDONDO.
HIGH RESOLUTION PDF deluxe edition
44 full color comic pages!
-COMPLETE, UNABRIDGED VERSION-
THEIR TRAVEL AGENT PROMISED SUNNY
BEACHES BUT FORGOT TO MENTION THE
SAVAGE NATIVES AND THEIR TWISTED IDEAS
ABOUT WOMEN, CRIME AND PUNISHMENT!
SAYING "NO" TO A DEPRAVED
BUS DRIVER WAS THE WORST MISTAKE
THE FOREIGN BLOND COULD MAKE!
IMPORTANT NOTICE - DISCLAIMER
All characters are 18 years old or older.
This is an entirely fictional work based on
cartoon characters for adult entertainment.
It shows no real people or events.
The characters are shown participating in
CONSENSUAL role-play for their own
personal satisfaction, simulating activities
which involve sexual dominance and
submission. No actual toons were harmed
in the making of this comic.
WHAT IS THE WORST THING THAT COULD HAPPEN TO THREE RICH, PARTY GIRLS ON VACATION? LOSING THEIR CAMERA? THEIR PASSPORTS? HOW ABOUT THEIR FREEDOM
AND MAYBE EVEN THEIR LIVES!
FALSELY ACCUSED OF HERETICAL AND DEMONIC PRACTICES, THREE AMERICAN GIRLS
ARE JUDGED AND SENTENCED TO THE WORST PUNISHMENT A WOMAN CAN FACE!!!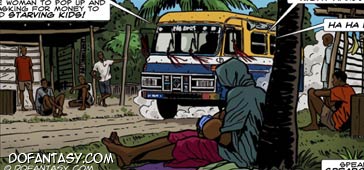 "I bet our driver will let us take a photo of his cock for a few cents."
"He can use the money to buy some soap! Ha" HA!
Brooke finds fun wherever she goes, and no wonder! She's a spoiled rich girl with stunning good looks and an unlimited bank account. If she can't find an off-the-hook party, she'll start one!
Her buxom friends Tisha and Carly are along for the ride and have no problems making fun of the villagers they see living in poverty. After all, if the backward natives can't find enough to eat it's their own fault, right?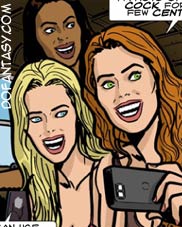 "It's fantastic, like visiting a zoo! Look! There's a monkey nursing her calf!
Somebody call Animal Planet! What a show!"
Driving through the slums and taking photos to show their friends back home is a blast, but the angry stares the sullen villagers give them made their skin crawl....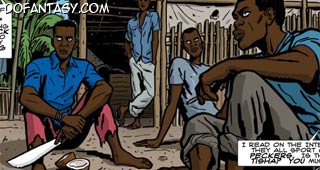 Once the sun sets, it's time to go back to the resort where the REAL action is.
A sprawling cabana on the beach is the perfect place to party with other tourists on vacation. Brooke wrinkles her nose in disgust when she sees the shabby bus driver skulking at the edge of the outdoor party.
Sure, it's his country… but doesn't he have enough sense to see he's not wanted here?
The three friends comit the worse mistake of their young lives....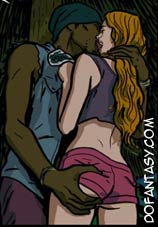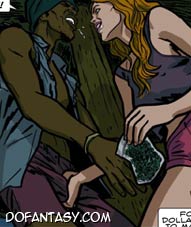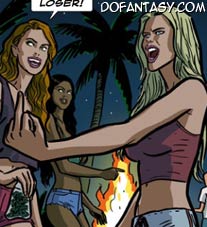 "Hey baby, you want to buy something else? I give you good fuck. Only $10!"
"Go ask your rasta pals to fuck you up the ass, monkey.
American women are way out of your league!"
The next day a roaring crowd detain two of the girls in their hotel room...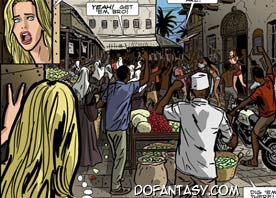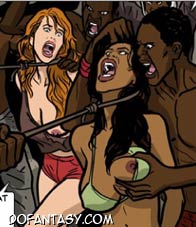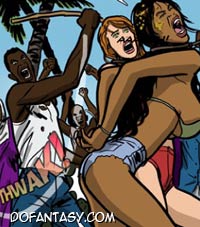 "You betrayed your skin, sister. You'll suffer twice as much for that crime!"
"Dykes get skinned alive, witches burn and infidels get beheaded!
Gonna send you to the elder to figger out which punishment you get!"
...and drag them to the elder for punishment....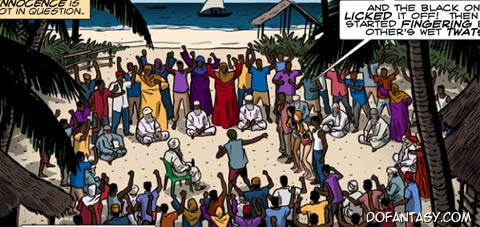 "Then I saw the redhead give a blowjob to a goat.
Cum ran down her white chin..."
The black man grabs her hair and yanks her forward into the screaming crowd.
"This stubborn slut thinks she's all high and mighty! Flauntin' her big tits around and shaking her white ass like a whore! Ain't no way we gonna stand for that! Now she gonna pay!"
The mob roars like a zoo at feeding time. The rope tightens around her neck and she gasps for air. They're going to use her like a cheap hooker, if they don't rip her apart first!
Tisha screams alongside, and she whirls around in panic. The old man has forced her friend to her knees and is shoving her face into his filthy crotch.
"You're next, sweet meat!" he says with an evil chuckle.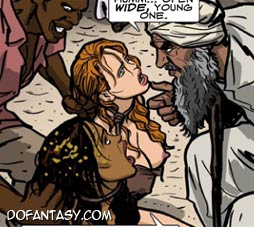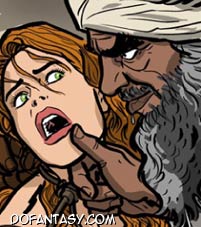 "In accordance with our law, I'll have you flogged 50 times in the public square,
then sold into slavery for the rest of your miserable lives!"
Meanwhile, a strange woman in a burka has saved Brooke from the crowd. She offers the girl shelter...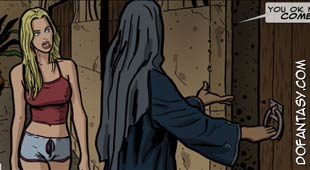 Brooke is so scare that she can't figure out it's a trap. She finds herself locked up in a dark and tiny stone cell for days with no food or water... She's desperatly lonely. She can't talk or beg to anybody. No one has come to see her yet....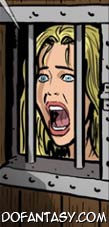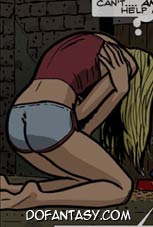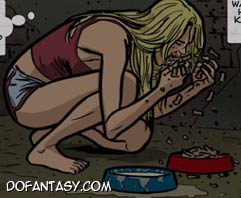 The fate of Tisha and Carly gets worse and worse
after the elder's verdict...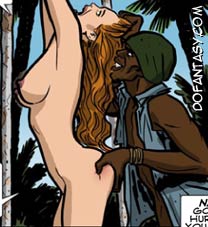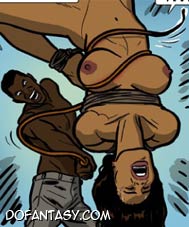 "Ain't nothing in our tribal laws 'bout showin'
mercy to sluts who betray their race!"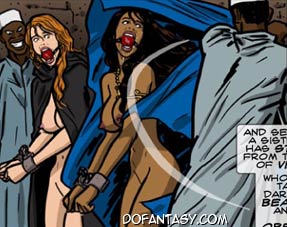 "This lot comes all the way from America.
You've seen their heathen television shows on satellite,
now you can buy their godless whores in the flesh!"
Finally Brooke meets her captor. The door slams open, jolting her from a nightmare-riddled sleep. The walls of her cell are damp with mold.
How long has she been left alone? Maybe a week?
Her blurry eyes see the towering black man enter the room, lugging a large basket filled with depraved sex toys.
His first words are terrifying.... "From now on, you call every black man 'MASSA'"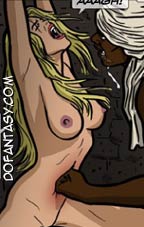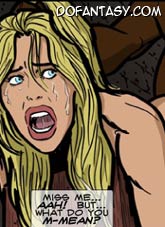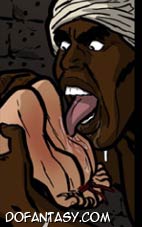 "More rules... When your Massa tells you to get wet,
your gash better start flowing like a river."
ANOTHER EXCLUSIVE COMIC FROM A MASTER STORYTELLER, AVAILABLE ONLY AT DOFANTASY!
IF YOU HAVEN'T READ PREDONDO'S EXPLICIT, GRAPHIC NOVELS BEFORE,
GET READY FOR THE RIDE OF YOUR LIFE!
AWESOME! HOT! HOT! HOT! AND HOT!
NOT TO BE MISSED!!!
VISIT PREDONDO'S SITE
FOR A COMPLETE LIST OF PREDONDO COMICS AND OFFERS