Use our On-Line 100% Secure EncryptedShopping Cart Ordering System. Simply browse
our site and Click the ADD TO SHOPPING CART buttons to place items in your Shopping Cart
[ HOME ] [ COMICS ] [ MOVIES ] [ NOVELS ] [ CD-ROM ] [ Order info ] [ Help ] [ ARTIST SITES ] [ SEARCH ]
[ Disclaimer ] [ CATALOGUE ] [ Copyright ]
FANSADOX COLLECTION 322
BABYSITTING HORROR GAMES - MOFFETT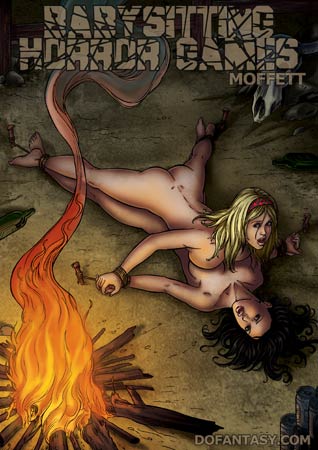 NEW IN PDF ELECTRONIC VERSION!
Adult Comic Album by MOFFETT.
HIGH RESOLUTION PDF deluxe edition
42 full color comic pages!
-COMPLETE, UNABRIDGED VERSION-
BABY SITTER WANTED!
MUST BE POLITE, PRETTY AND
A SUBMISSIVE SEXTOY FOR MY
DROOLING RETARDS!
IMPORTANT NOTICE - DISCLAIMER
All characters are 18 years old or older.
This is an entirely fictional work based on
cartoon characters for adult entertainment.
It shows no real people or events.
The characters are shown participating in
CONSENSUAL role-play for their own
personal satisfaction, simulating activities
which involve sexual dominance and
submission. No actual toons were harmed
in the making of this comic.
MARTHA MAE NEEDS A BABYSITTER TO ENTERTAIN HER LARGE, SADISTIC FAMILY OF
BACK-COUNTRY CRETINS. THE SEXY BLONDE WHO GETS THE JOB BETTER STAY ON HER TOES.
IF MOMMA CATCHES ANYONE DISRESPECTING HER SONS, THERE WILL BE HELL TO PAY!
HELP WANTED: Live-in Baby-sitter. Single mother needs help with three precocious young boys. They are adorable and well behaved, but can be a handful! Must be willing to relocate. Free Room and board offered with position. Contact me today!
Dogleg, Arizona.
A speck of a town on the outskirts of the Mojave Desert. Not the sort of place anyone visits, or leaves! But for sexy Maddie, it's the ideal spot to get away from her nagging mother.
When she saw babysitter job advertised in the local paper, her heart raced in her chest. This was her chance! Once she was out of the house her mother would realize that she was an independent young woman.
The ad said the job only lasted for the summer, but so what? A few months without Maddie to boss around, and her mom would finally stop lecturing her about enrolling in college.
The moment the school year ended, Maddie hopped a bus headed to the remote outpost.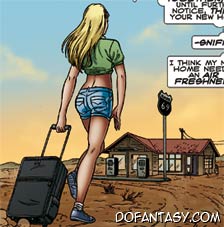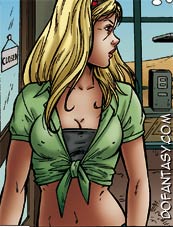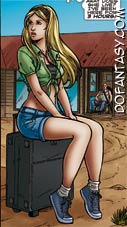 ______________________________________
Sweat trickled down her back under the tight tank top. Maddie squirmed against the cracked leather seat as the pickup rattled over the rocky trail. How much further did they have to go?
The old woman had been driving her for over an hour, bouncing over rocks and swerving around boulders. The pert young woman shot a look at the driver. Martha Mae was fat and wore too much perfume.
The stench of the cheap perfume mixed with her body odor in the cramped truck making the ride even more unbearable.
Still, the old woman was her boss now and seemed friendly enough. The job should be a breeze.
If the three tykes were as adorable in person as they looked in that photograph Martha Mae had shown her, this was going to be a wonderful summer!
What a Mistake!
______________________________________
"NOOOOO!" The crying woman's screams sent chills down Maddie's spine. How long had they kept that poor girl locked up? One week? One year? She was young, her skin still smooth and healthy compared to the warty flab of the brothers. They couldn't have kept her long. The brothers were animals. Alone they were just evil, but when they were together they were every woman's nightmare!
They tried to outdo each other, see who could make the babysitter scream the loudest, or ram her the hardest until she passed out in agony. Maddie tightened her arms around her naked body. She was the new girl here. No matter what horrible thing they did to their old babysitter, they'd do worse to her!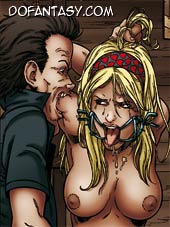 ______________________________________
The hard-baked soil of the field scraped her knees raw. Maddie tried to stand back up but a sharp pull on the collar sent her sprawling to the ground.
"Bad doggie!" the horrible runt said with a wicked laugh. "You don't see any other animals walkin' on their hind legs, do ya? Floozie fucktoy thinks she can walk around like people! Ha! You ain't nothing but a place to keep my cock warm and wet when I'm not takin' a piss! Now grab a squat like my hound dog and do your business. Ain't no bathroom breaks for you when we go back inside. If you ain't housebroken, I'll whip the hide clean offa' you!"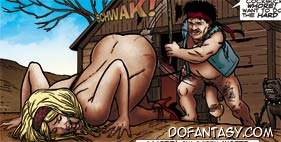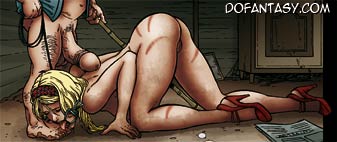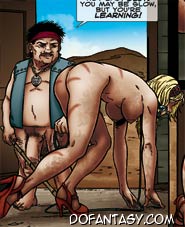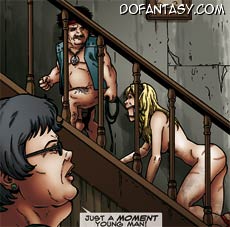 The babysitting games the perverted monsters want to play get sicker and sicker...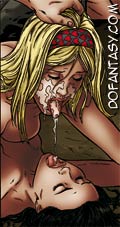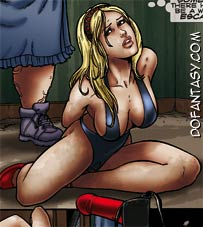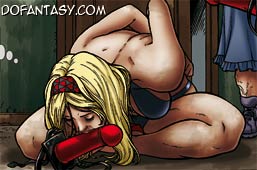 DEFENDING HIS RECORD AS MASTER STORYTELLER OF THE BIZARRE, MOFFET UNCHAINS
HIS LATEST CREATION AND IT'S ONLY AVAILABLE THROUGH DOFANTASY!
SPLASHED OVER 40 PAGES OF HIGH QUALITY ACTION, THIS STORY IS A SOUL-SEARING
LOOK AT THE MOST BIZARRE FAMILY YOU'LL EVER MEET!
ONE OF THE HOTTEST STORIES OF THIS COLLECTION.
SUPERB DIALOGS BY SANDOW!