Use our On-Line 100% Secure EncryptedShopping Cart Ordering System. Simply browse
our site and Click the ADD TO SHOPPING CART buttons to place items in your Shopping Cart
[ HOME ] [ COMICS ] [ MOVIES ] [ NOVELS ] [ CD-ROM ] [ Order info ] [ Help ] [ ARTIST SITES ] [ SEARCH ]
[ Disclaimer ] [ CATALOGUE ] [ Copyright ]
FANSADOX COLLECTION 328
OCEAN OF BLOOD - KITTY HAND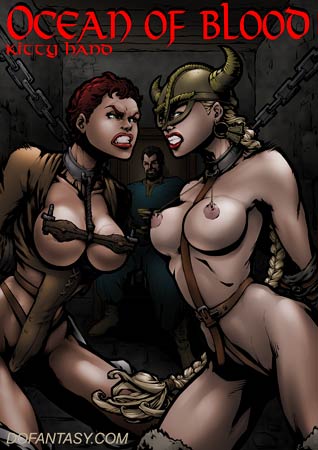 NEW IN PDF ELECTRONIC VERSION!
Adult Comic Album by KITTY HAND.
HIGH RESOLUTION PDF deluxe edition
45 full color comic pages!!!
-COMPLETE, UNABRIDGED VERSION-

A FEMALE VIKING WARLORD GETS MORE THAN SHE BARGAINS FOR. THE NEXT TIME SHE SACKS A VILLAGE, SHE'D BETTER MAKE SURE EVERYONE IS DEAD!
A STORY OF VIKINGS AND KNIGHTS IS FRAUGHT WITH DANGER AND PERIL, YET ALL IS NOT AS IT SEEMS.
IMPORTANT NOTICE - DISCLAIMER
All characters are 18 years old or older.
This is an entirely fictional work based on
cartoon characters for adult entertainment.
It shows no real people or events.
The characters are shown participating in
CONSENSUAL role-play for their own
personal satisfaction, simulating activities
which involve sexual dominance and
submission. No actual toons were harmed
in the making of this comic.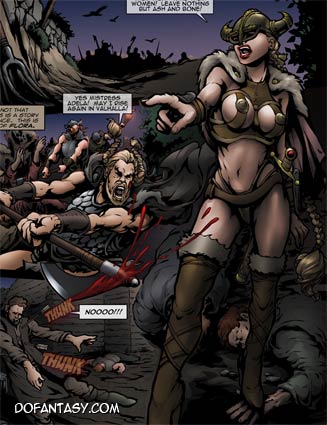 WHEN A CRUEL VIKING INVASION LEAVES ONE LONE WOMAN TO DIE, THE PAST COMES BACK WITH A VENGEANCE AND SEEKS NOT ONLY TO STOP BUT DESTROY THEM.
In the 9th century, Europe was just emerging from the fall of Rome. The Holy Roman Empire of Charlemagne was rising in the west, and it looked as though civilization might re-emerge from the strife and warfare of the barbarian hordes.
Until the Vikings came from the north.
Plunder and loot was the first and only thing on their minds. The undefended and unprotected people of the west were ripe for the plucking.
Viking longships ravaged both the coastlines and the river systems of Europe, their wanton destruction completely unchecked. Towns and monasteries were broken and ravaged and the remnants were put to the torch.
The cowardly Vikings fled with each site's most precious objects, especially their women...
In one particular village, there was a very spirited and rebellious girl. She tried to fight against the Vikings, but her efforts were in vain...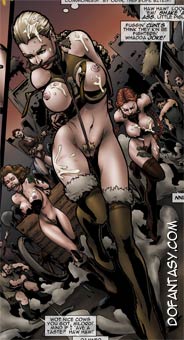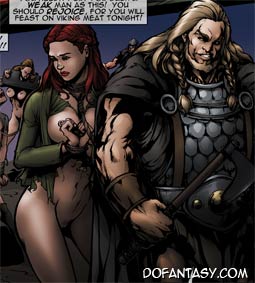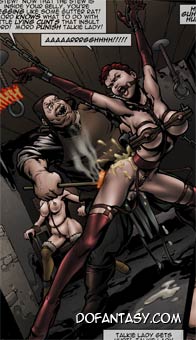 ...they caught her, humilate her and even their female Viking leader, Adala, forced the girl to perform unnatural, lesbian acts. And they wrongly left her for dead beside the sea.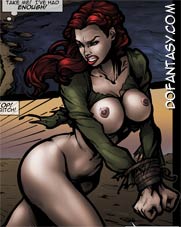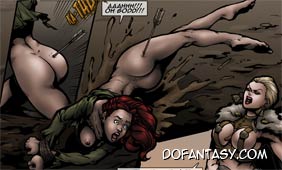 Many years would pass, and Adala wasted no time. She spread her reign of violence and terror far and wide, as far as water touched.
But in her dominance she grew lazy and careless. It was only a matter of time until she was caught. A trap was set for Adala, and she and her crew were put to a brutal and violent death. The lord of these lands, Baron Victor, had anticipated her arrival, and to help him in his retaliation was a familiar face.
It was the girl that Adala had hurt, violated, and humiliated so long ago!
Baron Victor was a cruel and merciless man. He put each Viking man to the sword without even the pretense of trial. Each of the wild, hellion women was bound and brought back to his castle for a more "personal" inspection. To mark this great occasion, Lord Victor threw a feast for his most esteemed and noble guests, and for their dessert, he brought out the "main course," a heavy helping of female Viking flesh!
Each of the guests had their pick of the choicest parts and found each of the girls more delicious than they could've possibly imagined! Adala and her female companions were humiliated over and over by the disgusting and ruthless "guests" of Lord Victor.
But the worst was yet to come. Flora didn't want to participate in the night's events. No, she wanted Adala all to herself.
Deep in the dungeons beneath the castle, Flora walked in and found the bound and helpless Viking mistress and her captive, female friends. Flora relished the sight of her former tormentor now tied up and completely unable to defend herself. Now, Flora could satisfy her thirst for vengeance in the cruelest and most painful way imaginable!
That is... if Lord Victor doesn't have other plans...
KITTY HAND, THE CELEBRATED AUTHOR OF MISSING IN SHANGHAI,
MAKES A SPECTACULAR RETURN WITH THIS EXCITING NEW COMIC.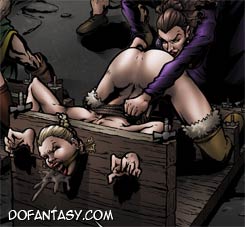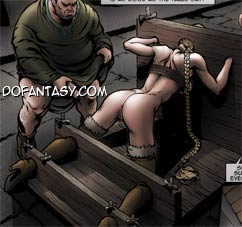 SET IN THE VICIOUS AND VIOLENT MIDDLE AGES WHERE SOCIAL MORES
AND POLITE SOCIETY DID NOT EXIST, THIS NEW COMIC FEATURES SOME
OF THE HARDEST AND MOST AVESOME STUFF YET!
THE ARTWORK IS THRILLING AND EXCITING, AND THE STORY FEATURES SOME OF
THE CRUELEST AND MOST DESPICABLE CHARACTERS YET REVEALED!
DON'T MISS THIS FANTASTIC NEW ISSUE, BROUGHT TO YOU ONLY
BY THE DEDICATED TEAM AT DOFANTASY.COM!!