Use our On-Line 100% Secure Encrypted Shopping Cart Ordering System. Simply browse
our site and Click the ADD TO SHOPPING CART buttons to place items in your Shopping Cart
[ HOME ] [ COMICS ] [ MOVIES ] [ NOVELS ] [ CD-ROM ] [ Order info ] [ Help ] [ ARTIST SITES ] [ SEARCH ]
[ Disclaimer ] [ CATALOGUE ] [ Copyright ]
FANSADOX COLLECTION 32
SLAVE COLLECTOR - FERNANDO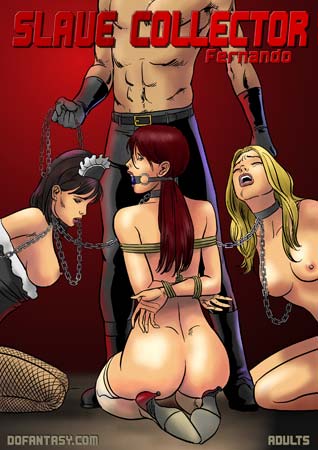 SLAVE COLLECTOR

NEW IN PDF ELECTRONIC VERSION!
Adult Comic Album by FERNANDO

HIGH RESOLUTION PDF deluxe edition
46 full comic pages by FERNANDO
-COMPLETE, UNABRIDGED VERSION-

AN UNUSUAL STORY WHICH
COMBINES EROTIC FICTION WITH
ELEMENTS OF A THRILLER

IMPORTANT NOTICE:
All characters are 18 years old or older.
All action is simulated and involves
no real people.
The authors/publishers do not condone
violence of any kind.
These are completely fictional comics
for adult entertainment.

The millionaire psychopath Carl Winter was for many years considered one of the most dangerous men on the police wanted list. He has finally been arrested and the detective Harris is in charge of interrogating him.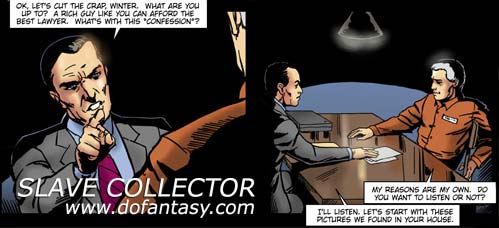 Winter gives the detective a full account of the savage sexual abuse to which he submitted his victims. He talks confident and slowly...
Gradually, and without the detective realizing, the roles change. It is the sadistic sexual criminal who now takes over, playing on the detective's repressed lust, arousing him with the most explicit of physical details...


Carl Winter tells him, in his soft, persuasive voice, exactly what he did to Nikki Davis, the top model whose face smiles down from a thousand billboards, advertising perfume...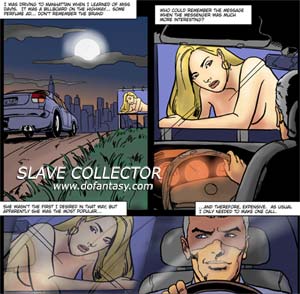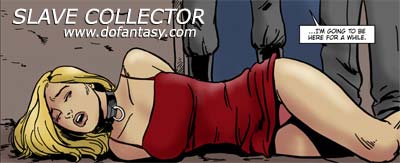 Or what he did to Irina Petrovskaya, the equally famous and even younger Russian ballet dancer who disappeared from her hotel without trace...
And finally he tells the now disturbed detective Harris about Giselle, the girl who is waiting for him in a seedy basement in the port area even as he speaks. She is trembling, stripped totally naked and in chains...
Giselle is the bait that will lead Harris to the basement..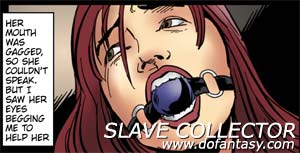 seme

nt..

SLAVE COLLECTOR
A thriller with extraordinary illustrations by Fernando

VISIT FERNANDO SITE FOR A COMPLETE LIST OF
FERNANDO COMICS AND OFFERS
[ HOME ]