Use our On-Line 100% Secure Encrypted Shopping Cart Ordering System. Simply browse
our site and Click the ADD TO SHOPPING CART buttons to place items in your Shopping Cart
[ HOME ] [ COMICS ] [ MOVIES ] [ NOVELS ] [ CD-ROM ] [ Order info ] [ Help ] [ ARTIST SITES ] [ SEARCH ]
[ Disclaimer ] [ CATALOGUE ] [ Copyright ]
FANSADOX COLLECTION 337
HAREM HORROR HELL - THE NEW MISTRESS - PREDONDO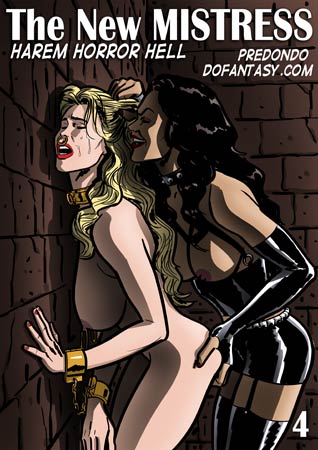 NEW IN PDF ELECTRONIC VERSION!
Adult Comic Album by PREDONDO.
HIGH RESOLUTION PDF deluxe edition
51 full color comic pages!
-COMPLETE, UNABRIDGED VERSION-
PRINCE AHMED MARRIES JAZMIN IN A SPLURGE OF EXCESS WEALTH AND SEXUAL DEPRAVITY! THESE TWO KNOW NO SANE BOUNDARIES WHEN IT COMES TO USING THEIR SEX SLAVES!
POOR, WHITE SLAVES ARE TERRORIZED BY A NEW, LEZZIE MISTRESS! THERE WILL BE NO MERCY FROM THIS CRUEL PRINCESS!
IMPORTANT NOTICE - DISCLAIMER
All characters are 18 years old or older.
This is an entirely fictional work based on
cartoon characters for adult entertainment.
It shows no real people or events.
The characters are shown participating in
CONSENSUAL role-play for their own
personal satisfaction, simulating activities
which involve sexual dominance and
submission. No actual toons were harmed
in the making of this comic.
PRINCESS JAZMIN HAS COME HOME TO BARANFAIN!
THERE'S A NEW QUEEN IN THE HENHOUSE...
Jazmin marries Prince Ahmed, and the wedding leads to a series of unexpected
-and terrible!- events for Ahmed's sex slave Olivia, her mother Mrs. Hamilton,
and the rest of the Harem. Revenge is so sweet!
All the guests agreed: Prince Ahmed and Jazmin made the most lovely couple!
Prince Ahmed's father, the Sultan of Baranfain, throws the most opulent and elegant ceremony that New York City has ever seen!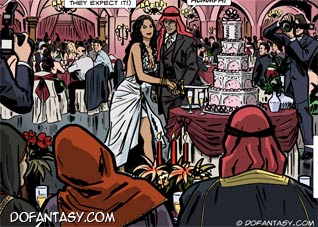 It is lavish and excessive where the champagne flows like rain, and the caviar is the most expensive the world has to offer!
Here the rich wine and dine and celebrate the union of two newlyweds!
There are three very special guests in attendance on this happy day: Olivia, her mother Mrs. Hamilton -both slaves of the Royal Family- and Olivia's perverted father.
Poor Olivia -forced to scort her own depraved father- is introduced as Prince Ahmed's... former "special" escort, a dumb blonde bimbo who threw away her chance at wealth and happiness when "she" fucked Ahmed's donkey dicked black man servant!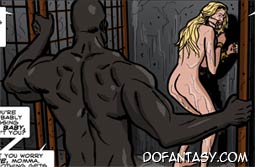 The wedding guests laugh at Olivia's foolishness and jeer at her sluttiness.
The dumb bitch couldn't keep her legs together for such a fine catch as Prince Ahmed. She deserves to be shamed and humiliated at every opportunity!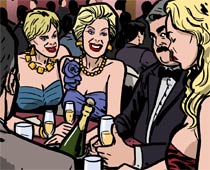 "Jesus Crist! A black servant? I told you she's a slut who can't keep her knees together!"
"She jumped from an Arab prince to a black servant? How shameful!"
"You can take the whore out of the gutter, but you can't teach her class!"
"If I were the prince, I'd have sewn her cunt shut!"
"You'd have to glue her ass shut too! What a nympho!"
Even worse, Olivia's mother is watching from behind the all-concealing dress of a silken burka, chained, gagged, and completely helpless to aid her daughter in any way.
The honeymoon is even more horrifying for the poor white sex slaves. Jazmin's lusts are insatiable. Even Prince Ahmed's mighty dick has a hard time pleasing his new shrew of a wife.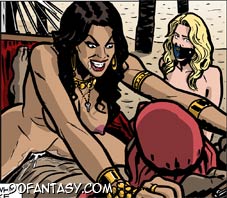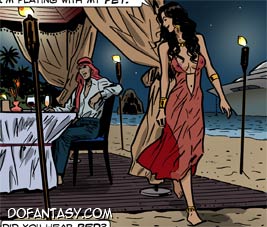 "Now knock me up and give me a baby! A brown half-breed
who will strangle you in your sleep before he learns how to read!"
Jazmin has her eye on Olivia especially. Poor Olivia has committed the insufferable crime of fucking Jazmin's new husband! Jazmin can't stand the idea of another woman milking her new husband's sperm shaft! She wants to make sure that Olivia pays for committing such a heinous insult!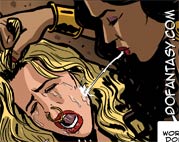 "Just a few weeks ago, it was your snatch my husband was spurting his filth into."
Jazmin's contempt against Olivia comes from a long time past...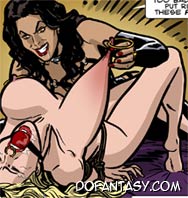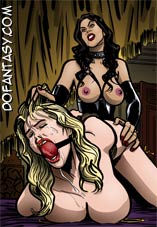 "Do you remember back in college? You were the rich Manhattan snob, and
I was the new foreign student desperate to make friends. You did not even notice me...
Luckily my hubby put rings on these funbags of yours and now
I can lead you like a mule whenever I need to get your undivided attention!"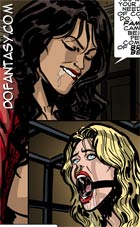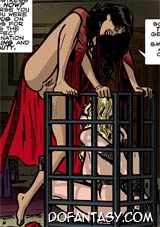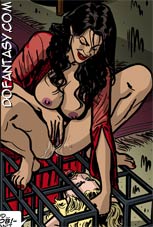 "You know what your mistress needs now? Of course you do.
You were famous on campus for being the perfect combination of brains and beauty."
Jazmin's cruel, lesbian nature is revealed, and she's just getting started...
"Drill the bitch DEEP and HARD! Plug the slut like she's never been fucked before! This is the last time you'll feel COCKMEAT splitting your snapper, slave. After this, your life is going to be nothing but fish tacos and titmeat! I'm going to turn you into a bush-loving dyke!"
Jazmin is true to her word. Not only does she love to use her new pet, Olivia, but she jealously cockblocks Prince Ahmed's every desire.
Until Ahmed plants a baby in Jazmin's snatch, Jazmin will make sure that her husband is kept on a short leash wrapped right around his balls.
"I'll make an OMELETTE from your NUTS if you even think about FUCKING one of your bitches!"
Prince Ahmed is not happy.
Princess Jazmin is drunk on wealth, sex, and power, and she gets it in her silly, fluff-brained head that she's the ruler and mistress of the emirate!
She screams and rages at the entire royal family, threatening, jeering, insulting, and even blackmailing her new husband, her all-powerful mother-in-law, and her sadistic father-in-law.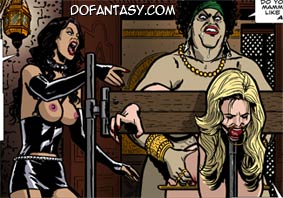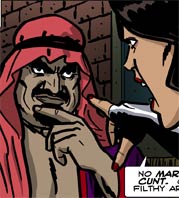 She is the newest, prettiest, and best mistress of this entire sand-choked nation, and she'll have any slavegirl she wants, when she wants, and how she wants! If anyone tries to stop her, she'll have them hanging from a gibbet in the middle of the emirate as a warning to anyone who crosses the new princess.
But life in the Emirate does not change easily, and it seems that it's not going to change any time soon...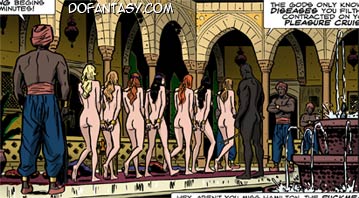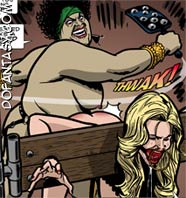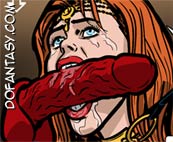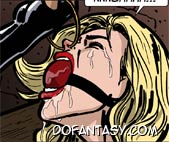 ...Angry, lustful eyes are watching... careful Jazmin... or you may find yourself on the wrong end of a whip!
PREDONDO STRIKES AGAIN IN THIS SHOCKING AND THRILLING NEW
CONTINUATION OF ARABIAN, HAREM HORROR HELL!
WHAT GOES ON BEHIND PALACE WALLS AND BENEATH BURKAS
IS TOO MONSTROUS TO SHOW HERE!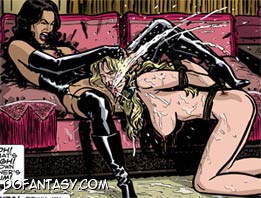 LOVINGLY AND STUNNINGLY ILLUSTRATED SCENES DEPICT ONLY THE MOST GHASTLY AND DEPRAVED BRUTALITY AND DEVIANT SEXUAL SADISM!
YOU DON'T WANT TO MISS THIS EXCINTING NEW COMIC, BROUGHT TO YOU ONLY BY THE TALENTED TEAM AT DOFANTASY.COM!

ORDER THIS TITLE THROUGH DOFANTASY TODAY!


AWESOME! HOT! HOT! HOT! AND HOT!
NOT TO BE MISSED!!!

VISIT PREDONDO'S SITE
FOR A COMPLETE LIST OF PREDONDO COMICS AND OFFERS