Use our On-Line 100% Secure EncryptedShopping Cart Ordering System. Simply browse
our site and Click the ADD TO SHOPPING CART buttons to place items in your Shopping Cart
[ HOME ] [ COMICS ] [ MOVIES ] [ NOVELS ] [ CD-ROM ] [ Order info ] [ Help ] [ ARTIST SITES ] [ SEARCH ]
[ Disclaimer ] [ CATALOGUE ] [ Copyright ]
FANSADOX COLLECTION 405
SLUTS IN TRAINING 3 - THE DAIRY - ERENISCH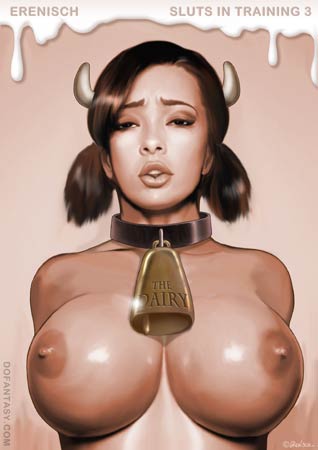 NEW IN PDF ELECTRONIC VERSION!
Adult Comic Album by ERENISCH.
HIGH RESOLUTION PDF deluxe edition
52 full color comic pages!!!
-COMPLETE, UNABRIDGED VERSION-
JOURNEY TO THE ICONIC FUTURE WHERE WOMEN HAVE BEEN STRIPPED OF ALL RIGHTS AND TURNED INTO OBEDIENT SEXTOYS!
SPRUNG FROM THE LEGENDARY IMAGINATION OF ERENISCH, SEE A FANTASY UNIVERSE OF UNPARALLELED DETAIL, WHERE TWISTED SEXUAL CRUELTY HAS BECOME A PART OF EVERYDAY LIFE...
IMPORTANT NOTICE - DISCLAIMER
All characters are 18 years old or older.
This is an entirely fictional work based on
cartoon characters for adult entertainment.
It shows no real people or events.
The characters are shown participating in
CONSENSUAL role-play for their own
personal satisfaction, simulating activities
which involve sexual dominance and
submission. No actual toons were harmed
in the making of this comic.
FOR A SLUT IN TRAINING, THINGS CAN ALWAYS GET WORSE. TWO YOUNG GIRLS, LOOKING TO ENJOY THEIR LAST NIGHTS AS FREE WOMEN, MAY FIND THAT FACT OUT THE HARD WAY...
The year is 2022... Many countries have passed the "Compulsory Female Slavery Law" which legalized the sexual use and trade of nubile women over 18 years of age. When a girl reaches slavery age, she can be bought, sold, hired, whored, and used in every single way imaginable...

She becomes her owner's personal property.

There is no escape for the young women of the future, nowhere they can hide. They are destined to be mere sex toys at the hands of men.

The best a girl can hope for is to find a master who is less cruel. But there are many monsters out there, and few girls are that lucky...

_________________

BACKGROUND…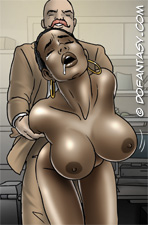 Throughout the world, there are plenty of places that please their purchasers with perfect, petgirl playmates. One star reporter, a Kimberly Muttson for channel 12 news, learned to her detriment that focusing too much on hard hitting journalism and less on bouncing breasts and fucking cock could earn her a one way ticket to the puppy petgirl play pound. Another "smart" reporter, one Lea Merrie, thought she could sneak her way into a ponyplay ranch for an expose on female slave training, only to find that once you go in, there's no getting out, no matter how "smart" you think you are! But there is more than one way to reduce tasty, female meat to dehumanized, animal holes ready and ripe for fucking, and there are plenty of girls just begging to have their "deviant" behavior corrected...
__________________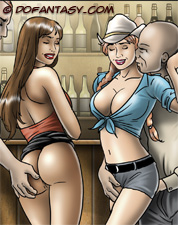 IN THIS COMIC…
On the outskirts of the small, homey town of Randyville, two young girls named Clarabell and Billie Jean, fresh out of their little old hick town, are celebrating their last night of freedom, trying to get laid while they still have a choice about what cocks to ride and what dicks to slurp. They find two men more than eager to get some fresh action. After all, dumb and obedient "cows" are hardly the most entertaining fare they can get...
"Cows?" What ever could they mean?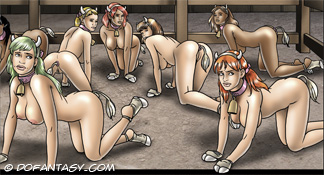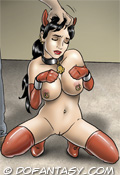 It turns out the men are "bulls" and roughriders who work the local dairy farm. Of course, with most of the cattle population wiped out in the calamity, it's certainly not the kind of cow that one might be familiar with... The girls think this is a grand opportunity, and they beg the men to bring them along for an unofficial tour of the facility. What they see both shocks and excites them; girls surgically and chemically altered into nothing more than milk making mommies, bred to milk, bred to fuck, and bred to breed.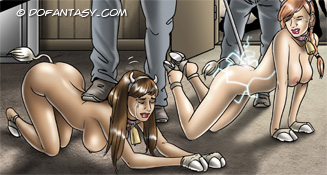 But then things go horribly, horribly wrong...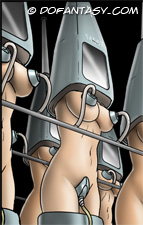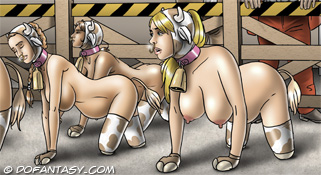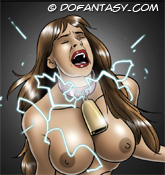 ...and that's BEFORE the big bosses come into town...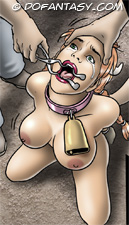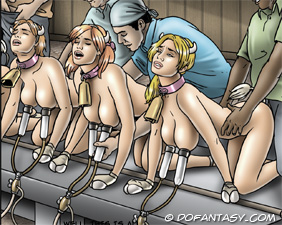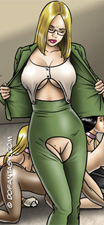 Clarabell and Billie Jean could find themselves unwillingly introduced to the life of a dairy milk cow... PERMANENTLY!

HOLY HELLS! WHAT KIND OF PETGIRL PERILS LAY IN STORE FOR TWO HORNY AND UNSUSPECTING FEMALES OUT FOR A WILD NIGHT ON THE TOWN? AS THEY ARE DRAGGED DEEPER INTO THE FACILITY, THEIR HOTTEST FANTASIES TURN INTO TERRIFYING NIGHTMARES AS THE FULL, DEPRAVED DEPTH OF INDUSTRIALIZED, FEMALE MILKING IS REVEALED TO THEM... WITH THEM NEXT IN THE CATTLE LINE! THINGS COULD GET BAD... REAL BAD...

FIND OUT WHAT HAPPENS ONLY HERE AT DOFANTASY.COM! THIS ISSUE IS HOT, AN INSTANT CLASSIC FROM THE BOLD, BONDAGE MASTER ERENISCH ALONE! YOU WON'T WANT TO MISS THIS COMIC! IT'S THE BEST ONE YET!

And be sure to check out the previous issues: Sluts in Training 1 – The Kennels, and Sluts in Training 2 – The Stables!

VISIT
ERENISCH SITE
FOR A COMPLETE LIST OF ERENISCH COMICS AND OFFERS

VISIT