Use our On-Line 100% Secure Encrypted Shopping Cart Ordering System. Simply browse
our site and Click the ADD TO SHOPPING CART buttons to place items in your Shopping Cart
[ HOME ] [ COMICS ] [ MOVIES ] [ NOVELS ] [ CD-ROM ] [ Order info ] [ Help ] [ ARTIST SITES ] [ SEARCH ]
[ Disclaimer ] [ CATALOGUE ] [ Copyright ]
FANSADOX COLLECTION 422
THE WOODS HAVE EYES- Part 1 - ROBERTS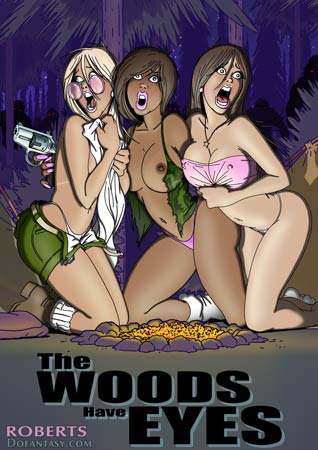 NEW IN PDF ELECTRONIC VERSION!
Adult Comic Album by ROBERTS

HIGH RESOLUTION PDF deluxe edition
52 full color comic pages by ROBERTS

NEW FORMAT - BIGGER IMAGES
-COMPLETE, UNABRIDGED VERSION-

THREE TARTS TAKE A TOUR OF THE TERRIFYING WOODS IN SEARCH OF THE LEGENDARY BIGFOOT!

THESE GIRLS GET MORE THAN THEY BARGAINED FOR WHEN THEY GET TURNED FROM EXPLORER TO PUSSY PREY!


IMPORTANT NOTICE - DISCLAIMER
All characters are 18 years old or older.
This is an entirely fictional work based on
cartoon characters for adult entertainment.
It shows no real people or events.
The characters are shown participating in
CONSENSUAL role-play for their own personal satisfaction, simulating activities which involve sexual dominance and submission.
No actual toons were harmed in the making
of this comic.

PProfessor Woodley and her two "colleagues" Lisa and Chelsea go in search of the legendary bigfoot when a sensational news story comes to their attention. It turns out another girl and her girlfriends went missing in the woods. Only one girl made it out, badly hurt and badly "damaged." One of the professor's colleagues comes back with the girl's tablet, containing a very interesting picture of a very interesting creature…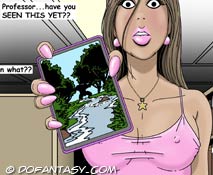 This is evidence enough for Professor Woodley to drag her two girlfriends out into the deep backwoods in search of this elusive creature! They ignore all warnings and restrictions because this is important, and they don't need to pay any attention to such trifles!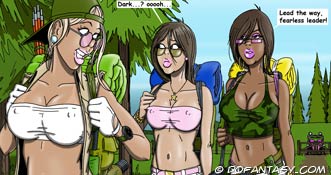 But it turns out they should have listened. Hikers and campers have gone missing in the woods before, and it turns out the girls may be the next victims of this mysterious epidemic plaguing the deepest recesses of the forests and national parks.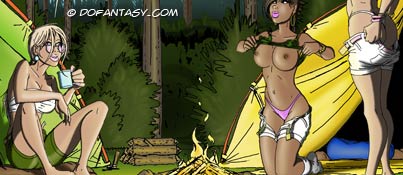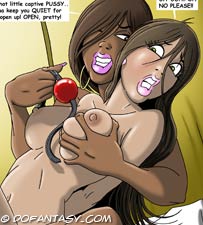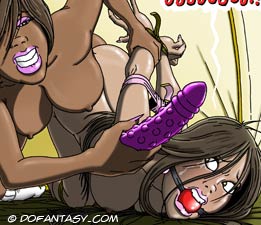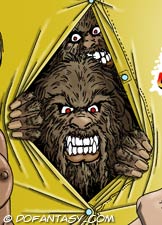 Goodbye, Professor Woodley. Goodbye Lisa. Goodbye Chelsea. This is the end for you…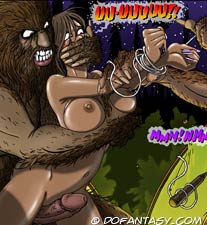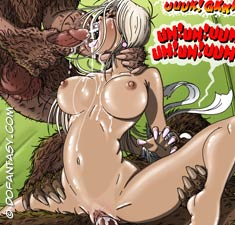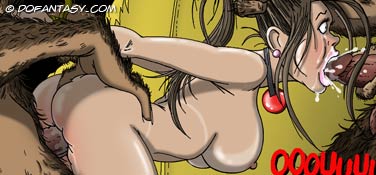 ...but what an end it will be!
ROBERTS NEVER CEASES TO AMAZE WHEN HE COMES OUT WITH HIS BEST AND RAUNCHIEST WORK! A GOOD STORY TAKES TIME TO COOK, AND ROBERTS IS AT HIS BEST WITH THIS LATEST, EXCITING ISSUE! THE STORY IS HOT, AND THE GIRLS ARE HOTTER AS THE TALE UNFOLDS TO AN EXPLOSIVE AND AMAZING CLIMAX! DON'T MISS THIS LATEST TALE FROM THE MASTER OF HOT, BONDAGE COMICS HIMSELF! GET IT BEFORE IT GOES MISSING… GET IT TODAY!!!
ROBERTS AT HIS BEST!!!
CHECK ROBERTS SITE FOR MORE ROBERTS COMICS