Use our On-Line 100% Secure EncryptedShopping Cart Ordering System. Simply browse
our site and Click the ADD TO SHOPPING CART buttons to place items in your Shopping Cart
[ HOME ] [ COMICS ] [ MOVIES ] [ NOVELS ] [ CD-ROM ] [ Order info ] [ Help ] [ ARTIST SITES ] [ SEARCH ]
[ Disclaimer ] [ CATALOGUE ] [ Copyright ]
FANSADOX COLLECTION 455
HOUSEBREAKING - ERENISCH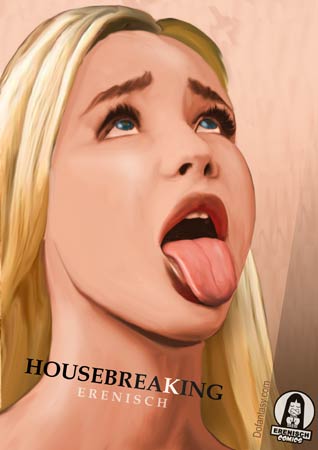 NEW IN PDF ELECTRONIC VERSION!
Adult Comic Album by ERENISCH.
HIGH RESOLUTION PDF deluxe edition
43 full color comic pages!!!
-COMPLETE, UNABRIDGED VERSION-
JOURNEY TO THE ICONIC FUTURE WHERE WOMEN HAVE BEEN STRIPPED OF ALL RIGHTS AND TURNED INTO OBEDIENT SEXTOYS!
IF YOU HAVE NOT VISITED THE ERENISHVERSE YET, YOU ARE MISSING OUT! COME EXPERIENCE THIS UNIQUE PHENOMENON IN EROTIC
STORY-TELLING!!!!­
IMPORTANT NOTICE - DISCLAIMER
All characters are 18 years old or older.
This is an entirely fictional work based on
cartoon characters for adult entertainment.
It shows no real people or events.
The characters are shown participating in
CONSENSUAL role-play for their own
personal satisfaction, simulating activities
which involve sexual dominance and
submission. No actual toons were harmed
in the making of this comic.
IMAGINE A FUTURE WHERE WOMEN HAVE NO LEGAL RIGHTS
In the near future, many countries have passed the 'Compulsory Female Slavery Law' and legalized the sexual use and trade of nubile women over 18 years of age. When a girl reaches the age of legal enslavement, she can be bought and sold, hired and whored, and used in every imaginable way…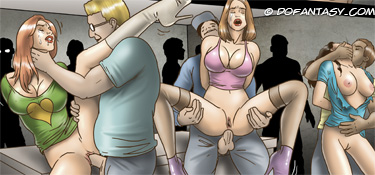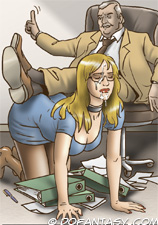 Now an entire generation of girls have grown up seeing sexual slavery as normal, as practically inevitable. In this wonderful future, female slavery is not considered a strange fetish, it's just a regular part of life. Girls even take special training courses on how to delay their enslavement. They have all been indoctrinated to accept the right of all men to capture, fuck and abuse them, to without even complaining.
__________________
HER WHOLE LIFE CAN CHANGE IN ONE MOMENT
Girls in the future are taught that once a collar goes around their neck, it's all over. Their life as a free person has ended and now they are nothing but a fuck toy. The full force of the law is used to reinforce this belief. Police, judges, schoolteachers, television, popular media and advertising are all used to condition women to accept the rules of the society that they were born into.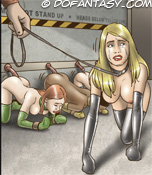 But what happens at the moment of transition? In this fascinating new comic, Writer/Artist Erenisch traces the perspective of one single girl, as she is processed by a slave training company, and prepared for her new life as a sex slave. This story is told essentially in "real time" and the audience gets to experience the thoughts and feelings that go through her head when she is finally enslaved, and a lifetime of social conditioning takes it's toll…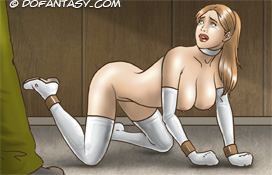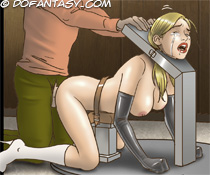 __________________

EROTIC STORY-TELLING HAS REACHED A NEW LEVEL

Erenisch comics are renowned not only for their red-hot fucking and torture, but also for the quality of the artwork. Characters in this comic have complex and realist facial expressions and body language, so it's easier for audiences to lose themselves in the fantasy, and imagine what this world might be like in real life.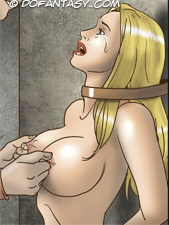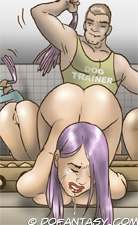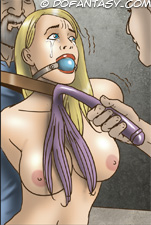 On top of that, Erenisch comics fit together to create a stunningly complex fantasy universe. Devoted fans will notice, for example, that this issue serves as a "flashback" and allows us to see scenes that were taking place at the same time as scenes from a previous issue.
Whether you are a first-timer reader, or a devoted follower who writes fan-fiction on the Erenisch forum, you will love this comic! Special focus in this issue is on slave training, puppy-girl humiliation and on the idea of "breaking" a woman, conditioning her to be a sex slave for her entire life. This comic is not to be missed!

VISIT
ERENISCH SITE
FOR A COMPLETE LIST OF ERENISCH COMICS AND OFFERS