Use our On-Line 100% Secure EncryptedShopping Cart Ordering System. Simply browse
our site and Click the ADD TO SHOPPING CART buttons to place items in your Shopping Cart
[ HOME ] [ COMICS ] [ MOVIES ] [ NOVELS ] [ CD-ROM ] [ Order info ] [ Help ] [ ARTIST SITES ] [ SEARCH ]
[ Disclaimer ] [ CATALOGUE ] [ Copyright ]
FANSADOX COLLECTION 462
SNATCHER 2: COSPREY - FERNANDO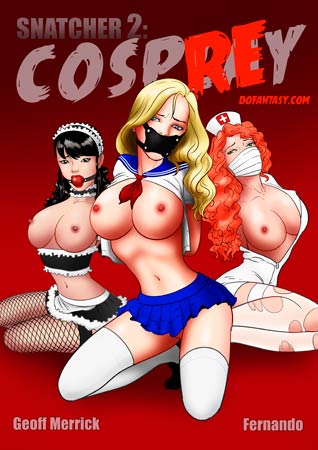 NEW IN PDF ELECTRONIC VERSION!
Adult Comic Album by FERNANDO.
story by GEOFFREY MERRICK
HIGH RESOLUTION PDF deluxe edition
40 full color comic pages!!!
-COMPLETE, UNABRIDGED VERSION-

COSPLAY IS NOT CONSENT, BUT THIS MALICIOUS MUGGER DOESN'T MIND AT ALL! HE LIKES HIS GIRLS STRUGGLING AND SCREAMING!
A NERD CONVENTION IS A GREAT PLACE TO FIND FRESH, FEMALE MEAT! THERE ARE TONS OF PRETTY LADIES TO PICK FROM AND ENOUGH NOISE TO MUFFLE THE SCREAMS!

IMPORTANT NOTICE - DISCLAIMER
All characters are 18 years old or older.
This is an entirely fictional work based on
cartoon characters for adult entertainment.
It shows no real people or events.
The characters are shown participating in
CONSENSUAL role-play for their own
personal satisfaction, simulating activities
which involve sexual dominance and
submission. No actual toons were harmed
in the making of this comic.
Cyndi Walsh is just the latest cosplay hopeful checking in during the height of con season. She's blossomed out from the scrawny twig she once was, and she hopes to make a big splash on the convention floor with her latest cosplay invention!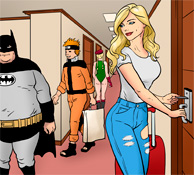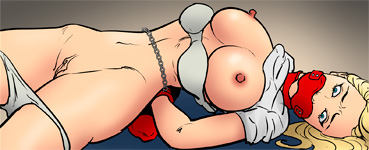 Unfortunately for sweet Cyndi, there are other people on the convention floor looking to make a big splash of a different kind. This sick sadist is on the prowl not for rare memorabilia or pictures with the nerdy and famous! No… he's looking for a girl just like Cyndi: sweet, innocent, young, and unspoiled. This guy is a master mugger. He knows how to pick his targets, how to bring them down, and how to break them in. Little Cyndi never stood a chance.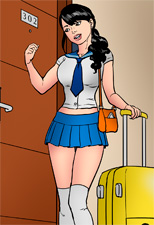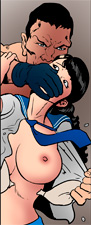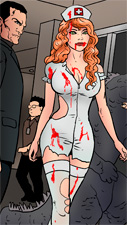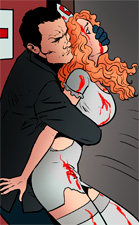 But things get better for this malicious mugger as the day wears on. It turns out Cyndi has friends, and they want to visit her during the convention. He's hit the jackpot alright! It turns out that nerd conventions are not only a great place to find fresh, female flesh but also a great place to transport them out and hide them. After all, cons are noisy, the staff is overworked and overwhelmed, and nobody is going to think twice that a sexy cosplay cutie stumbling past is really a helplessly bound piece of puss desperate to escape!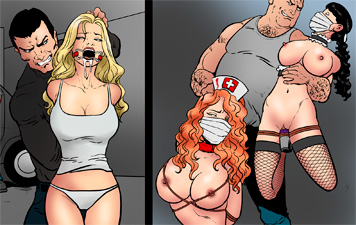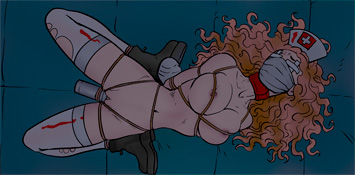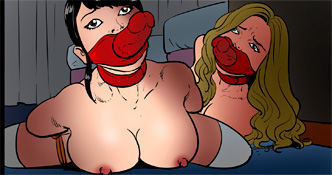 Will Cyndi and her friends escape or are they doomed to a life of bondage submission and slavery??


_______________________________
FERNANDO AND GEOFFREY MERRICK TEAM UP AND RETURN WITH THIS EXCITING EXTRAVAGANZA OF EPIC PROPORTIONS! A DARK AND EROTIC WORLD OF WHITE SLAVERY RUNS BENEATH THE BENIGN SURFACE OF A NERDY, COSPLAY CONVENTION! THE TRUTH IS TOO SHOCKING AND HORRIFYING TO EVEN IMAGINE! THIS LAVISHLY ILLUSTRATED ISSUE SPRINGS FROM THE COMBINED MINDS OF THE GREAT FERNANDO AND THE LEGENDARY GEOFFREY MERRICK!
YOU'LL CHILL AND THRILL AT THE CONTENTS WITHIN! DON'T PASS UP THIS ORGASMIC ISSUE, BROUGHT TO YOU HERE EXCLUSIVELY AT DOFANTASY.COM!!!

VISIT
FERNANDO SITE
FOR A COMPLETE LIST OF FERNANDO COMICS AND OFFERS
[ HOME ]