Use our On-Line 100% Secure Encrypted Shopping Cart Ordering System. Simply browse
our site and Click the ADD TO SHOPPING CART buttons to place items in your Shopping Cart
[ HOME ] [ COMICS ] [ MOVIES ] [ NOVELS ] [ CD-ROM ] [ Order info ] [ Help ] [ ARTIST SITES ] [ SEARCH ]
[ Disclaimer ] [ CATALOGUE ] [ Copyright ]
FANSADOX COLLECTION 484
SS PRISON HELL Part 2 - ROBERTS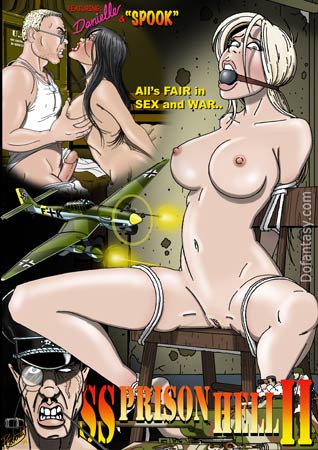 NEW IN PDF ELECTRONIC VERSION!
Adult Comic Album by ROBERTS
HIGH RESOLUTION PDF deluxe edition
25 full color comic pages by ROBERTS
-COMPLETE, UNABRIDGED VERSION-

THE AMERICAN FORCES HAVE BEATEN THE NAZIS AND ARE ADVANCING TOWARDS THE FRONT. BUT THEY DON'T REALIZE THEY'VE BEEN SPOTTED BY THE ENEMY…
A FIERCE BATTLE IS ABOUT TO BEGIN IN WORLD WAR II EUROPE, AND HELPLESSLY BOUND GIRLS ARE GOING TO BE TRAPPED IN THE MIDDLE OF THE FIREFIGHT!
IMPORTANT NOTICE - DISCLAIMER
All characters are 18 years old or older.
This is an entirely fictional work based on
cartoon characters for adult entertainment.
It shows no real people or events.
The characters are shown participating in
CONSENSUAL role-play for their own personal satisfaction, simulating activities which involve sexual dominance and submission.
No actual toons were harmed in the making
of this comic.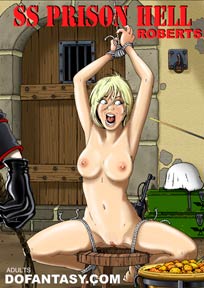 IN THE PREVIOUS COMIC…
The great, erotic artist Gary Roberts started an exciting and amazing episode set in World War II Europe. A key strategic bridge had to be taken by the Allied Forces, led by an American army group, but the battle could not begin unless the bridge was blown. Three undercover agents were sent in to scope out the target, but they were captured by the Nazis and tormented by their captors… a poor mother and her two daughters were taken prisoner, and it turned into a race against time: rescue the poor girls and their mother or suffer an enormous setback when the Nazis whipped American secrets out of the poor, helplessly bound beauties and ruined the entire operation! A thrilling battle ensued, but not everyone emerged from the fight safely…
IN THIS EPISODE…
The American forces are advancing on the collapsing, Nazi front, pushing the war deeper and deeper into Hitler's territorial strongholds. For now, the Allies have surprise on their side, and they're flush with the thrill of victory… and other things besides…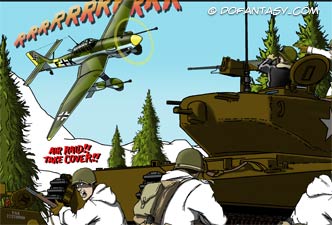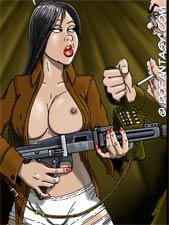 …But things get really bad when a scouting plane finds the American convoy and calls in an attack squadron to strafe the convoy with a hail of autocannon fire! A great and terrible battle is about to begin, and the perverted Nazi command decides to bring their beautiful, screaming, female prisoners along for the ride. Bullets are flying, cannons are blazing, and gagged, screeching girls are caught in the crossfire! Who will win, who will lose, and who will be taken prisoner and fucked within an inch of her life?!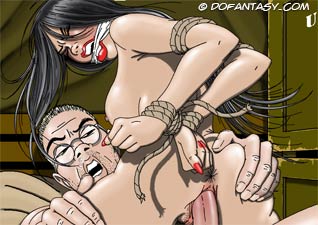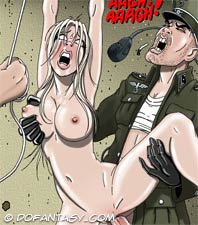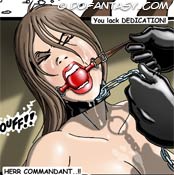 THE GREAT GARY ROBERTS RETURNS WITH A LONG AWAITED CONTINUATION TO HIS "SS PRISON HELL" SERIES! THIS AMAZING ADVENTURE CONTINUES THE STORY OF DANIELLE AND SPOOK, AND THE FUN IS JUST BEGINNING! THE CRUEL COLONEL AND STANDARTENFUHRER STANDS ON THE OTHER SIDE OF THE BATTLEFIELD FROM DANIELLE AND SPOOK, WITH HIS CRYING AND CREAMING CUNTS IN TOW! THIS AMAZING ISSUE IS JAM PACKED WITH HOT, HOT, HOT ACTION! YOU DON'T WANT TO MISS THE RETURN OF THE MASTER, BROUGHT TO YOU HERE EXCLUSIVELY AT DOFANTASY.COM!!!
CHECK ROBERTS SITE FOR MORE ROBERTS COMICS