Use our On-Line 100% Secure Encrypted Shopping Cart Ordering System. Simply browse
our site and Click the ADD TO SHOPPING CART buttons to place items in your Shopping Cart
[ HOME ] [ COMICS ] [ MOVIES ] [ NOVELS ] [ CD-ROM ] [ Order info ] [ Help ] [ ARTIST SITES ] [ SEARCH ]
[ Disclaimer ] [ CATALOGUE ] [ Copyright ]
FANSADOX COLLECTION 489
WORLD FIST - FERRES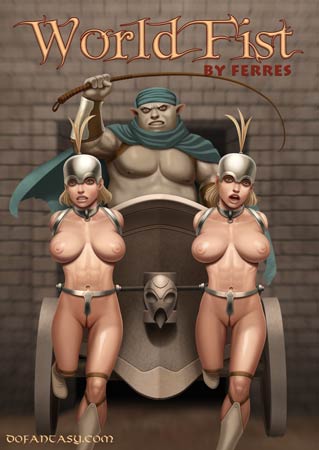 NEW IN PDF ELECTRONIC VERSION!
Adult Comic Album by FERRES.
HIGH RESOLUTION PDF deluxe edition
52 full color comic pages!
plus 4 incredible illustrations!
-COMPLETE, UNABRIDGED VERSION-
THIS ISOLATED, BACKWATER PLANET IS HOME TO THE MOST GRUESOME TERRORS AND BRUTAL WARCHIEFS IMAGINABLE!
IT TAKES A TOUGH GIRL TO SURVIVE OUT IN THESE HARSH LANDS, BUT EVEN THE TOUGHEST GIRLS BREAK WHEN THEY'RE BRUTALIZED BY BRAWNY BARBARIANS!
IMPORTANT NOTICE - DISCLAIMER
All characters are 18 years old or older.
This is an entirely fictional work based on
cartoon characters for adult entertainment.
It shows no real people or events.
The characters are shown participating in
CONSENSUAL role-play for their own
personal satisfaction, simulating activities
which involve sexual dominance and
submission. No actual toons were harmed
in the making of this comic.
FERRES, a master of the sci-fi convention, brings to you another thrilling epic. Set on the planet Fist, this world was rendered technologically stunted by the ancient, imperial debris cloud which surrounds it, blocking off all safe travel between its surface and interstellar space. The debris field also rains down upon the planet, pulverizing any major settlements, but also providing new opportunities to the inhabitants who eke out a meager existence upon its barren lands, scavenging the mysterious "artifacts" that the "old gods" themselves bestow upon the mortal world.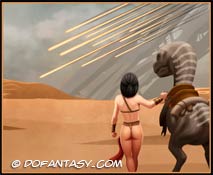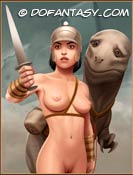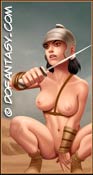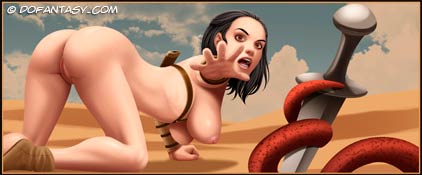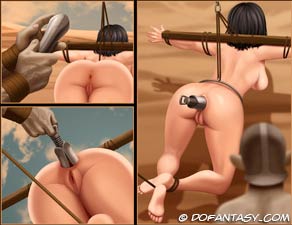 Ulnna is one such scavenger. With her trusty raptor mount, Chiken, she seeks to carve out a little place for herself in this blighted world. When the next "gift from the gods" streaks down across the sky in the distance, Ulnna quickly races to the site. Unfortunately for her, the artifacts landed just outside of the dreaded Turkotolan and their territory. The Turkotolan are absolute in their rule of their lands but fuzzy on their concept of borders. They don't like trespassers, and they like mouthy, female bitch trespassers even less.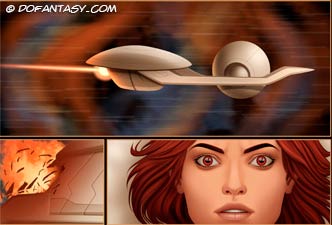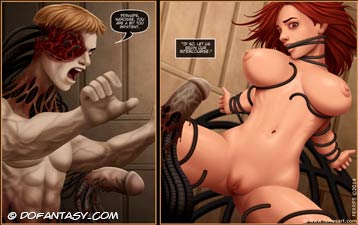 But the Turkotolan are not the only threat on this forsaken world, nor its only inhabitants. When a ship arrives on the planet's fringes, its systems in critical condition and its alarms blaring, the female pilot Narcissa must make a life or death decision. She has her own battles to fight against the threats of the void, and Fist is the closest habitable planet, and the one least likely to cause any problems…

Or so Narcissa thinks!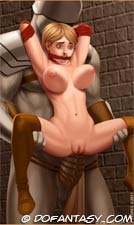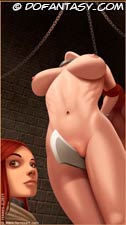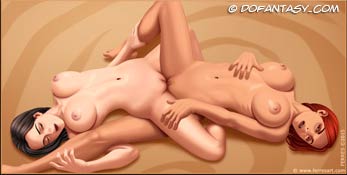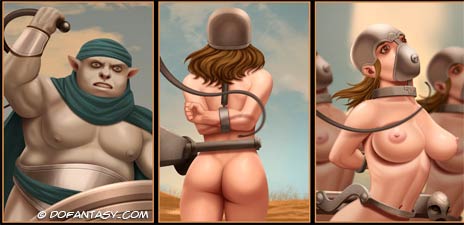 FERRES IS A MASTER OF BOTH BEAUTIFUL, EROTIC ART AND FASCINATING, SCIENCE FICTION WONDERLANDS! THIS RICHLY ILLUSTRATED COMIC IS SURE TO BE AN INSTANT CLASSIC WITH CURVACEOUS CUTIES AND A FINELY WOVEN TAPESTRY OF PLOT AND INTRIGUE! WHAT WILL HAPPEN WHEN ULNNA IS CAUGHT BY THE BRUTAL TURKOTOLAN? WHAT WILL HAPPEN TO NARCISSA WHEN HER SHIP CRASHES DOWN ON THIS FORSAKEN WORLD? YOU DON'T WANT TO MISS THIS AMAZING ISSUE, BROUGHT TO YOU HERE EXCLUSIVELY AT DOFANTASY.COM!!!