Use our On-Line 100% Secure Encrypted Shopping Cart Ordering System. Simply browse
our site and Click the ADD TO SHOPPING CART buttons to place items in your Shopping Cart
[ HOME ] [ COMICS ] [ MOVIES ] [ NOVELS ] [ CD-ROM ] [ Order info ] [ Help ] [ ARTIST SITES ] [ SEARCH ]
[ Disclaimer ] [ CATALOGUE ] [ Copyright ]
FANSADOX COLLECTION 501
PRISON HORROR STORY - Part 9 - PREDONDO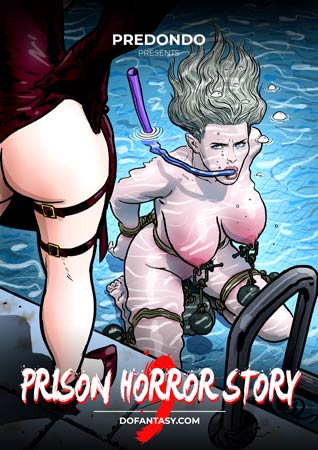 NEW IN PDF ELECTRONIC VERSION!
Adult Comic Album by PREDONDO.
HIGH RESOLUTION PDF deluxe edition
40 full color comic pages!
-COMPLETE, UNABRIDGED VERSION-

THIS IS THE FINAL, DRAMATIC ISSUE OF THE FAMED AND FOUL "PRISON HORROR STORY" SERIES! YOU DON'T WANT TO MISS THIS EXCITING AND EPIC CONCLUSION!

A NEW BUSINESS PARTNER AND BUYER COMES TO MEET EL PRESIDENTE IN THE INFAMOUS SANTA RITA PRISON! WHAT WILL HAPPEN TO THE GIRLS WHEN HE'S INTRODUCED TO THEM? WHAT WILL BECOME OF THEIR FINAL ADVENTURE?!

IMPORTANT NOTICE - DISCLAIMER
All characters are 18 years old or older.
This is an entirely fictional work based on
cartoon characters for adult entertainment.
It shows no real people or events.
The characters are shown participating in
CONSENSUAL role-play for their own
personal satisfaction, simulating activities
which involve sexual dominance and
submission. No actual toons were harmed
in the making of this comic.


THE STORY SO FAR…

It was started with the best of intentions… how did it go so wrong? CLAIRE REDFERN was a humanitarian aid worker in this rotten banana republic, trying to help the people eke out a meager living under the fascist rule of COLONEL CHAVEZ CISNEROS. Claire brought her daughter VICKI with her… and that's when the trouble started. Their fat lout of a neighbor, GUSTAVITO, took a fancy to Vicki, but she quickly kicked him to the curb!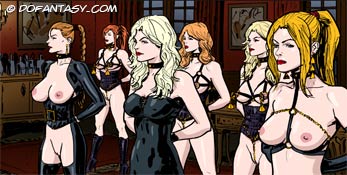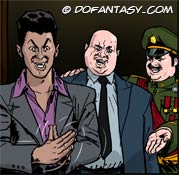 Unfortunately for the Redferns, Gustavito's mother is MISTRESS MELANIE, wardess of Santa Rita Prison… better known as the Foreign Sluts Correctional Center! Vicki is quickly jailed under trumped up charges, and when her mother, Claire, comes to save her, Claire finds herself behind bars as well!

But Claire and Vicki aren't the only ones trapped in this hellish, sexual nightmare. A reverend's widow, and a trio of American tourists fill out the harem. Even Mistress Melanie is brought low when the real power behind the scenes, MARQUESA DE NUEVA VALLADO, seeks to put her in her place! Neither Colonel Chavez nor Gustavito can do anything to this terrifying woman, herself a member of a secret organization… What will happen next?!

IN THIS COMIC…
Colonel Chavez has a new guest, a powerful foreign businessman with powerful connections and even more powerful hardware. The country could use this man's expertise, but what can they do to… persuade Mr. Krote to secure a business deal? Why… a harem of lovely, young ladies will do just fine! Mr. Krote will find these well trained sluts eager to serve, slave, and get wet at the thought of being filled with thick, throbbing cock!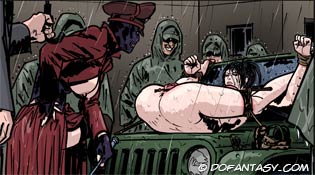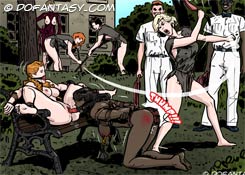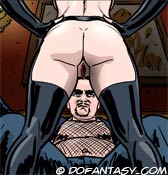 While an opulent party of debauchery and perversion happens inside, the Marquesa is having her own way with Mistress Melanie out in the cold and pouring rain… not that Melanie can feel it… she's too busy having her clit flogged by that cruel and inhuman woman! But even as things come to a boil in the real world, Cora Winter in decades past will find herself on the verge of breaking under the Professor's will… and the sadism of his assistant Dorothy!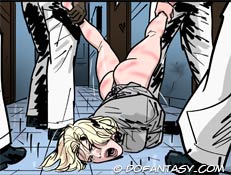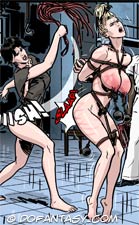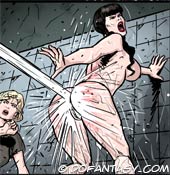 In this contest of wills, who will find themselves on top? Perhaps a much deeper game is being played behind the scenes… There will be winners and losers in this dramatic and unbelievable conclusion to the PRISON HORROR SERIES! YOU WON'T BELIEVE THE ENDING TO THIS COMIC!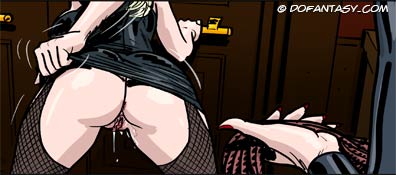 PREDONDO IS ONE OF THE MOST INFAMOUS ARTISTS IN THE DEEPEST, DARKEST CORNER OF THE WEB! YOU WON'T BELIEVE THE KIND OF SADISTIC, PERVERTED, AND OUTRIGHT INSANE THINGS THAT ARE DONE TO THESE POOR AND UNWILLING GIRLS! EVEN THE STRONGEST WILLED OF THEM ALL HAS A BREAKING POINT, AND SEVERAL CHARACTERS WILL MEET THEIR ULTIMATE END! YOU DON'T WANT TO MISS THIS INCREDIBLE ISSUE, THE FINAL CHAPTER IN THE "PRISON HORROR STORY" SAGA, BROUGHT TO YOU HERE EXCLUSIVELY AT DOFANTASY.COM!!!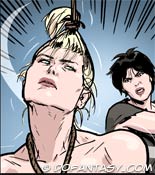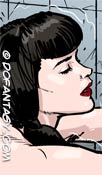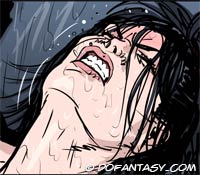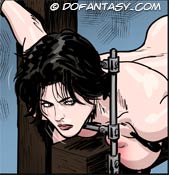 VISIT PREDONDO'S SITE
FOR A COMPLETE LIST OF PREDONDO COMICS AND OFFERS