Use our On-Line 100% Secure Encrypted Shopping Cart Ordering System. Simply browse
our site and Click the ADD TO SHOPPING CART buttons to place items in your Shopping Cart
[ HOME ] [ COMICS ] [ MOVIES ] [ NOVELS ] [ CD-ROM ] [ Order info ] [ Help ] [ ARTIST SITES ] [ SEARCH ]
[ Disclaimer ] [ CATALOGUE ] [ Copyright ]
FANSADOX COLLECTION 518
THE PROTO part 3 - FERRES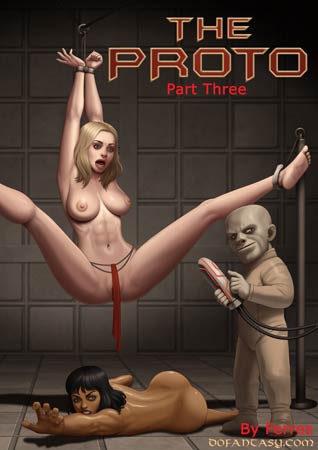 NEW IN PDF ELECTRONIC VERSION!
Adult Comic Album by FERRES.
HIGH RESOLUTION PDF deluxe edition
47 full color comic pages! plus 4 incredible illustrations!
-COMPLETE, UNABRIDGED VERSION-

THINGS GET REAL BAD FOR BLONDE BEAUTY LHUUN AND DARK SKINNED GODDESS XAN AS THE SYNTHETICS TAKE THEIR TIGHT HOLES TO TOWN!

BUT A BIGGER THREAT IS ON THE HORIZON, AND IT'S USING THE YEETRIAN FEMALES FOR ITS OWN DIABOLICAL END!


IMPORTANT NOTICE - DISCLAIMER
All characters are 18 years old or older.
This is an entirely fictional work based on
cartoon characters for adult entertainment.
It shows no real people or events.
The characters are shown participating in
CONSENSUAL role-play for their own
personal satisfaction, simulating activities
which involve sexual dominance and
submission. No actual toons were harmed
in the making of this comic.

The Story So Far…

Captain Rothe Karl is one of the Proto, or Proto-Humans… those who were never genetically modified to live and serve the long-dead, galactic empire. Little better than a pirate or scavenger in these parts, he and his crewmate Xan struggle for survival in the cold vacuum of space against larger, more dangerous, and better armed forces. The Yeetrians, a race of genetically modified "Amazons" fierce in battle and unnaturally beautiful, often kill Protos on sight, and Rothe Karl is no exception.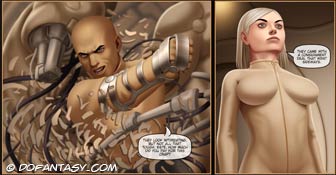 But a far more dangerous enemy has Rothe Karl in its sights when Commander Lhuun - a gorgeous, blonde, Yeetrian soldier - falls into his lap during a salvage run in one of the few functioning Hypergates. Strange, alien shadow monsters known only as Xenospectres loom on the horizon, and even the most powerful entities in the galaxy may not be a match for them.

In This Comic…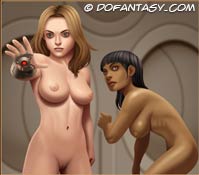 A failed attempt to infiltrate the lair of a Coderian Dwarf veteran by Xan and Lhuun ends badly when their ruse is discovered and the girls are put through their paces by the dwarf's synthetic lifeforms to get them to tell the truth. He shows them what happens to uncooperative sex slaves when he puts his own bald frontier female through her paces, making her take massive, untiring, synthetic cock into her holes until she screams! But he's only partly there for the information… it's the fun of breaking females that really gets him going!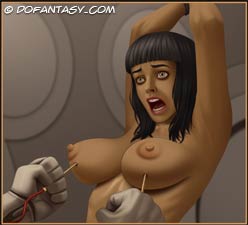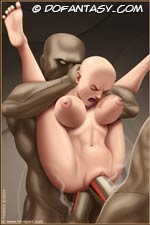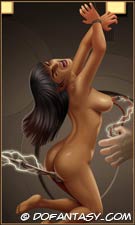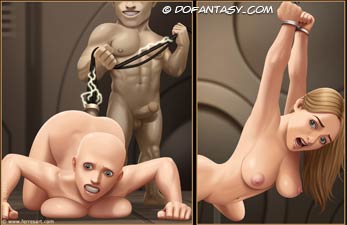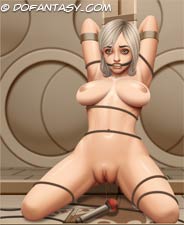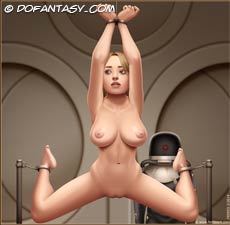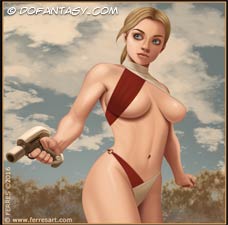 The trio manage to escape and enjoy a little R&R before they arrive at a mysterious, nearly desiccated planet: Biofaux 7, a Bio-Weapons Research and Development planet that the old empire had once controlled, cooking up the deadliest creatures and monsters in a contained environment, lest things get out of control. It's a bad place for any biological being to be in, let alone the motley crew of Karl, Xan, and Lhuun. What they witness happening to the Yeetrian survivors is unbelievable, but that's nothing compared to the horrors they witness aboard the shattered remnants of the Zola… itself incorporated into a much more terrifying thing, still orbiting around the planet…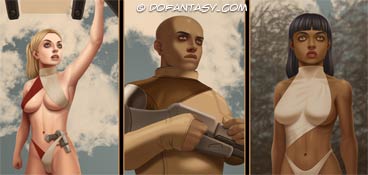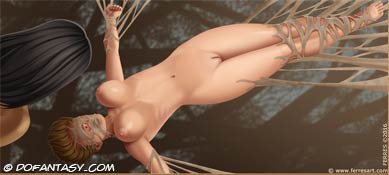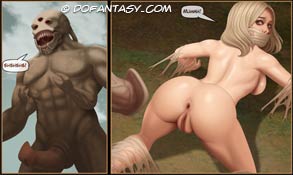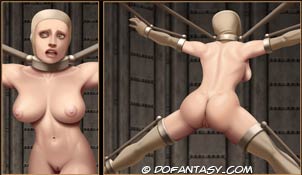 FERRES BRINGS IT BACK IN THIS UNBELIEVABLY VIOLENT AND UNBELIEVABLY HOT CONTINUATION OF THE PROTO SERIES! YOU'LL BE SHOCKED AT THE THINGS THESE BEAUTIFUL BABES GO THROUGH AS THEY'RE PUT THROUGH THEIR PACES IN THIS FUTURISTIC, NIGHTMARE WORLD! RICH IN DETAIL AND DEPTH AND DELICIOUSLY DRAWN, EMPHASIZING EVERY SINGLE TEAR, SWEAT DROP, AND GLISTENING, GLOWING SKIN, FERRES WILL STIMULATE BOTH YOUR MIND AND YOUR BODY! YOU DON'T WANT TO MISS THIS INCREDIBLE REVEAL IN THE THIRD CHAPTER OF HIS "PROTO" SAGA, BROUGHT TO YOU HERE EXCLUSIVELY AT DOFANTASY.COM!