Use our On-Line 100% Secure EncryptedShopping Cart Ordering System. Simply browse
our site and Click the ADD TO SHOPPING CART buttons to place items in your Shopping Cart
[ HOME ] [ COMICS ] [ MOVIES ] [ NOVELS ] [ CD-ROM ] [ Order info ] [ Help ] [ ARTIST SITES ] [ SEARCH ]
[ Disclaimer ] [ CATALOGUE ] [ Copyright ]
FANSADOX COLLECTION 546
OBJECTION OVERRULED 2 - KITTYHAND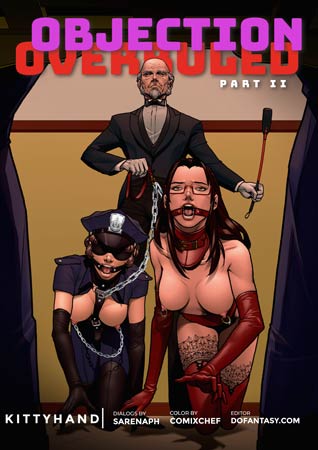 NEW IN PDF ELECTRONIC VERSION!
Adult Comic Album by COMISCHEF.
HIGH RESOLUTION PDF deluxe edition
46 full color comic pages!!!
-COMPLETE, UNABRIDGED VERSION-
IN VICTOR POPOV'S ESTATE, ONLY THE FRESHEST, CHOICEST, AND PRETTIEST OF THE SLAVEGIRLS HAVE A CHANCE OF KEEPING THEMSELVES FAVORED AND PETTED. THOSE CAST ASIDE ARE SENT TO… THE BASEMENT!

JULIA ROCHON FINDS HERSELF ON VICTOR POPOV'S BAD SIDE. SHE MUST PROVE HERSELF TO HER MASTER BECAUSE HER TIME IS RUNNING OUT!


IMPORTANT NOTICE - DISCLAIMER
All characters are 18 years old or older.
This is an entirely fictional work based on
cartoon characters for adult entertainment.
It shows no real people or events.
The characters are shown participating in
CONSENSUAL role-play for their own
personal satisfaction, simulating activities
which involve sexual dominance and
submission. No actual toons were harmed
in the making of this comic.
The Story So Far…

Julia Rochon was a star counselor and lawyer skilled at taking down even the wealthy and the powerful. This earned her high regard among her clients but also made her some powerful enemies as well. When a simple hatchet job, domestic abuse case was closed, Julia indulged her lesbian fantasies by having hot, steamy sex with her fetching, female client. Julia publicly did domestic abuse cases because it was the right thing to do, but secretly she loved ball-busting overbearing husbands and boyfriends… and getting a nice, fat paycheck in the process!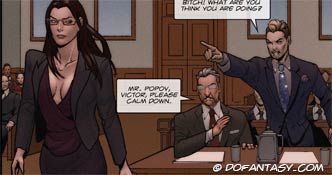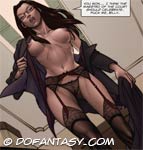 But things take a turn for the worst when her latest client's boorish ex-husband is conned into working for a bigger, nastier boss: the infamous Victor Popov! Victor arranges for Julia and her latest, lesbian client to take an all-paid and PERMANENT vacation as Victor Popov's newest sex slaves! Victor covers his tracks well, and the famous and powerful Julia Rochon "dies" in a fiery yachting murder-suicide, meaning nobody will come looking for her now…



In This Comic…

Time has passed at Victor Popov's estate, and he's acquired a new, prized possession, Officer Sophie, or as he's named her… "Number 33." Meanwhile, his former slaves "enjoy" a life of leisure as sexy and helpless furniture around the estate. Julia Rochon, famous feminist lawyer was once a pillar of the community. Now she's just a lowly table leg. But things get worse when Julia has to take "Number 26", a poor performer in Popov's harem, down to the dreaded BASEMENT.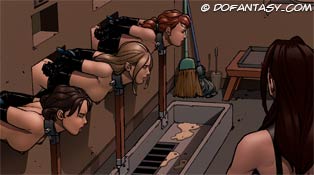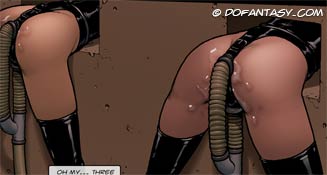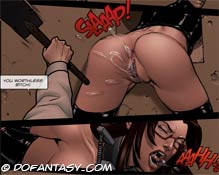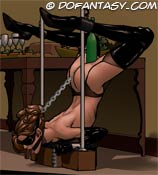 The basement where all of Victor Popov's poor, unloved, and trashed slavegirls end up, and Julia is desperate to avoid the same fate! She'll do anything to get back into Victor's good graces, even if it means performing the most humiliating things imaginable…




When Victor Popov throws a lavish orgy for his fellow guests, Julia finds herself at the front door… but not quite in the way that she expected. Among Victor Popov's guests are some familiar faces as well as an old friend from Julia's past… the lawyer who took her in: Billy "the Bloodsucker" Sheen, one of the nation's best lawyers! Oh how the mighty have fallen…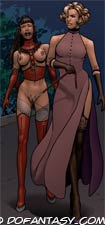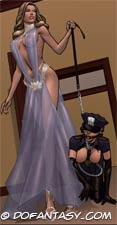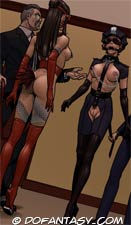 KITTYHAND/COMIXCHEF RETURN WITH A CAPTIVATINGLY CARNAL CONTINUATION OF ONE OF THE BEST COMICS IN THE DOFANTASY COLLECTION: OBJECTION OVERRULED! NO MATTER HOW MUCH THE "SMART" AND "POWERFUL" JULIA ROCHON STRUGGLES, SHE'LL DIG HERSELF DEEPER AND DEEPER INTO DESPERATION AND DANGER! DOES VICTOR POPOV'S CRUELTY AND MALICE KNOW NO BOUNDS? HOW FAR WILL JULIA SINK INTO HUMILIATION AND SHAME TO AVOID BEING SENT TO THE DREADED "BASEMENT"? YOU CAN ONLY FIND OUT BY GETTING THIS INCREDIBLE ISSUE, BROUGHT TO YOU HERE EXCLUSIVELY AT DOFANTASY.COM!!!