Use our On-Line 100% Secure Encrypted Shopping Cart Ordering System. Simply browse
our site and Click the ADD TO SHOPPING CART buttons to place items in your Shopping Cart
[ Disclaimer ] [ CATALOGUE ] [ Copyright ]
FANSADOX COLLECTION 551
THE WOODS HAVE EYES- Part 2 - ROBERTS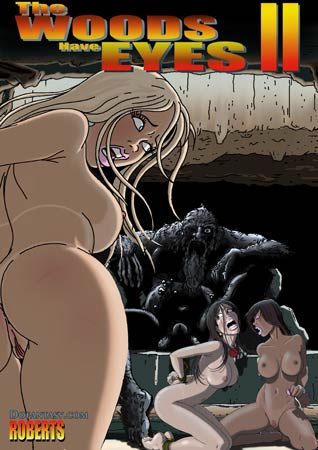 NEW IN PDF ELECTRONIC VERSION!
Adult Comic Album by ROBERTS

HIGH RESOLUTION PDF deluxe edition
58 full color comic pages by ROBERTS

NEW FORMAT - BIGGER IMAGES
-COMPLETE, UNABRIDGED VERSION-

THREE PRIME PUSSIES ARE POUNDED HARD BY HALF-HUMAN SASQUATCHES, AND THINGS GET EVEN BETTER WHEN THE PRIME PROFESSOR'S PERKY SISTER GOES SEARCHING IN THE WOODS!

IT'LL BE AN UNBRIDLED ORGY BETWEEN HOT GIRLS AND HAIRY HALF-MEN AS PROFESSOR FAUNA WOODLEY, CHELSEA, AND LISA ARE POUNDED HARD AND HEAVY IN ALL THEIR LOVELY HOLES!



IMPORTANT NOTICE - DISCLAIMER
All characters are 18 years old or older.
This is an entirely fictional work based on
cartoon characters for adult entertainment.
It shows no real people or events.
The characters are shown participating in
CONSENSUAL role-play for their own personal satisfaction, simulating activities which involve sexual dominance and submission.
No actual toons were harmed in the making
of this comic.

The Story So Far…

Professor Fauna Woodley is as hippie as they come: a bleach blonde beauty interested only in cryptozoology and rug munching packs up her hot, slutty girlfriends in a bright, pink jeep and head into the woods in search of the legendary Bigfoot after one survivor of a band of beauties barely bounces back from a blood-curdlingly bad backpacking bust. Professor Fauna ignores all of the signs and warnings to stay away, for nothing will keep her from her quest to expose the legendary Big Foot, once and for all!

But things get bad real fast when it turns out that the only thing that will be exposed is Professor Fauna's tight, perky tits and her assistant's tight "assets"! The screaming girls are hauled off into the woods, never to be seen again by civilized eyes…

But back at home, sweet sister Fawn Woodley is worried about her sister's disappearance…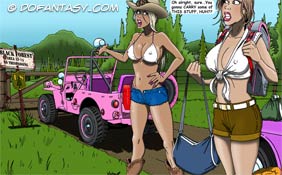 In This Comic!

Professor Fauna Woodley and her assistants, Lisa and Chelsea are taken to the Big Foot "estate" where they are thoroughly porked, prodded, and pounded by these vicious, half-men in all of their tight, lovely holes! The truth is far more horrifying than even Professor Fauna could have imagined as she and her assistants are taken over and over and over again and then left to "hang" in the woods like slabs of steak overnight! These cruel and crude brutes have their own rules and logic, and the squeaking of three sultry sluts is not top of the list by far!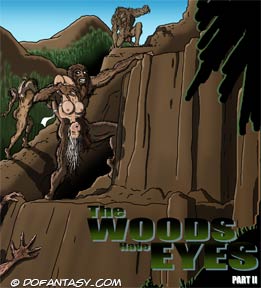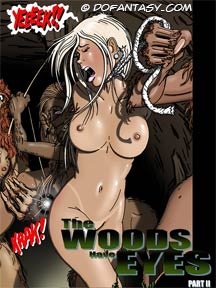 Meanwhile, sweet sister Fawn Woodley is lost without big sis to look after her. She goes to the local sheriff's department but is quickly brushed aside; her bubble headed bleach blonde of a sister has sent these cops on enough wild goose chases that they don't even contemplate stepping outside of their warm, comfy cabins. So Fawn Woodley takes matters into her own hands and goes out in search of her sister…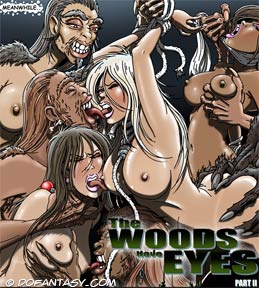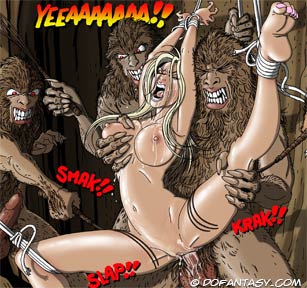 …an abandoned, pink jeep and a torn up tent gives credence to the mystery of her missing sister. But while Fawn and her friend are glued to a tiny video screen of hot, erotic, bondage action, something is lurking just behind, ready to take two more beautiful victims…

ROBERTS BRINGS YOU THE LONG AWAITED SEQUEL TO THE "WOODS HAVE EYES" SERIES IN THIS HOT AND HEAVY CONTINUATION OF THIS EPIC ADVENTURE! BEAUTIFUL GIRLS HAVE THEIR HOLES FILLED WITH HOT, THROBBING COCK OVER AND OVER AND OVER AGAIN WHILE THEIR GAGGED SCREAMS ECHO THROUGH THE CAVES AND CAVERNS OF THEIR NEW, PERMANENT HOME! PROFESSOR WOODLEY AND HER TWO, LOVELY ASSISTANTS ARE TAKEN ON A DEEP DIVE INTO THE SASQUATCH ESTATE AND ARE SHOWN THINGS NO LIVING HUMAN HAS EVER SEEN BEFORE… AND EVER WILL AGAIN! YOU DON'T WANT TO MISS THIS INCREDIBLE COMIC, BROUGHT TO YOU HERE EXCLUSIVELY AT DOFANTASY.COM!

ROBERTS AT HIS BEST!!!
CHECK ROBERTS SITE FOR MORE ROBERTS COMICS