Use our On-Line 100% Secure EncryptedShopping Cart Ordering System. Simply browse
our site and Click the ADD TO SHOPPING CART buttons to place items in your Shopping Cart
[ HOME ] [ COMICS ] [ MOVIES ] [ NOVELS ] [ CD-ROM ] [ Order info ] [ Help ] [ ARTIST SITES ] [ SEARCH ]
[ Disclaimer ] [ CATALOGUE ] [ Copyright ]
FANSADOX COLLECTION 559
SLAVECOP 3: THE HIVE - ERENISCH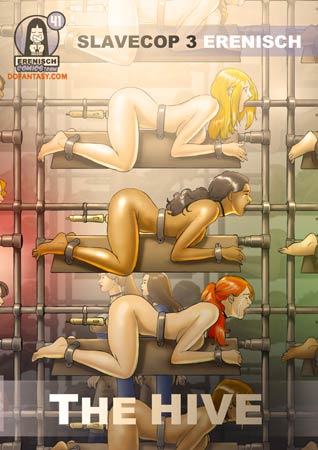 NEW IN PDF ELECTRONIC VERSION!
Adult Comic Album by ERENISCH.
HIGH RESOLUTION PDF deluxe edition
45 full color comic pages!!!
-COMPLETE, UNABRIDGED VERSION-
­JOURNEY TO THE ICONIC FUTURE WHERE WOMEN HAVE BEEN LEGALLY STRIPPED OF ALL RIGHTS AND TURNED INTO OBEDIENT SEXTOYS!
WHO SAYS A SEXY STORY CAN'T ALSO BE AN ADVENTURE? ERENISCH CONTINUES TO REVOLUTIONIZE EROTIC COMICS!
IMPORTANT NOTICE - DISCLAIMER
All characters are 18 years old or older.
This is an entirely fictional work based on
cartoon characters for adult entertainment.
It shows no real people or events.
The characters are shown participating in
CONSENSUAL role-play for their own
personal satisfaction, simulating activities
which involve sexual dominance and
submission. No actual toons were harmed
in the making of this comic.
IMAGINE A FUTURE WHERE WOMEN ARE TRAINED TO ENSLAVE OTHER WOMEN…
In the near future, many countries will pass the 'Compulsory Female Slavery Law' and legalize the sexual use and trade of women over 18 years of age. When a girl reaches the age of legal enslavement, she can be bought and sold, hired and whored, and used in every imaginable way…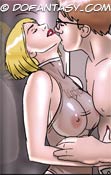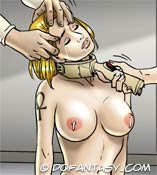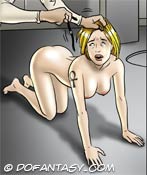 In this incredible future, the women foolish enough to run away or resist the men who rule over them must be caught and punished. To keep these women in line, the men created an elite fighting force made up of the strongest, smartest, most highly trained female slaves, the slavecops! Slavecops are women who have been fully indoctrinated by the new society they live in. They will fight to the death to put other women at men's feet, where they belong.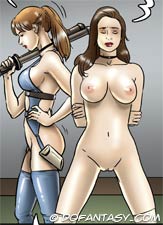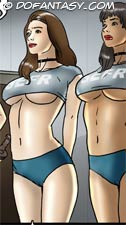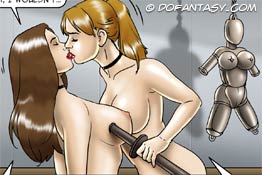 JOIN THE ADVENTURE AND FIGHT TO PROTECT THE ANDROCRATIC ORDER!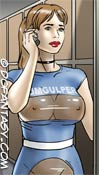 Agent Slave Lidia Cumgulper is a model slavecop, she is a skilled martial artist and a talented detective, yet she still obediently drops to her knees to suck cock whenever any of her handlers tell her to. She assists men as they train and even brainwash other women.
But not all women are as obedient as the Lidia. A group of rebels known as the Female Liberations Front (Fluffers) are planning a major surge in activity. The ultimate battle between "strong independent women" and "gender traitors" is about to begin!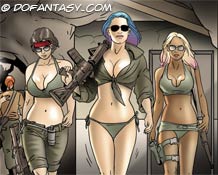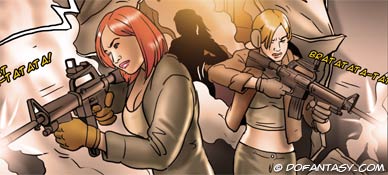 ERENISCH COMICS PROVE COMPLEX STORY TELLING CAN BE SEXY AS HELL!!!!
Erenisch's painstaking attention to detail creates artwork featuring realistic facial expressions and body language which makes the characters come alive in a way that few other works of erotic art can match. The Erenischverse has won loyal fans thanks to its well-written stories about characters with distinct personalities.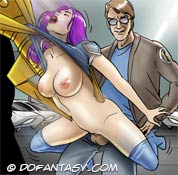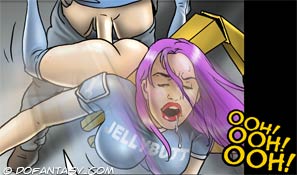 This issue breaks new ground even for Erenisch, because in addition to telling a story about sexy slavegirls being fucked and dominated, it also tells an exciting adventure at the same time, full of fight scenes and tension. This experimental comic truly delivers something audiences have never seen before.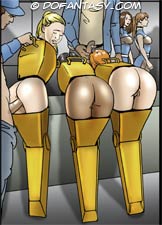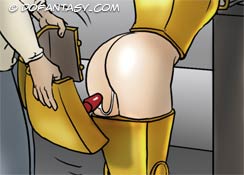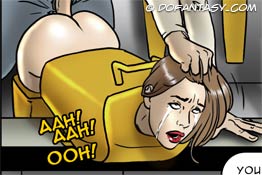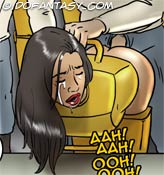 PREPARE FOR A FUTURE FULL OF AMAZING POSSIBILITIES…

ERENISCH MAKES ANOTHER INCREDIBLY STEAMY AND SEXY STORY!
YOU DON'T WANT TO MISS THIS UNBEARABLY EROTIC COMIC, BROUGHT TO YOU HERE EXCLUSIVELY AT DOFANTASY.COM!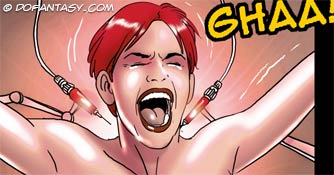 VISIT
ERENISCH SITE
FOR A COMPLETE LIST OF ERENISCH COMICS AND OFFERS