Use our On-Line 100% Secure EncryptedShopping Cart Ordering System. Simply browse
our site and Click the ADD TO SHOPPING CART buttons to place items in your Shopping Cart
[ HOME ] [ COMICS ] [ MOVIES ] [ NOVELS ] [ CD-ROM ] [ Order info ] [ Help ] [ ARTIST SITES ] [ SEARCH ]
[ Disclaimer ] [ CATALOGUE ] [ Copyright ]
FANSADOX COLLECTION 600
OBJECTION OVERRULED: BETRAYAL - KITTYHAND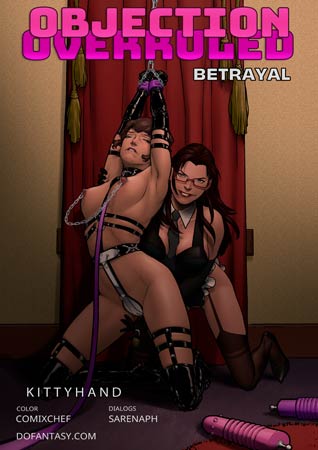 NEW IN PDF ELECTRONIC VERSION!
Adult Comic Album by KITTYHAND.
HIGH RESOLUTION PDF deluxe edition
53 full color comic pages!!!
-COMPLETE, UNABRIDGED VERSION-
JULIA ROCHON WENT FROM HIGH POWERED LAWYER TO DESPERATE DAMSEL BEGGING FOR COCK AND CUM! BUT WHAT HAPPENED IN BETWEEN?

VICTOR POPOV HAS JUST PICKED UP A NEW COP CUNT CAUGHT WRITING TICKETS ON HIS EXPENSIVE CAR! SHE WILL HAVE TO BE TRAINED... BUT WHO IS DESPERATE ENOUGH TO WIN POPOV'S FAVOR?



IMPORTANT NOTICE - DISCLAIMER
All characters are 18 years old or older.
This is an entirely fictional work based on
cartoon characters for adult entertainment.
It shows no real people or events.
The characters are shown participating in
CONSENSUAL role-play for their own
personal satisfaction, simulating activities
which involve sexual dominance and
submission. No actual toons were harmed
in the making of this comic.
Between Objection Overruled and Objection Overruled 2 is the story of Julia Rochon and the newest cutie cop cunt! Julia is still a slave in Victor's estate, known humiliatingly only as #31, but she's hoping to earn favor from Victor and maybe get out of this hellish nightmare! However, there's another haughty female trainer named Karas who is just as intent in keeping her place in Victor's good graces, and she won't stand to have an upstart like "#31" getting in her way!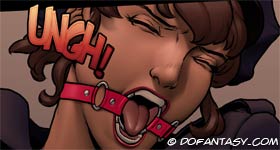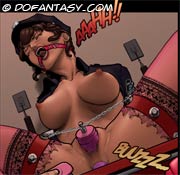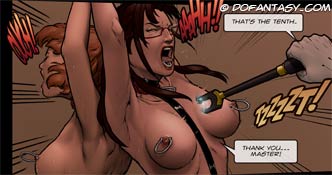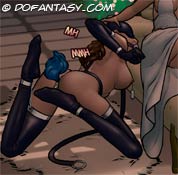 Meanwhile, precious new cop to the police force Sophie is just writing tickets, but she chooses the wrong car to snitch on! Victor catches Sophie in the act, and Sophie doesn't know it yet, but she crossed the wrong person for the first... and last time!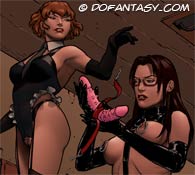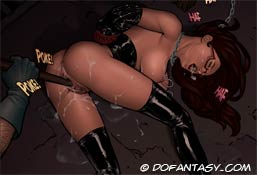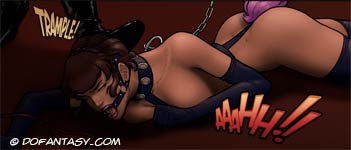 This story explores what happened in between those two comics... Sophie's training and slow, humiliating breaking, and how Julia fell from grace and turned from arrogant, star lawyer to sniveling, desperate, slut slave! If you ever wanted to know what happened in Victor Popov's horrifying basement... the answers may surprise and shock you!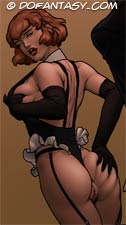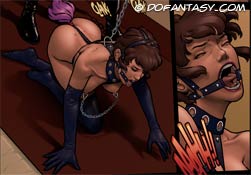 KITTYHAND BRINGS YOU ANOTHER AMAZING COMIC! FULL OF HOT WOMEN IN HOT LATEX AND HOT BONDAGE, YOU'LL LOVE WATCHING THESE STRONG AND HAUGHTY WOMEN BE TAKEN DOWN A PEG AND BROKEN TO THEIR SOUL! VICTOR POPOV IS A CRUEL MAN SKILLED AT BRINGING THE PROUDEST BITCHES TO HEEL! HOW DID SOPHIE BECOME SUCH AN OBEDIENT SLAVE? WHO PUT THE FEAR OF ABSOLUTE HELL IN JULIA? YOU CAN ONLY FIND OUT BY BUYING THIS COMIC BROUGHT TO YOU HERE EXCLUSIVELY AT DOFANTASY.COM!!!!