Use our On-Line 100% Secure Encrypted Shopping Cart Ordering System. Simply browse
our site and Click the ADD TO SHOPPING CART buttons to place items in your Shopping Cart
[ HOME ] [ COMICS ] [ MOVIES ] [ NOVELS ] [ CD-ROM ] [ Order info ] [ Help ] [ ARTIST SITES ] [ SEARCH ]
[ Disclaimer ] [ CATALOGUE ] [ Copyright ]
FANSADOX COLLECTION 609
HAREM HORROR HELL part 9 - PREDONDO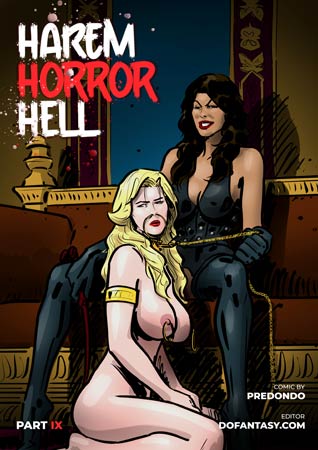 NEW IN PDF ELECTRONIC VERSION!
Adult Comic Album by PREDONDO.
HIGH RESOLUTION PDF deluxe edition
40 full color comic pages!
-COMPLETE, UNABRIDGED VERSION-
DOCTOR Z HULKS OUT IN THIS INCREDIBLE, UNBELIEVABLE, AND SHOCKING FINALE OF THE "HAREM HORROR HELL" SAGA!

YOU WON'T BELIEVE WHAT HAPPENS TO EVERYONE IN THIS ORGASMIC, EXPLOSIVE, AND INCREDIBLE COMIC! THE EMIR'S FAMILY, PRINCESS JASMINE, AND THE SLAVEGIRLS ARE TREATED TO THE MOST UNIMAGINABLE CONCLUSION EVER!


IMPORTANT NOTICE - DISCLAIMER
All characters are 18 years old or older.
This is an entirely fictional work based on
cartoon characters for adult entertainment.
It shows no real people or events.
The characters are shown participating in
CONSENSUAL role-play for their own
personal satisfaction, simulating activities
which involve sexual dominance and
submission. No actual toons were harmed
in the making of this comic.
THE STORY SO FAR...
Snotty Olivia Hamilton was the belle of the ball at her prestigious, Ivy League college. All the men wanted her, and all the girls wanted to be her. When Prince Ahmed from Baranfain decided to try his luck with the gorgeous, blonde Olivia Hamilton, she rejected him in the most public and humiliating way possible!

She would soon come to regret her decision when Prince Ahmed decided to teach this stuck up, snotty, white bitch a lesson she would never forget… by forcing her to become his personal sex slave! What followed was a whirlwind of pain and humiliation for the young, blonde teen. She was trained in sucking cock, taking pain, and suffering by her master, the cruel Prince Ahmed! Things got even worse when Olivia's own mother, Mrs. Hamilton, was enslaved by the emirate as well and forced to be a rugmuncher and lezzie sucktoy to Prince Ahmed's cruel and gross mother.

Ahmed ran into the lovely and strong willed Jasmine, and the two went off on a whirlwind marriage. Everything went well until the new Princess Jasmine gets jealous of Ahmed's antics with Olivia… then things went south from there as the princess clashed with her in-laws. Princess Jasmine was on top, but when the Emir's family broke every bottle of Doctor Z's monstrous mutagen, they finally took command!

But that command may not last much longer... and with the trouble brewing outside, it may be too late for them all...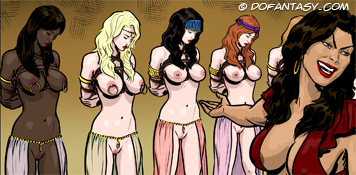 IN THIS COMIC…

It turns out that Doctor Z's monstrous mutagen affected him more than he thought: no longer bound to drinking the devilish concoction, Doctor Z can transform at will! He quickly takes advantage of the situation, and the Emir and his family are put back into their place in the most humiliating way imaginable!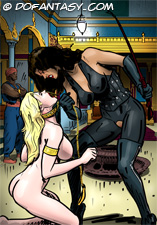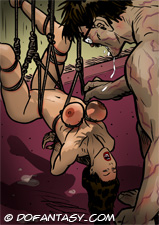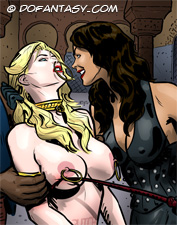 For a time, Doctor Z has the monster under control, but is it really under control? Doctor Z tries to shield himself from the pert tits and lovely hips of the slavegirls around him, but he's the palace doctor... and he has a job to do.


Meanwhile, Princess Jasmine has a bunch of special guests that she wants to invite to the palace in continuation of her insatiable debauchery! Unbelievable! It's the high rollers and sex slave owners from The Gentlemen's Club! Fortunately, or perhaps unfortunately, the lust drug Doctor Z injected into the white slaves is still working, and against their own wishes they're begging to be filled to the brim!

And you won't believe what happens in the fiery, dramatic, and fantastic finale!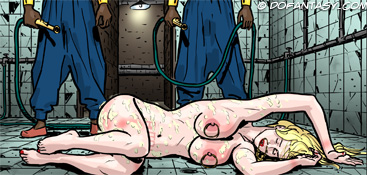 THE END OF THE HAREM HORROR HELL SAGA IS HERE IN THIS AUDACIOUS AND RAPACIOUS AND INCREDIBLE CULMINATION! PREDONDO BRINGS YOU SOME OF THE HOTTEST AND MOST EXTREME ACTION WITHIN THE FINAL PAGES OF THIS ORGASMIC AND FANTASTIC FINISHER! THE POWER STRUGGLE BETWEEN JASMINE AND THE EMIR'S FAMILY IS FINALLY OVER, BUT WHAT WILL BE THEIR FINAL FATES? WHAT WILL HAPPEN TO PRINCESS JASMINE? WHAT WILL HAPPEN TO THE EMIR, HIS FAT WIFE, THEIR STUCK-UP SON AHMED, AND THEIR BLACK, BULLDOG BODYGUARD? WHAT WILL HAPPEN TO DOCTOR Z, AND MOST OF ALL, WHAT WILL HAPPEN TO MRS. HAMILTON, HER DAUGHTER OLIVIA, AND ALL OF THE HELPLESS, DELECTABLE, WHITE SLAVEGIRLS??

YOU CAN ONLY FIND OUT BY BUYING THIS INCREDIBLE COMIC! DON'T MISS THE FINAL ISSUE OF THE "HAREM HORROR HELL" SAGA, BROUGHT TO YOU HERE EXCLUSIVELY AT DOFANTASY.COM!!!

VISIT PREDONDO'S SITE
FOR A COMPLETE LIST OF PREDONDO COMICS AND OFFERS