Use our On-Line 100% Secure EncryptedShopping Cart Ordering System. Simply browse
our site and Click the ADD TO SHOPPING CART buttons to place items in your Shopping Cart
[ HOME ] [ COMICS ] [ MOVIES ] [ NOVELS ] [ CD-ROM ] [ Order info ] [ Help ] [ ARTIST SITES ] [ SEARCH ]
[ Disclaimer ] [ CATALOGUE ] [ Copyright ]
FANSADOX COLLECTION 60
WOMAN HUNT 1 - CHASED - FERNANDO
WOMEN HUNT -CHASED
NEW IN PDF ELECTRONIC VERSION!
Adult Comic Album by
FERNANDO
HIGH RESOLUTION PDF deluxe edition
45 full comic pages by FERNANDO
-COMPLETE, UNABRIDGED VERSION-
IMPORTANT NOTICE:
All characters are 18 years old or older.
All action is simulated and involves no real people.
The authors/publishers do not condone violence of any kind.
These are completely fictional comics for adult entertainment.
Just cynical and cruel as it must be... hunting instinct at its best!
Almighty wicked men against sweet castaway female and no law to temperate their lust.
Cat and mouse game with all the sophistication of advanced technology and all the barbary of unleashed predators.
She'll run and run until exhaustion and her capture sill be the beginning of pure hell.
She's generous and sensitive, a perfect prey for their pitiless desire.
She's young and healthy, a good sample to experience pain...
She believes in Goodness, she's fit for meeting pure evil...
She'll soon beg for death...
________________________
The year is 2050. An asteroid hits Earth and causes a massacre on a planetary scale. Then comes a climatic change and the result is Chaos. Civilisation breaks down. Governments fall, power stations come to a halt, communications stop, there is no transport, no food ... The survivors organise themselves in tribes and begin a deadly struggle for survival.
Only one colony, Copernicus Penitentiary on Mars, remains intact. It is first human colony in space and it houses the worst criminals, sent into perpetual exile and sentenced to heavy manual labour.
When news of the catastrophe reaches them, the prisoners mutiny and take over the Martian settlement. They have spacecraft, sophisticated technology, weapons and an almost completed city. But they need one other thing: females.
A group of prisoners returns to Earth to hunt for the women who will be their slaves. These are violent men, criminals by nature, bitter men who satisfy their long-repressed instincts and quench their thirst for revenge by attacking the terrified survivors, the survivors of a society that once condemned them.
This story is full of sex and violence, a story in which the cunt-rats - as they call their sexy young catches - are mercilessly hunted down among the ruins of the cities and taken like cattle to Copernicus for the pleasure and solace of the new masters of the world. And the Masters are not satisfied with physically possessing the women...
After a few weeks the prison cells hold a new kind of prisoner: scores of young women naked and shackled like cattle, trembling horrified waiting for their terrible destiny, a destiny far worse than death ...
________________________
Meet the guide Hunter and his beautiful black slave Atira...
"It was best the hunting Iíve ever had. The split-asses were in caves along the cliffs in the canyon. We had to fumigate the zone with gas. They came out running like the filthy rats they are! With the help of biological radars we were able to tell the males and females apart even through the smoke. Then we just exterminated the men with incendiary bullets... you know? Those hot darts that give off a chemical burn at low temperature for a slow death.
Then we went after the bitches with contact nets. There were 23, all of them white except this one. The clients finished off 22 of them on the spot and I managed to keep this one for my personal use... Most guys feel ripped off if they donít catch a blonde, white split-ass with blue eyes. But I still like our women...."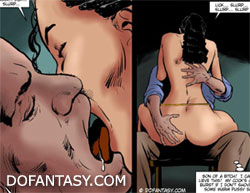 Witness the savage hunt of Shelma, a classy beauty of 23, by Killer, a convicted serial assassin...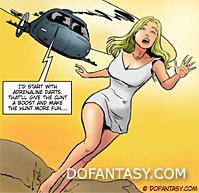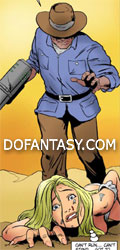 An awful nightmare starts for the beautiful young woman...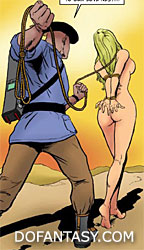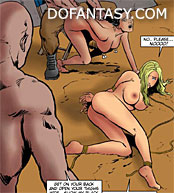 ...now the toy of her hunter...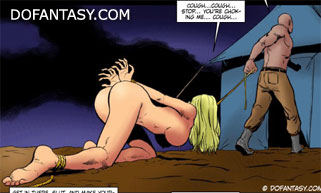 WOMEN HUNT -CHASED!
You'll never forget this comic!
THE 1st PART OF THIS ASTOUNDING SAGA!
Women Hunt 1 -CHASED! Women Hunt 2 -PROCESSED! Women Hunt 3 -DESERT RATS!
AND NOW: Women Hunt 4 -SOLD!
VISIT FERNANDO SITE FOR A COMPLETE LIST OF
FERNANDO COMICS AND OFFERS
[ HOME ]