Use our On-Line 100% Secure EncryptedShopping Cart Ordering System. Simply browse
our site and Click the ADD TO SHOPPING CART buttons to place items in your Shopping Cart
[ HOME ] [ COMICS ] [ MOVIES ] [ NOVELS ] [ CD-ROM ] [ Order info ] [ Help ] [ ARTIST SITES ] [ SEARCH ]
[ Disclaimer ] [ CATALOGUE ] [ Copyright ]
FANSADOX COLLECTION 611
ONLY FIENDS - LESBI K LEIH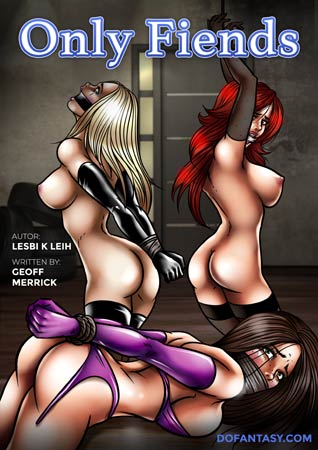 NEW IN PDF ELECTRONIC VERSION!
Adult Comic Album by LESBI K LEIH
Story by GEOFF MERRICK
HIGH RESOLUTION PDF deluxe edition
42 full color comic.
-COMPLETE, UNABRIDGED VERSION-
GRADUATION CAPS ARE TOSSED IN THE AIR AS BROOKE CELEBRATES HER COLLEGE GRADUATION, EAGER TO EMBARK ON A NEW JOURNEY. LITTLE DOES SHE SUSPECT THAT THE 'EXCITING OPPORTUNITIES' AWAITING HER ARE FAR MORE UNEXPECTED THAN SHE EVER ENVISIONED. PERHAPS SHE WOULD NOT BE IN SUCH A CELEBRATORY MOOD?
IMPORTANT NOTICE - DISCLAIMER
All characters are 18 years old or older.
This is an entirely fictional work based on
cartoon characters for adult entertainment.
It shows no real people or events.
The characters are shown participating in
CONSENSUAL role-play for their own
personal satisfaction, simulating activities
which involve sexual dominance and
submission. No actual toons were harmed in the making of this comic.
COMIC OF THE MONTH IN OCTOBER 2023 AT BDSMartwork.com
click here for more info
It is the day of their high school graduation, and Brooke and her friends party into the night. Towards midnight, the party girls start to feel strange and dizzy from too much alcohol. Or so they thought.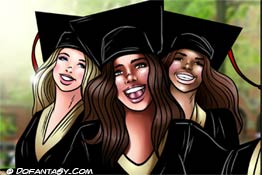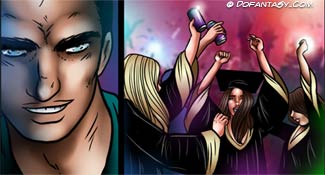 As Brooke tries to make her way home, a black car drives by, and its occupant offers the intoxicated brunette a ride, which she unthinkingly accepts. A decision she would come to regret.Brooke regains consciousness in an unfamiliar cellar with a strange sex fiend who humiliates her with his words and actions.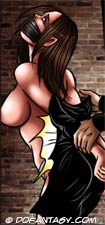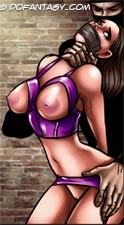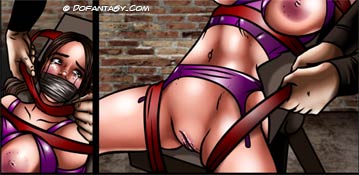 She must fight back! But the after-effects of last night's indulgence are yet to wear off entirely, so she sobs as he torments her with a knife and a needle.
"See? Nice and sensitive, Yeah?" her assaulter inquired as he pierced her nipples with a hot, sharp needle.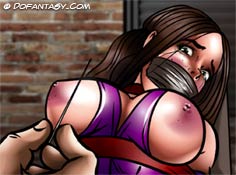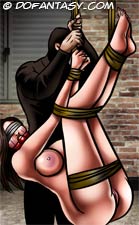 Meanwhile, on the other side of town, a struggling actress is in for an unpleasant surprise as a twisted stalker poaches her. She is groped, teased, and utterly ravished. Her holes are continuously poked and prodded. He is all over her, his lips occupied; biting and sucking every part of her. His right hand pinching her large, bouncy tits, his left, between her delicate legs, caressing and penetrating as he breaches her core. He keeps all her holes busy and plays her like a "fuck bomb," compelling and unimaginable objects are used to fuck her.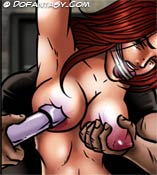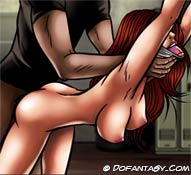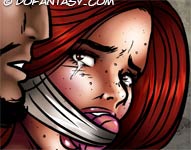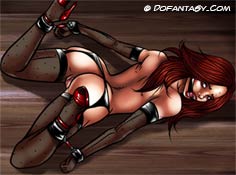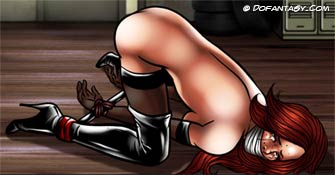 There is yet another attack; this time, it involves an enticing blonde and two runts. The horny midgets chase her down the street and pounce on the delectable 'fuck doll,' subduing and fucking her right there on the street. "Yeah. Happy Birthday, Bitch!" a brother jeers as he plunges his throbbing cock into her tight asshole. What levels are they willing to take her public humiliation to?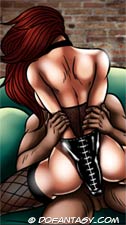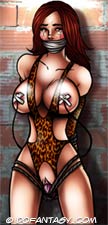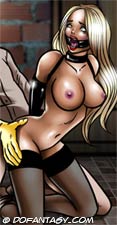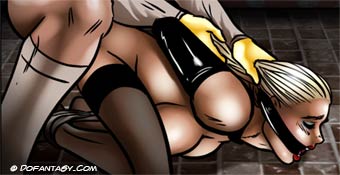 IN THIS FASCINATING NEW SERIES, HELPLESS GIRLS ARE STOLEN IN THE NIGHT'S DEAD AND REDUCED TO THE POSITION OF LOWLY "FUCK DOLLS." THEY ARE FORCED INTO ENTICINGLY TIGHT LEATHER OUTFITS WHICH INTENSIFIES THEIR MORTIFICATION.
ARE THESE ABDUCTIONS RELATED? WHO ARE THESE MEN, AND WHY ARE THEY PUNISHING THESE DEFENSELESS BEAUTIES? WOULD THEY BE ABLE TO ESCAPE FROM THEIR CAPTORS, OR WILL THE COURSE OF THEIR LIVES BE ALTERED FOREVER?
UNRAVEL THE MYSTERIES IN THIS THRILLING COMIC THAT WILL CERTAINLY LEAVE YOU PANTING FOR MORE. CREATED BY THE GENIUS MINDS LESBI K. LEIH AND GEOFF MERRICK. EXCLUSIVELY AVAILABLE AT DOFANTASY.COM!!!