Use our On-Line 100% Secure EncryptedShopping Cart Ordering System. Simply browse
our site and Click the ADD TO SHOPPING CART buttons to place items in your Shopping Cart
[ HOME ] [ COMICS ] [ MOVIES ] [ NOVELS ] [ CD-ROM ] [ Order info ] [ Help ] [ ARTIST SITES ] [ SEARCH ]
[ Disclaimer ] [ CATALOGUE ] [ Copyright ]
FANSADOX COLLECTION 67
WOMAN HUNT 2 - PROCESSED - FERNANDO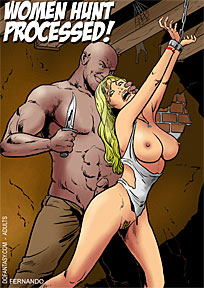 NEW IN PDF ELECTRONIC VERSION!
Adult Comic Album by FERNANDO
HIGH RESOLUTION PDF deluxe edition
45 full comic pages by FERNANDO
-COMPLETE, UNABRIDGED VERSION-
IMPORTANT NOTICE:
All characters are 18 years old or older.
All action is simulated and no
actual people are involved in it.
The authors/publishers do not condone
any kind of violence.
These comics are completely fiction
and for adult entertainment.
The triumph of Evil over Good.
The complete reversal of all values.
The worst kinds of cruelty approved of and rewarded.
Defenseless women prey of lustful perverts.
Lust and barbary, the captors' motto.
Hunting is a game and is a pleasure in itself especially
if the prey is young, beautiful woman flesh.
Women Hunt is not exactly sci-fi, or philosophy, or Satanic pursuit of female flesh. It is all that and more…
The Earth has fallen into the hands of the most depraved men on the planet, men who were banished some years ago to the most distant place possible: Copernicus Penal Colony on Mars.
The intention was to leave them to rot there, far from civilization, in a penitentiary with a well-deserved reputation as the most sinister place ever built by human hands. Discipline and cruelty were hard to distinguish in Copernicus. No one cared. The Earth felt safer.
But these desperate men had the last laugh. When the Earth was laid barren by a direct collision with an asteroid the convicts returned and built their own world, with different laws and customs.
A world in which unscrupulous sex-crazed psychopaths have unlimited power to satisfy their thirst for evil…
Everywhere on Earth, evil has won and destroyed the remains of civilization.
And the hunt is on!
Not against external danger or internal revolt.
Not against enemies or warriors.
The hunt is on for meek, defenseless young women and unarmed girls, hiding below the ground, cold and shivering beneath a landscape as barren and dry and hostile as the hunters' hearts.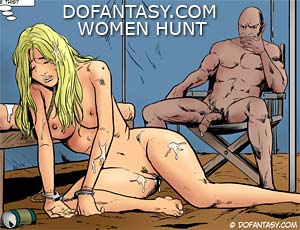 There is no escape for the victims, or escape for only as long as men permit it, for as long as they enjoy the pleasures of the chase, for as long as the leash around a woman's neck allows it…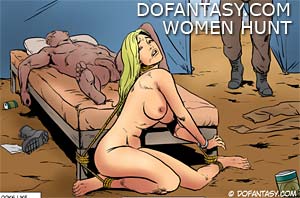 Sarcastic and cowardly, the hunters behave like buddies at some indecent feast, an orgy where they can abuse, enslave, mutilate and inflict extreme pain to their hearts' content.
Their targets are not the inflatable dolls they used in Copernicus, but terrified living women.
The hunters save their good moods for their buddies. For their prey there is only ferocity!
A woman who surrenders and gets caught is shown no mercy. She is forced to walk in the sun, laden like a beast of burden. She is humiliated, mocked, even tormented to death... but only after her naked body has been used as sex-toy for her masters' huge members…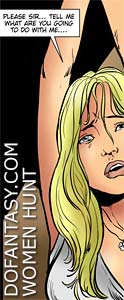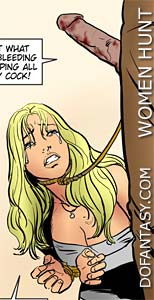 She has to serve them like the dirtiest of whores.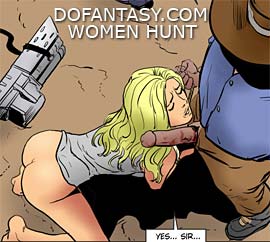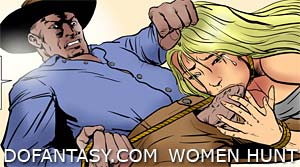 She wants to die, but even death is denied her.
The most private, intimate parts of a woman's body are painfully explored and their measurements recorded in detail.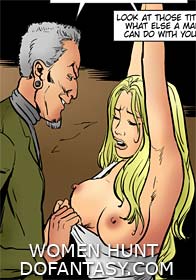 Her most private memories and feelings are disclosed by sophisticated mental probes.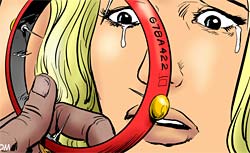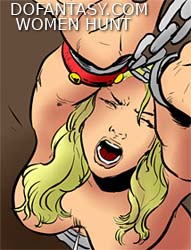 And in this way, irresistibly, the sex-craved hunters learnt that their prey, Sheila, had a younger sister in a secret hideout…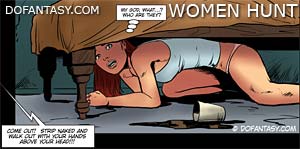 And so it came about that another beautiful young girl was captured in a powerful iron trap big enough to catch a polar bear.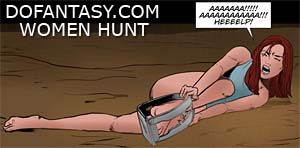 Now both sisters are in the hands of the unscrupulous hunters...
But the hunters themselves are only acting in the name of a higher power, a human Devil who rules both planets to the greater glory of The Dark One.
A sexual monster is the new God on Earth…
A dark, insatiable divinity…
Sooner or later the sisters will have to satisfy him in that dreadful hell specially dedicated to pretty young women, where he rules under the ancient name of Satan.
THE WILDEST FANTASY
In Women Hunt we may well have one of the best SM plots ever! It has all the ingredients:
The triumph of Evil over Good.
The complete reversal of all values.
The worst kinds of cruelty approved of and rewarded.
Defenseless women prey of lustful, sadistic perverts.
Lust and barbary, the captors' motto.
Hunting is a game and is a pleasure in itself, especially if the prey is female!
The victors have hi-tech weapons. They can cause all the pain they want without destroying their victims. Or they can choose to destroy them completely!
The victims themselves are helpless and unaware of the threat.
Enslavement and suffering are planned in minute detail, not as the fantasy of an isolated pervert, or even of a group, but as the terrible norm for a new and lawless world.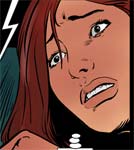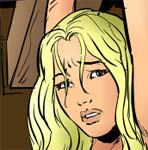 A world in which actions speak louder than words.
The reign of a sexual ogre who is all-powerful in his kingdom of submission, abuse and pain...
THE 2nd PART OF THIS ASTOUNDING SAGA!
Women Hunt 1 -CHASED! Women Hunt 2 -PROCESSED! Women Hunt 3 -DESERT RATS!
AND NOW: Women Hunt 4 -SOLD!
VISIT FERNANDO SITE FOR A COMPLETE LIST OF
FERNANDO COMICS AND OFFERS
[ HOME ]