Use our On-Line 100% Secure EncryptedShopping Cart Ordering System. Simply browse
our site and Click the ADD TO SHOPPING CART buttons to place items in your Shopping Cart
[ HOME ] [ COMICS ] [ MOVIES ] [ NOVELS ] [ CD-ROM ] [ Order info ] [ Help ] [ ARTIST SITES ] [ SEARCH ]
[ Disclaimer ] [ CATALOGUE ] [ Copyright ]
FANSADOX COLLECTION 69
NIGHT STALKER 1 - WAYNE WINE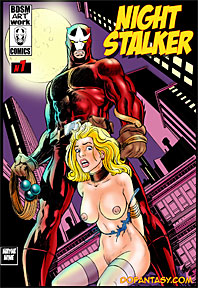 NEW IN PDF ELECTRONIC VERSION!
Adult Comic Album by WAYNE WINE
HIGH RESOLUTION PDF deluxe edition
42 full comic color pages by Wayne Wine
-COMPLETE, UNABRIDGED VERSION-
A SUPERHERO BDSM COMIC!
IMPORTANT NOTICE:
All characters are 18 years old or older.
All action is simulated and no
actual people are involved in it.
The authors/publishers do not condone
any kind of violence.
These comics are completely fiction
and for adult entertainment.
Bern is an obscure, middle aged bank clerk. He's been doing exactly the same job for the last 30 years. No family, no promotion, nothing... only his porn mags hidden in the desk drawer and the succession of clients that nobody else wants to deal with.

Clients such as Arnold and Sharon, a good looking young couple who have come to ask for a loan buy a sports car. The girl is very rude to old Bern, who gets angry and frustrated at the mixture of the girl's insolence and impressive beauty.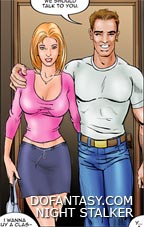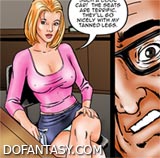 But Bern has a double personality...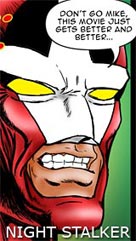 That night the young couple are petting near the girl's apartment. They are being watched...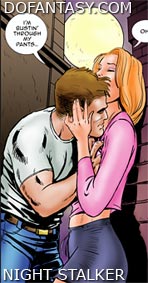 Night Stalker, the Superhero, attacks. And Arnold soon gets out of his way...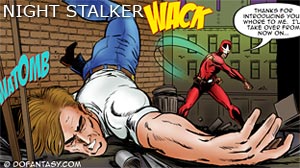 But young Sharon is hunted down...

The girl is taken to the villain's secret den beneath the city...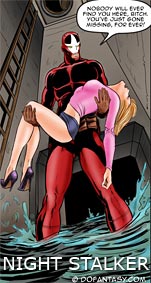 She'll soon learn all about her predicament...
Locked up in the bowels of the big city, Sharon has become her captor's toy.
Old Bern's bitter and twisted fantasies can all become real now...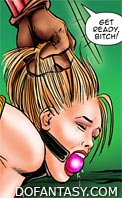 Sharon soon becomes the Superhero's pet. Shut up in a tiny steel cell, Sandra lives in a continuous nightmare of terror and humiliation...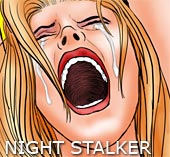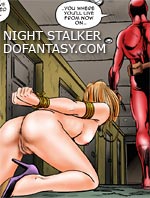 To Night Stalker, Sharon is only the first slavegirl in his collection...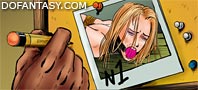 The city is in extreme danger...
NIGHT STALKER ONE
A SUPERHERO BDSM FANTASY
Girls, don't go out at night
Night Stalker is hunting!
DO NOT MISS PART TWO OF THIS FABULOUS SERIES