Use our On-Line 100% Secure EncryptedShopping Cart Ordering System. Simply browse
our site and Click the ADD TO SHOPPING CART buttons to place items in your Shopping Cart
[ HOME ] [ COMICS ] [ MOVIES ] [ NOVELS ] [ CD-ROM ] [ Order info ] [ Help ] [ ARTIST SITES ] [ SEARCH ]
[ Disclaimer ] [ CATALOGUE ] [ Copyright ]
FANSADOX COLLECTION 71
WOMAN HUNT 3 - DESERT RATS - FERNANDO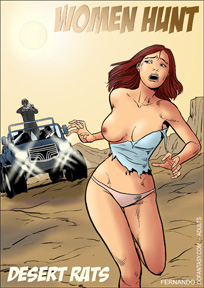 NEW IN PDF ELECTRONIC VERSION!
Adult Comic Album by FERNANDO
HIGH RESOLUTION PDF deluxe edition
45 full comic pages by FERNANDO
This is the 3rd part of this astounding saga:
Based on a dofantasy.com novel.
IMPORTANT NOTICE:
All characters are 18 years old or older. All action is simulated
and no actual people are involved in it. The authors/publishers do
not condone any kind of violence. These comics are completely
fiction and for adult entertainment.
The demented hunters continue their perverted safari…
Atira is a statuesque and defiant black beauty. She is now the hunted slave of safari guide "Hunter".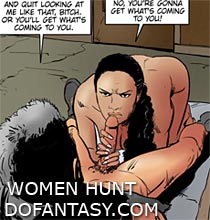 Shelma is a spectacular blonde beauty, just hunted down by ex-convict "Killer".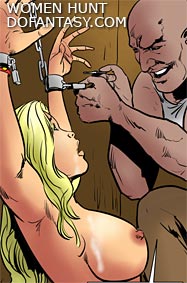 The two slaves are brought together and forced to participate in a very special hen-fight for the fun of their hunters. They are forced to fight for their lives stripped totally naked, secured by ropes around their necks and severely gagged (biting is not allowed).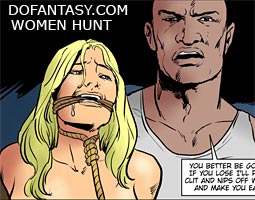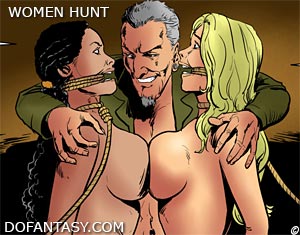 It is a fight to the death. Only the winner will be allowed to live...
The combat is desperate... both women have one option: to win.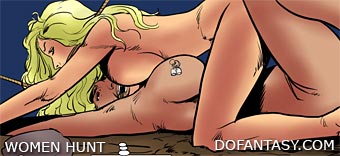 In the meantime, Shelma's younger sister Alma has been hunted down by a party of Orientals. With her leg painfully clamped in an animal trap, the terrified girl listens to her captors' plans...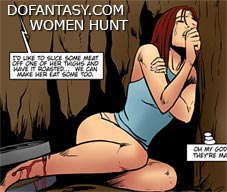 That night, one of the hunters gives her a chance to escape. The desperate girl runs and runs despite her wounded leg. It is her last chance and she knows it...

But the poor girl is savagely hunted again...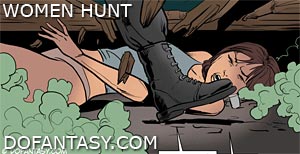 Miles away from each other, both sisters are treated worse than animals by their captors.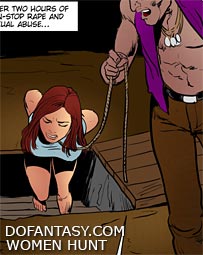 They're brutally humiliated, forced to perform the most disgusting acts...
Meanwhile, on the planet Mars, Mad Satan - the sadistic mutant behind this horrific world - receives an unexpected message. It is from Whip One, the computer that controls every single human being in the Solar System: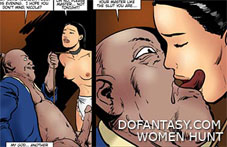 "TO MAD SATAN: Female subject Shelma Binoux has been captured, processed and catalogued as sex-slave grade AAA. The mental probe discovered that the subject is an old acquaintance of yours. In accordance with protocol 1678.454 you have the right to a preferential pre-auction bid for the slave. A precise description of the subject follows…"
THE 3rd PART OF THIS ASTOUNDING SAGA!
Women Hunt 1 -CHASED! Women Hunt 2 -PROCESSED! Women Hunt 3 -DESERT RATS!
AND NOW: Women Hunt 4 -SOLD!
VISIT FERNANDO SITE FOR A COMPLETE LIST OF
FERNANDO COMICS AND OFFERS
[ HOME ]