Use our On-Line 100% Secure Encrypted Shopping Cart Ordering System. Simply browse
our site and Click the ADD TO SHOPPING CART buttons to place items in your Shopping Cart
[ HOME ] [ COMICS ] [ MOVIES ] [ NOVELS ] [ CD-ROM ] [ Order info ] [ Help ] [ ARTIST SITES ] [ SEARCH ]
[ Disclaimer ] [ CATALOGUE ] [ Copyright ]
FANSADOX COLLECTION 87
CHEERLEADERS HORROR PARTY - FERNANDO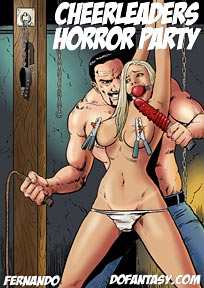 CHEERLEADERS HORROR PARTY
NEW IN PDF ELECTRONIC VERSION!
Adult Comic Album by FERNANDO
HIGH RESOLUTION PDF deluxe edition
45 full comic pages by FERNANDO
-COMPLETE, UNABRIDGED VERSION-
IMPORTANT NOTICE - DISCLAIMER
All characters are 18 years old or older.
This is an entirely fictional work based on
cartoon characters for adult entertainment.
It shows no real people or events.
The characters are shown participating in
CONSENSUAL role-play for their own
personal satisfaction, simulating activities
which involve sexual dominance and
submission.
FOUR CHEERLEADERS PRISONERS OF 3 OLD MAN!
Old Bob thinks himself the luckiest bastard on Earth. Good luck and a heavy storm brought 4 delightful cheerleaders knocking at his door. His bizarre mind soon took a decision: he would keep them...
Now he's sharing his booty with two friends, Dogface and Assbuster.
Bob kept Jessica for himself.
As host of this party he has the right to choose another one. He selects young Beverly, a lovely, curly-haired redhead with the angelical face and shy attitude the old bastard has dreamt of all his life...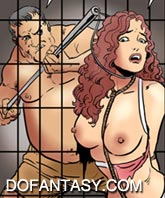 And if Bob is a crazy man, Dogface is a mean, twisted fetishist. He's 61 and the oldest of the group. He selects Chris, the youngest of the bunch of cheerleaders, a young brunette of 18 with the sort of breasts Dogface has long been dying for and masturbating for... Needless to say, Chris feels sick at being chosen by a man older than her grandfather!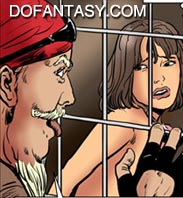 Assbuster is the most dangerous member of the group. He's a born go-getter and he's trouble. He chooses Anna, a stunning blonde with a lot of character. Scared like her friends, the beauty has the guts to face up to the men, even to insult them. Assbuster is delighted. He enjoys taming feisty wildcats... and he hates classy, arrogant girls like Anna...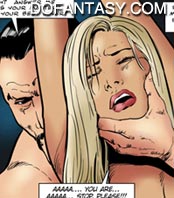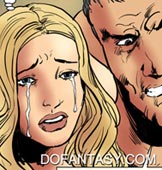 Bob wastes no time taking Beverly upstairs to join Jessica, who has been waiting for hours now...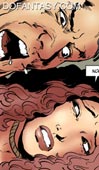 He can't believe what a lucky bastard he is!
In the meantime, old fetishist Dogface has dressed young Chris in a leather corset and high heeled, sexy ankle boots. He likes his big doll. He loves her breasts, which are bigger than usual for an 18-year old....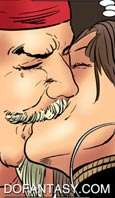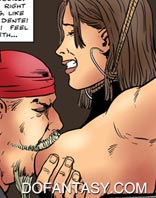 Then he shows the girl his first-date presents... rings! Big rings for everywhere. Her ears... mouth... for her nose!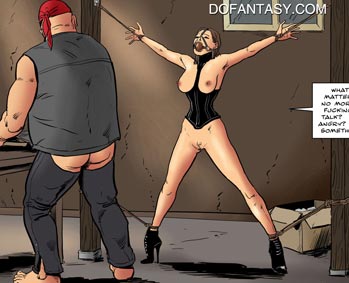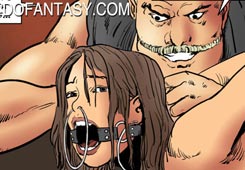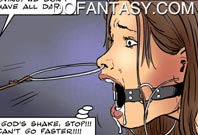 With her ankles joined by a short chain and her elbows tied together behind her back, walking is not easy... And Dogface is always in a hurry. The humiliation for her is a bottomless well...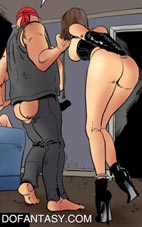 In the meantime Assbuster is determined to tame his blonde, feisty wildcat...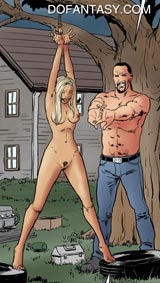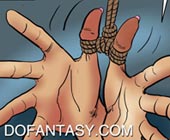 CHEERLEADERS HORROR PARTY, THE FOLLOW-UP TO CHEERLEADERS HELL
A SELF CONTAINED, INCREDIBLY AROUSING TALE OF MADNESS IN WHICH THE OLD
MEN HAVE NOTHING TO LOSE, THEY KNOW THEY CAN KEEP
THEIR GIRLS FOREVER AND NOBODY WILL EVER KNOW...
CHEERLEADERS BY FERNANDO, THE HOTTEST COMIC SERIES EVER PUBLISHED!
NOW THE 2nd CHAPTER!
CONTINUED IN CHEERLEADER'S SPLIT UP THE NEXT (3rd) PART OF THIS STORY
VISIT FERNANDO SITE FOR A COMPLETE LIST
OF FERNANDO COMICS AND OFFERS
[ HOME ]