Use our On-Line 100% Secure EncryptedShopping Cart Ordering System. Simply browse
our site and Click the ADD TO SHOPPING CART buttons to place items in your Shopping Cart
[ HOME ] [ COMICS ] [ MOVIES ] [ NOVELS ] [ CD-ROM ] [ Order info ] [ Help ] [ ARTIST SITES ] [ SEARCH ]
[ Disclaimer ] [ CATALOGUE ] [ Copyright ]
FANSADOX NOVEL 2
PROM NIGHT - GEOFF MERRICK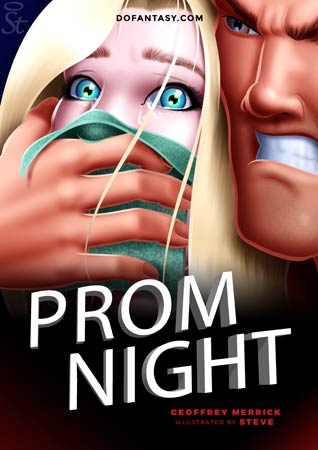 NEW IN PDF ELECTRONIC VERSION!
Adult Illustrated Novel by GEOFF MERRICK.
HIGH RESOLUTION PDF deluxe edition
48 full color illustrations by STEVE!!!
-COMPLETE, UNABRIDGED VERSION-
HE'D BEEN WATCHING AND WAITING FOR FOUR LONG YEARS FOR BEAUTIFUL, BLONDE, BOUNCING BRIDGET THOMAS TO TURN 18, JUST IN TIME FOR THE HIGHLIGHT OF HER LIFE: THE HIGH SCHOOL PROM!

PRECIOUS AND PRECOCIOUS BRIDGET WEDGED HERSELF INTO A SEXY, TIGHT, LITTLE BLACK DRESS INTENT ON LOSING HER VIRGINITY ON PROM NIGHT. SHE HAD NO IDEA HOW TRUE THAT WOULD BE!


IMPORTANT NOTICE - DISCLAIMER
All characters are 18 years old or older.
This is an entirely fictional work based on
cartoon characters for adult entertainment.
It shows no real people or events.
The characters are shown participating in
CONSENSUAL role-play for their own
personal satisfaction, simulating activities
which involve sexual dominance and
submission. No actual toons were harmed
in the making of this comic.
Geoffrey Merrick has been widely proclaimed as one of the best writers of bondage fiction in the history of the genre, and even legendary. His sold-out Tyler: Memoirs of a White Slaver novels are treasured by their collectors, and his sizzling new fiction (including The Legacy and The Electrician) has been celebrated by novice and veteran fans alike.
Beautiful Bridget Thomas was a gorgeous, genuine girl. A high school cheerleader on the dream team, filled with spirit and a pure, unfiltered, feminine delight, she had many haters and even more admirers. Perfect in every way and flawless in the way those overworked, overcaked, fake-titted other teens weren't, Bridget was as ignorant of her God-given gifts as she was the stares of the boys and girls around her.

But there was one stare which had been stalking bodacious Bridget for a chillingly long time, patiently waiting in the shadows, staring with hard, drooling eyes and an even harder, throbbing cock. This stare was patient. This stare was sure.

Bridget was doomed the moment she got into her used car, intent on changing into her sexiest "fuck me" outfit that she could imagine. She would show everyone at the school that she wasn't no "goody two shoes". Bridget never saw the man sneak into her car. She never smelled the sopping wet rag that was shoved on top of her nose until it was too late.

That was the start of Bridget's harrowing and horrifying tale. Not only did this perverted madman have the hots for her, but he knew what her ultimate fate would be: sold as a sex slave on the open market! A tight, perfect, uncut, natural blonde like her would go for big bucks! But he would use her first… and oh how he would use her!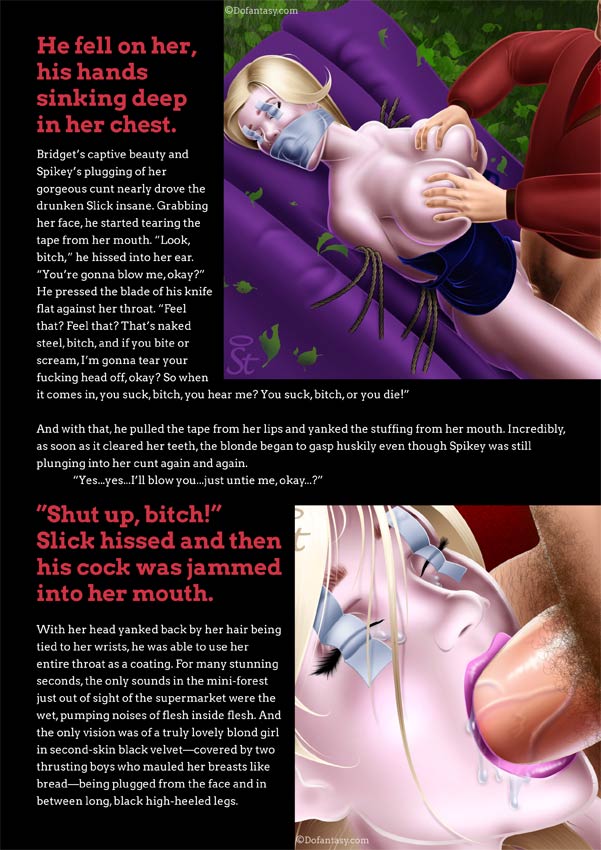 MERRICK AND STEVE TEAM UP AGAIN FOR AN INTIMATE AND TERRIFYING ADVENTURE BETWEEN BEAUTIFUL, BOUNCING, BLONDE BRIDGET THOMAS AND HER MYSTERIOUS "LOVER" WHO SNATCHES HER AND SECRETS HER AWAY TO HIS SENSUAL AND SADISTIC SEX SLAVE LAIR! MERRICK'S DESCRIPTIONS ARE DRIPPING WITH DELIGHT AND ACCENTUATED BY STEVE'S INCREDIBLY GRAPHIC ILLUSTRATIONS! BODACIOUS BRIDGET'S HORROR SHOW HAS JUST BEGUN, AND YOU CAN ONLY IMAGINE HER MEWLING TERROR AS SHE WAKES INTO A NEW AND TERRIFYING HELL, FULL OF HARD SEX AND ULTRA TIGHT BONDAGE!

SEE WHAT HAPPENS WHEN LOVELY BRIDGET IS DEFLOWERED, AND SHARE IN HER SCINTILLATING SCREAMS IN THIS INCREDIBLE NOVEL BROUGHT TO LIFE BY STEVE AND PENNED BY THE AMAZING MERRICK HERE EXCLUSIVELY AT DOFANTASY.COM!!!