Use our On-Line 100% Secure EncryptedShopping Cart Ordering System. Simply browse
our site and Click the ADD TO SHOPPING CART buttons to place items in your Shopping Cart
[ HOME ] [ COMICS ] [ MOVIES ] [ NOVELS ] [ CD-ROM ] [ Order info ] [ Help ] [ ARTIST SITES ] [ SEARCH ]
[ Disclaimer ] [ CATALOGUE ] [ Copyright ]
FERRES COMIC
SURA - FERRES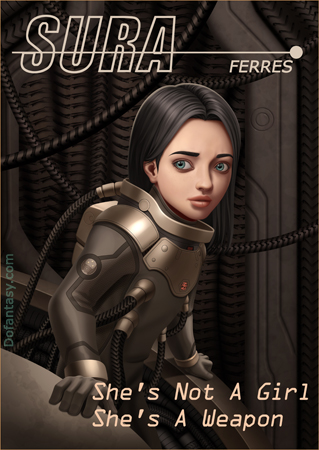 NEW IN PDF ELECTRONIC VERSION!
Adult Comic Album by FERRES.
HIGH RESOLUTION PDF deluxe edition
92 full color comic pages!!!
-A SCI-FI COMIC- -NO BDSM CONTENT-
WE ARE PROUD TO PRESENT THIS
PHENOMENAL ALBUM BY WORLD CLASS
ARTIST FERRES...
ENTER AN EXCITING AND EPIC, NEW ADVENTURE FROM THE MIND OF FERRES SET IN THE FAR FLUNG, SCIENCE FICTION FUTURE!
THE HUMAN RACE IS UNDER SIEGE FROM AN UNKNOWN ENEMY, AND THESE YOUNG PILOTS ARE OUR ONLY HOPE!
IMPORTANT NOTICE - DISCLAIMER
All characters are 18 years old or older.
This is an entirely fictional work based on
cartoon characters for adult entertainment.
It shows no real people or events.
The characters are shown participating in
CONSENSUAL role-play for their own
personal satisfaction, simulating activities
which involve sexual dominance and
submission. No actual toons were harmed
in the making of this comic.
Today, Dofantasy brings you something new, something that has never been done before: a SERIOUS, sci-fi adventure! This thrilling, mega comic from the legendary artist FERRES depicts a unique and fantastic, sci-fi escapade set in Earth's distant future! This gripping tale will leave you on the edge of your seat as you witness these fierce fighters prepare to face their fate in defense of the human race against an unknown and terrifying enemy!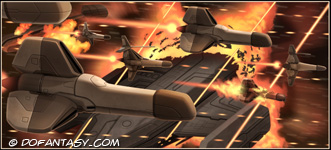 In this world, humanity is under threat from a strange and alien enemy. The worst of it is the enemy leaves nothing alive in its wake, leveling scouts and entire fleets with equal ease, and neither long range scanners nor drones even SEE their attack ships. The only effective force that humanity has is the experimental KAITEN attack fighters. Armed with the most powerful and devastating arsenal humanity has, the Kaiten attack fighter ships are the spear of humanity against the threat of invasion.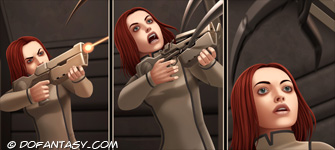 But these ships are also fragile, small, and lightly armored. Their hulls are designed for maneuverability, not protection. As effective as the Kaiten attack force is, the ships die by the dozens in each encounter. Actual, human beings can't be used in these ships. To shore up pilots, the Kaiten attack force is crewed by clones of long extinct genetic lines. The need is strong, and the time is short.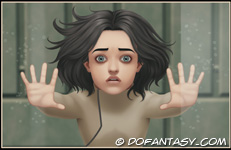 These clones are little more than children. They certainly aren't treated as such. They're disposable... weapons... certainly not people... or children.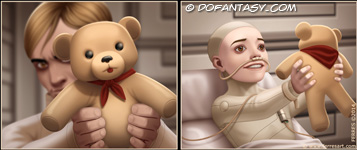 Sura is a Kaiten pilot among the 52nd fleet, preparing to defend humanity from an attack from a still unknown enemy. She and her fellow Kaiten pilots must be ready, for engagement can happen at any time. Still, she is little more than a child, even if her superiors don't see her as one. Life is hard in this strange and cold world, and Sura must be ready... for her destiny is right around the corner, and enemies lurk everywhere… both inside and outside the fleet.


FERRES BRINGS TO YOU THIS EPIC ADVENTURE IN THIS EXCITING MEGA ISSUE JAM PACKED WITH ACTION, EXCITEMENT, AND INTRIGUE! THESE POOR CLONE CHILDREN, LITTLE MORE THAN PAWNS IN A LARGER GAME OF WAR, ARE THE ONLY THING STANDING BETWEEN HUMANITY AND TOTAL DEVASTATION! SURA IS ALL ALONE IN THIS FRIGHTENING WORLD WHERE ONE MISTAKE COULD SPELL THE DOOM OF THE HUMAN RACE! YOU DON'T WANT TO MISS THIS EPIC AND SERIOUS NEW TALE FROM THE MIND OF FERRES, BROUGHT TO YOU HERE EXCLUSIVELY AT DOFANTASY.COM!
92 FULL COLOR PAGES FOR 19.99 EUROS!!!