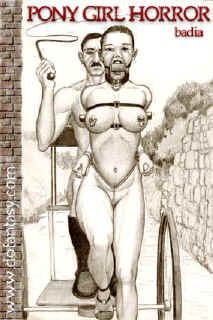 New in English!!!
by BADIA
de luxe edition.
26 out-of-this-world PAGES
This is the complete story as it first appeared in FANSADOX now reedited in one deluxe album. Plus 5 hors-text ponygirl masterpieces by the same author.
In the very same cemetry in which Beatriz was weeping for her mother's death, Doctor Cuervo spoke to his step-daughter...
"Now that my wife is dead, you will replace her…"
Beatriz, red-eyed, looked up at her stepfather. She did not understand.
"The University is over. You will come home and look after me and my prick. After the mourning, we'll get married."
She slapped him in the face, startling the priest. Doctor Crow carried on, unaffected. He took a mobile out of his raincoat and in the midst of a great silence:
"Unhinged Stables? Doctor Crow here. Procede with my daughter as agreed. And have her ready within a week."
The most exciting Pony Girl COMIC ever published...
IMPORTANT NOTICE:
All characters are 18 years old or older.
All action is simulated and involves no real people.
The authors/publishers do not condone violence of any kind.
These are completely fictional comics for adult entertainment.