New in English!!!
52 pages of sex and violence
SLAVE DANCER - text, Latina - Illustr. ROBERTS
Old Bernard's new toy - THORN
PONY GIRL #5 - Badia
HAT TRICK #3 - text, GEOFFREY MERRICK - Illustr. TAW
BOUGHT & TAMED #4 - text, Lucas - Illustr. Paul
THE BLACK VAN #3 - ROBERTS
Last prologue to INQUISITION - Badia
IMPORTANT NOTICE:
All characters are 18 years old or older.
All action is simulated and involves
no real people.
The authors/publishers do not condone
violence of any kind.
These are completely fictional comics
for adult entertainment.
SLAVE DANCER


Can you imagine cruising the South Seas like this?
New story-teller Latina tells you all...!
A young and stunningly beautiful slavegirl kept prisoner in the intimacy of her master's cruising boat...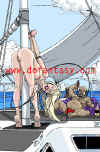 THE BLACK VAN #3
Jennifer's HELL's gets worst...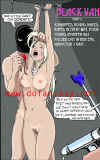 PONY GIRL
A new nasty chapter by Badia. Lovely Isabel meets her mother's stud...
BOUGHT & TAMED
by ink-master Paul. Read now the 4th intriguing episode of this cruel family story.
HAT TRICK 3
by storyteller GEOFFREY MERRICK, the creator of legendary white slaver Tyler
And much more...
Old Bernard orders his new young toy to get up on his bed in


OLD BERNARD'S NEW TOY


What's coming next...?
BUY FANSADOX 11 NOW
In ENGLISH. Available electronically in PDF format. See bottom of page