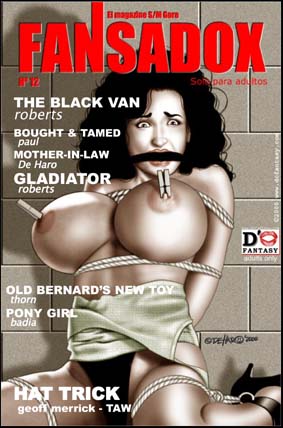 New in English!!!
52 pages!
BAHAN THE GLADIATOR - text Cianni - Illustr ROBERTS
OLD BERNARD'S NEW TOY #2 - THORN
PONY GIRL #6 - Badia
HAT TRICK #4 - text GEOFFREY MERRICK - Illustr TAW
BOUGHT & TAMED #4 - text Lucas - Illustr Paul
THE BLACK VAN #4 - ROBERTS
MOTHER-IN-LAW - text Lucas - Illust. De Haro
GISELLE MINE AT LAST #2 - text D. Guard - Illust ROBERTS
In ENGLISH. Available electronically in PDF format. See bottom of page
IMPORTANT NOTICE - DISCLAIMER
All characters are 18 years old or older.
This is an entirely fictional work based on
cartoon characters for adult entertainment.
It shows no real people or events.
The characters are shown participating in
CONSENSUAL role-play for their own
personal satisfaction, simulating activities
which involve sexual dominance and
submission. No actual toons were harmed
in the making of this comic.