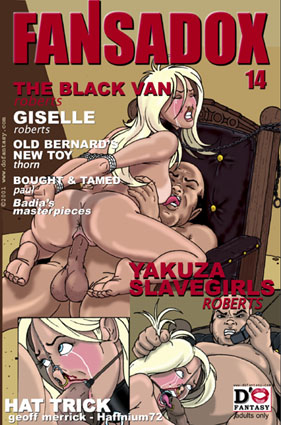 New in English!!!
52 pages of sex and violence
YAKUZA SLAVEGIRLS #2 - ROBERTS
OLD BERNARD'S NEW SEX TOY - THORN
MASTERPIECES - Badia
HAT TRICK #6 - text GEOFFREY MERRICK - Illustr HAFFNIUM72
BOUGHT & TAMED #7 - text Luca THE BLACK VAN #6 - ROBERTS
GISELLE, MINE AT LAST #4 - idea D. Guard - Illust ROBERTS
In ENGLISH. Available electronically in PDF format. See bottom of page

IMPORTANT NOTICE - DISCLAIMER
All characters are 18 years old or older.
This is an entirely fictional work based on
cartoon characters for adult entertainment.
It shows no real people or events.
The characters are shown participating in
CONSENSUAL role-play for their own
personal satisfaction, simulating activities
which involve sexual dominance and
submission. No actual toons were harmed in the making of this comic.
YAKUZA SLAVEGIRLS
From the news:
'Three young Western girls were reported missing last week in Tokyo. Officials have stated that a Yakuza White Slaver ring has been detected in the city'
NOW read the 2nd episode
ROBERTS TELLS IT ALL. Find out what happened in this new story in FANSADOX 14: YAKUZA SLAVEGIRLS in comic format.
A masterpiece!
Roberts' show-off comics

THE BLACK VAN #6
Blonde Jennifer is made to make love to her brunette colleague in THE BLACK VAN!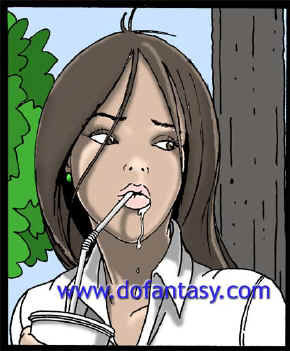 BOUGHT & TAMED
The 6th intriguing episode by Ink-master Paul!


Click
BADIA MASTERPIECES

OLD BERNARD'S SEX TOY
by artist Thorn

HAT TRICK #6
by Storyteller
GEOFFREY MERRICK
creator of the legendary Tyler. Illustrated by Haffnium72

MINE AT LAST #4 - ROBERTS

BUY FANSADOX 14 NOW
In ENGLISH. Available electronically in PDF format. See bottom of page
Fansadox 14 ENGLISH VERSION (electronic PDF format only)

Price 16.99Euro