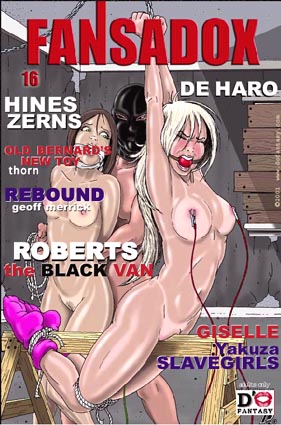 New in English!!!
52 pages of sex and violence
YAKUZA SLAVEGIRLS #4 - ROBERTS
OLD BERNARD'S NEW SEX TOY - THORN
REBOUND - GEOFFREY MERRICK
HINES' HORROR PRISON - Hines-Shiranda
THE BLACK VAN #8 - ROBERTS
GISELLE, MINE AT LAST #6 - idea D. Guard - Illustr ROBERTS
FRESH CATCH 2 - de Haro
THE CABIN - Zerns
IMPORTANT NOTICE:
All characters are 18 years old or older.
All action is simulated and involves
no real people.
The authors/publishers do not condone
violence of any kind.
These are completely fictional comics
for adult entertainment.
Fansadox 16 ENGLISH VERSION (electronic PDF format only)

Price 16.99Euro
In this number, two new exclusive comics by HINES and ZERNS.
A new, delicious story by GEOFF MERRICK.
The exciting end of BLACK VAN part one.
PLUS Yakuza Slavegirls, Old Bernard's Fuck Toy, Giselle mine at Last…
THE BLACK VAN #8
8 full pages ending Part One of this exciting comic...




OLD BERNARD'S FUCK TOY
Cruel... The old sadist decides to invite his young slavegirl to dinner.


click

THE CABIN
She shouldn't have to stop the car... He took her to his isolated cabin in the woods.




GISELLE, MINE AT LAST #6
Giselle's stepfather decides to hunt a new sex toy and keep her chained in the same cage than her daughter...

HINES' HORROR PRISON
A new exclusive comic by HINES.
The saga of 20 innocent foreign missionary girls. Naive. Virgin. Wrongly accused of sedition and imprisoned in one of South America's most notorious women's prisons...




YAKUZA SLAVEGIRLS
From the news: 'Three young Western girls were reported missing last week in Tokyo. Officials have stated that a Yakuza White Slaver ring has been detected in the city'.
Things get worse for these girls in the 4th episode...
The best Fansadox so far. Give yourself a real hard treat!!!
BUY FANSADOX 16 NOW
In ENGLISH. Available electronically in PDF format. See bottom of page