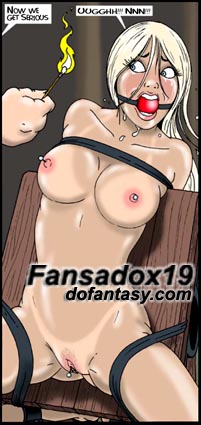 THE CABIN -4
A new episode of this masterpiece of bondage and submission.
HINES' HORROR PRISON
Horror Prison is stormed by guerrilla fighters and the prisoners are released. It seems for a time that their nightmare is over. But only for a time...
REBOUND #4
Blonde, blue-eyed, 5'7", 110 lb. Leesa Mendaski, 34D-23-33, was seized by the parents of the boy she «broke the heart of» five years before. The couple — an ex-girls' gym teacher and a male nurse who now run a bed and breakfast out by the lake — is «preparing» her for their boy's return from college — a process that's satisfying the wife but frustrating the husband...that is, until 5'3", 97lb., brown-eyed brunette Kerry Sherman (34-22-33), the daughter of a family renting suite 4A, stumbled into his clutches. Now both girls have suffered syringes of Lactaid, a banned maternity drug that is injected directly into the nipples....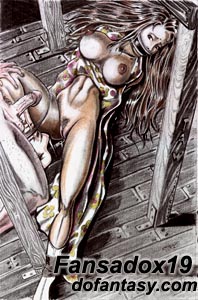 THE BLACK VAN #11
The two masked criminals take their victims to the new hideout. One of them decides to work on the sexy young policewoman....

A Classic Roberts!

BUY FANSADOX 19 NOW
In ENGLISH. Available electronically in PDF format