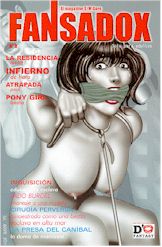 New in English!!!
52 pages of sex and violence
PONY GIRL #2 - comic, Badia
BOUGHT & TAMED - text, Lucas - comic, Paul. FUMETTI at its best.
Trailer Trash - text, Geoffrey Merrick - illustrations Badia
Teaching Marianne - text, Lucas - Illustrations Badia
INFERNO #4 - comic, De Haro
Red's nightmare - TAW
DOLL'S HOUSE #3 - comic, Badia
Hell's Bordello - text, Isidoro - Illustrations Badia
Always smile at the police - text, D. Guard - Illustrations De Haro
Taming the beast - text, Matador - Illustrations Badia
Nailed - Badia
IMPORTANT NOTICE:
All characters are 18 years old or older.
All action is simulated and involves no real people.
The authors/publishers do not condone violence of any kind.
These are completely fictional comics for adult entertainment.

PONY GIRL...
In the very same cemetry in which Beatriz was weeping for her mother's death, Doctor Cuervo spoke to his step-daughter...
—Now that my wife is dead, you will replace her…
Beatriz, red-eyed, looked up at her stepfather. She did not understand.
—The University is over. You will come home and look after me and my prick. After the mourning, we'll get married.
She slapped him in the face, startling the priest. Doctor Crow carried on, unaffected. He took a mobile out of his raincoat and in the midst of a great silence:
—Unhinged Stables? Doctor Crow here. Procede with my daughter as agreed. And have her ready within a week.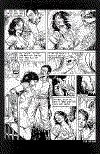 BOUGHT & TAMED
FUMETTI at its best
Sara lives in Miami with her divorced mother.
Sara is a young, independent, University student.
She has never visited her parents' native land.
Her father dies and she inherits a large estate in the heart of the Colombian jungle. She decides to go and visit it...
She arranges for her old uncle Alfonso to pick her up in the nearest village and take her there. It will only be for a few days, just a short holiday, because Uncle Raúl has taken over the running of the estate...
This comic is published as an illustrated novel in this same web-site as 'Comprada y Amaestrada'.
INFERNO
Isabel was a guerrilla, an uncontroled subversive element in the mountains, a terrorist. In Gerai Prison, Isabel discovered a different terror, the sadistic and depraved Governor who had sworn to break her will and turn her into his sexual slave. If she put up a good fight, breaking her in would be more fun for him.!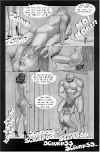 DOLL'S HOUSE
Helène, an intelligent, rebellious orphan, wakes up naked and in chains in a dark dungeon. She does not know where she is or how she came to be there.
Suddenly, a blinding light appears and the horrible Governess is standing in the doorway.
The cruel Governess threatens her with terrible physical punishments if she does not obey, and hands her over to a group of soulless clients with very special tastes.
Helène is brutally ill-treated...
But the worst is still to come. When the sadistic clients leave, the Governess informs the unhappy girl that she will be receiving another visit shortly:
Her hated stepmother! Now she is here...
And much more...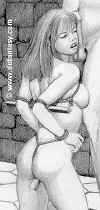 ORDER FANSADOX 8
In ENGLISH. Available electronically in PDF format. See bottom of page